Get ready to fall in love with another van conversion… Beelzebus is a true beauty brought to you by Katja and Bjorn – not forgetting their adorable travel companion, Balthazar (if you've ever wondered if you could make vanlife work with a dog the size of a wolf, this pair make it look effortless).
Back in 2019, Katja and Bjorn quit their jobs, sold their house, finished renovating their Mercedes 508D, and hit the road in Sweden. Now they've spent some time on the road, there are a few things they want to change in their campervan, but they've already done an awesome job packing in a ton of functionality to make it work for their needs.
Though the couple would've liked a built-in shower, Balthazar put his paw down and instead, he has his own space with a bed, storage for his mountain of food, and even his own little pull-down table for his bowls. Talk about living the life of luxury! Katja and Bjorn have even altered the automatic steps leading into the van to give Balthazar a much easier time getting in and out of the van.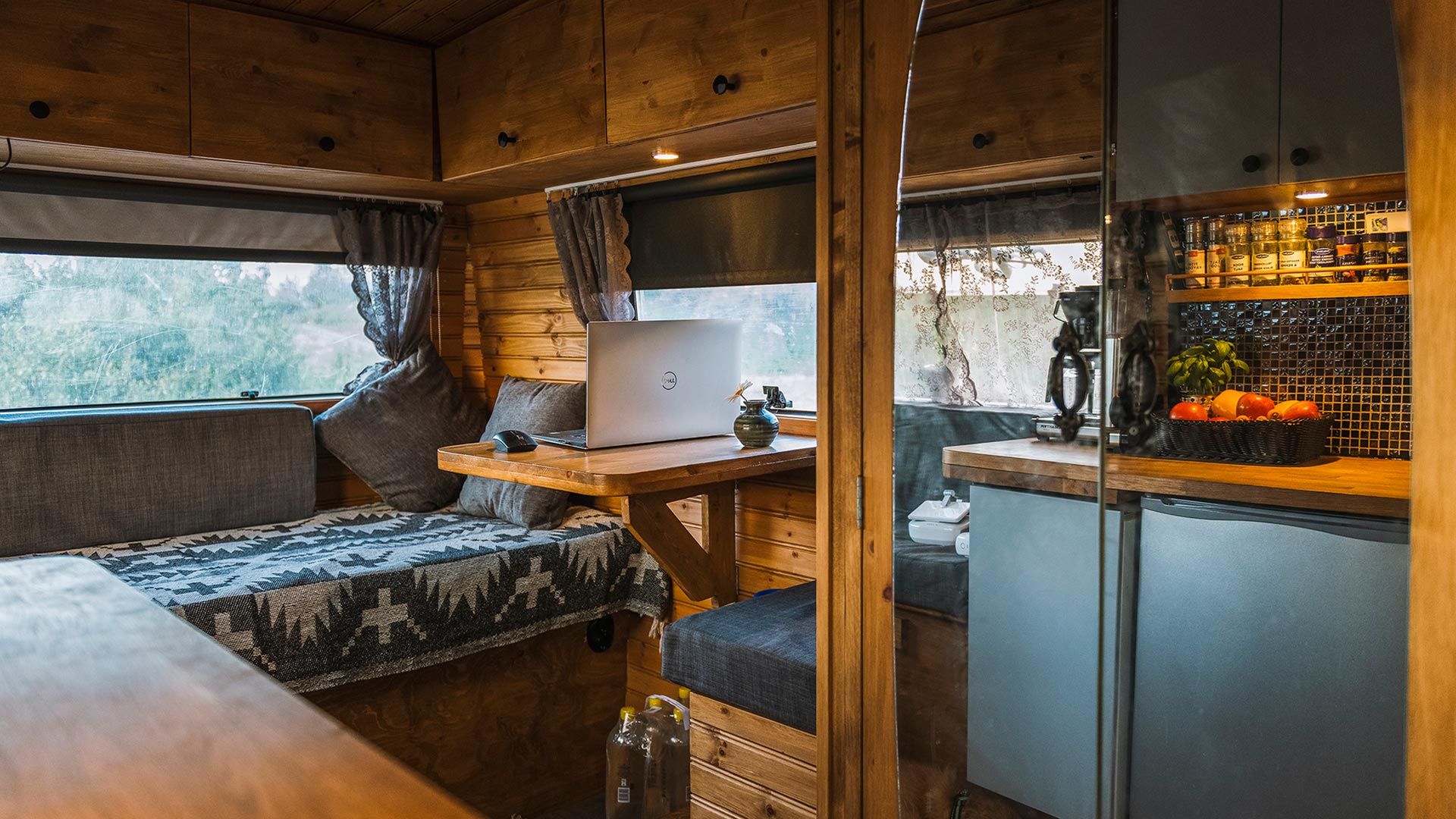 But it isn't just Balthazar who's living the life in this conversion. The fully integrated kitchen features an 80L solar-powered fridge, a sink/stove combo with two burners (and a nifty cover to give more usable counter space when needed), as well as enough storage space to seriously stock up on snacks. The kitchen was modified from IKEA units to fit the space and yet it looks completely custom made. Safety is a top priority, so the kitchen is also fitted with a sensor that will shut off the gas if there is ever a gas leak in the van.
The back of the van is home to a dining area with bench seating and a fold-away table for meals and work. Bjorn has plans to swap out the table for something larger in the future, but it's more than enough for the pair at the moment.
They also have a full corner sofa with tons of overhead storage space. Although many van conversions have a permanent bed, Katja and Bjorn didn't like the idea of taking up a lot of usable space with a permanent bed. Instead, the corner sofa has a cool pull-out design that turns into a full double bed. It then easily slides away, giving more space during the day for Balthazar to stretch out.
Their van has a traditional Scandinavian vibe with a lot of wood cladding and warm tones used throughout. It's easy to see that Katja and Bjorn have done a great job marrying functional living with cool, minimal design.
And when it comes to what's under the hood, this van conversion really shines. It's decked out with a diesel heater for the cold nights and solar panels that power two 12V Norrack batteries. That gives them 500 Amp-hrs when fully charged, which runs all of their appliances – including their must-have giant coffee maker.
Bjorn custom-built the roof rack of the van to give a huge storage space for their kayaks and other large equipment, as well as enough space for two large LG solar panels.
The outside of the van is one of the best parts of this conversion. The custom wrap is of a black landscape of a forest with birds that look like they're circling the van. It also has an awesome red LED under-light which helps the van live up to its metal-inspired name of Beelzebus (Beelzebub + Bus). Katja and Bjorn document their travels on Instagram and their YouTube channel. So if you want to check out some of the most unbelievable scenery you've ever seen (as well as cute shots of Balthazar loving life on the road), make sure to go give them a follow on both.