When the UK was experiencing the peak of Covid-19 and went into full lockdown, we all had such grand plans of being productive. We were all going to get all those pesky chores ticked off our to-do lists, write a novel, learn a new language.
But not Daryl. He took lockdown productivity to a whole new level by completing a full conversion of his Mercedes Sprinter. So prepared to be blown away by what he achieved in just three short months. From the outside, you'd be fooled into thinking this is just another trades person making their way to work. However, the modern interior is mind-blowing. Also, considering this is just the second van conversion Daryl has ever completed, the spec is impressive.
The modern fitted kitchen has an under-mount sink as well as a two-ring stove. Not to mention enough storage for week-long road trips. The van is surprisingly spacious too with a well-design layout. The kitchen includes a dining area with seating for two as well as even more hidden storage under the seating.
The entire area is finished with white shiplap and white quartz-style countertops which looks sleek against the dark blue kitchen. Not forgetting the flush lighting and wood flooring that make this campervan feel like you're stepping right into a newly-renovated living room. As a professional carpenter, Daryl has also incorporated some unique elements. The handmade modern light fixture over the dining table was made by hand and adds personality to the campervan.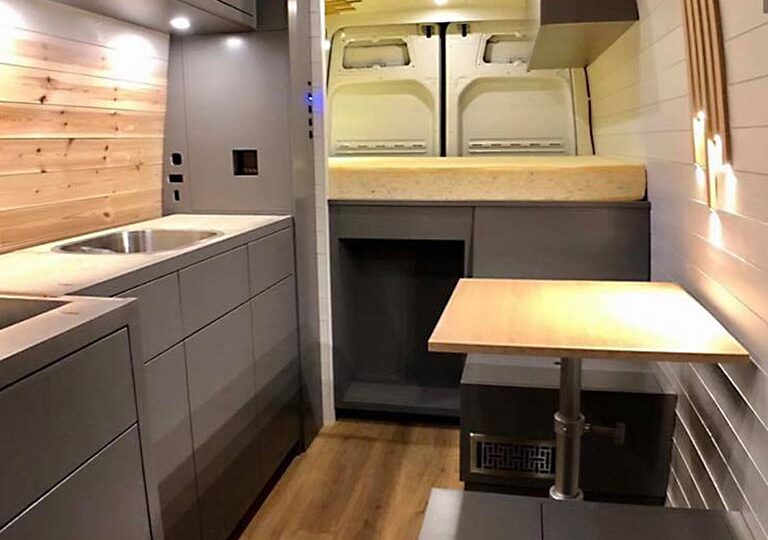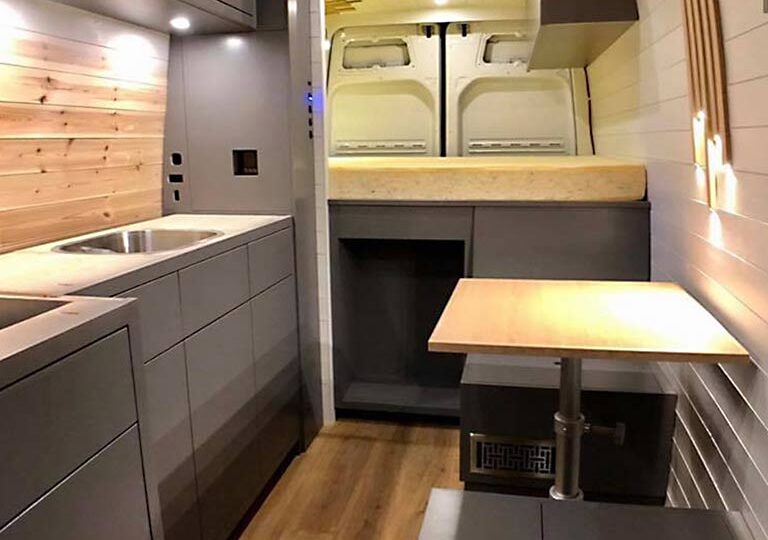 The Mercedes Sprinter van conversion also includes a full-size shower cubicle with sliding doors. Which looks like it belongs in a London loft, not a converted van. What could be more perfect than the luxury of a full-size shower when you're out on the road?
Daryl has also incorporated a 5'8" double bed at the rear of the van with under-mount storage. The skylight right above the bed is also a nice touch. Just imagine stargazing when you're out in the wilderness without even getting out of bed. It's safe to say that lockdown was time well spent for Daryl. Not only did he design and build a fantastic campervan, he then sold it to Dream Car Giveaway for a cool £39,000 and launched his dream career converting vans for others.
In an interview with the Sun, Daryl said, "I've got some unique ideas for the next builds, which I haven't seen anywhere else." I don't know about you, but we can't wait to see what he comes up with next. If you love Daryl's work, head to his Instagram to check out his latest projects, and who knows, maybe he'll be designing your dream van in the near future.