Inside this unassuming white Ford Transit hides an absolutely gorgeous professional conversion. Cool, calm and most definitely collected, this is the perfect van for cruising around America and living the best vanlife.
Let's take a look inside and see what makes it so special! Vanlife will never be the same once you've toured in this beauty! Every detail has been thought about, from the stunning drawer handles to the accented dark edging trim.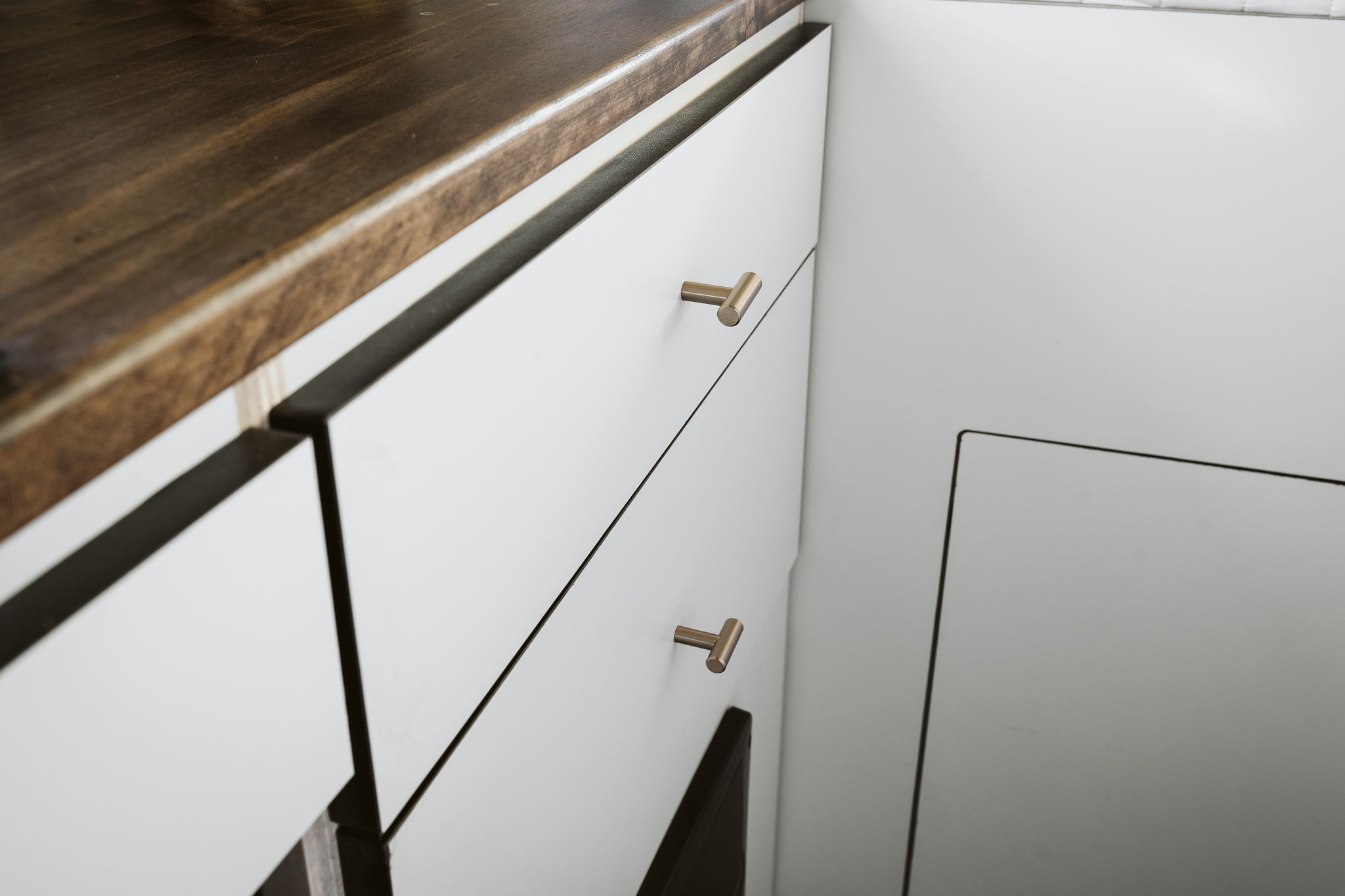 The Apex Floor Plan

The APEX Floor Plan is seen here, with its beautiful Birchwood white cabinetry expertly fitted and complimented by the dark wood countertop. A full-size luxury vinyl tile shower is waiting for you, ready to refresh you after a hard day adventuring in the sun. You can have the water gushing down like a tropical cloudburst or simply use the handheld showerhead to be a bit more conservative with your water.
Vanlife In Style
Electric Cooktop with Black Ceramic Glass Surface, Rough Country fridge and freezer and Greystone microwave, wait eagerly to aid your kitchen skills. LED lighting offers a warm glow for those cool evenings.
You Will Live The Best Vanlife
The shiplap walls, luxury soft yet hardwearing vinyl flooring, and large sink make this conversion feel like your home away from home. The fixed bed and huge garage space in this floorplan design truly set it apart from the rest.
Allround Entertainment System
This unit features an entertainment system package that includes surround sound on the interior and exterior for those nights when you want to entertain and Bluetooth, AUX input and a TV for those cosy nights indoors.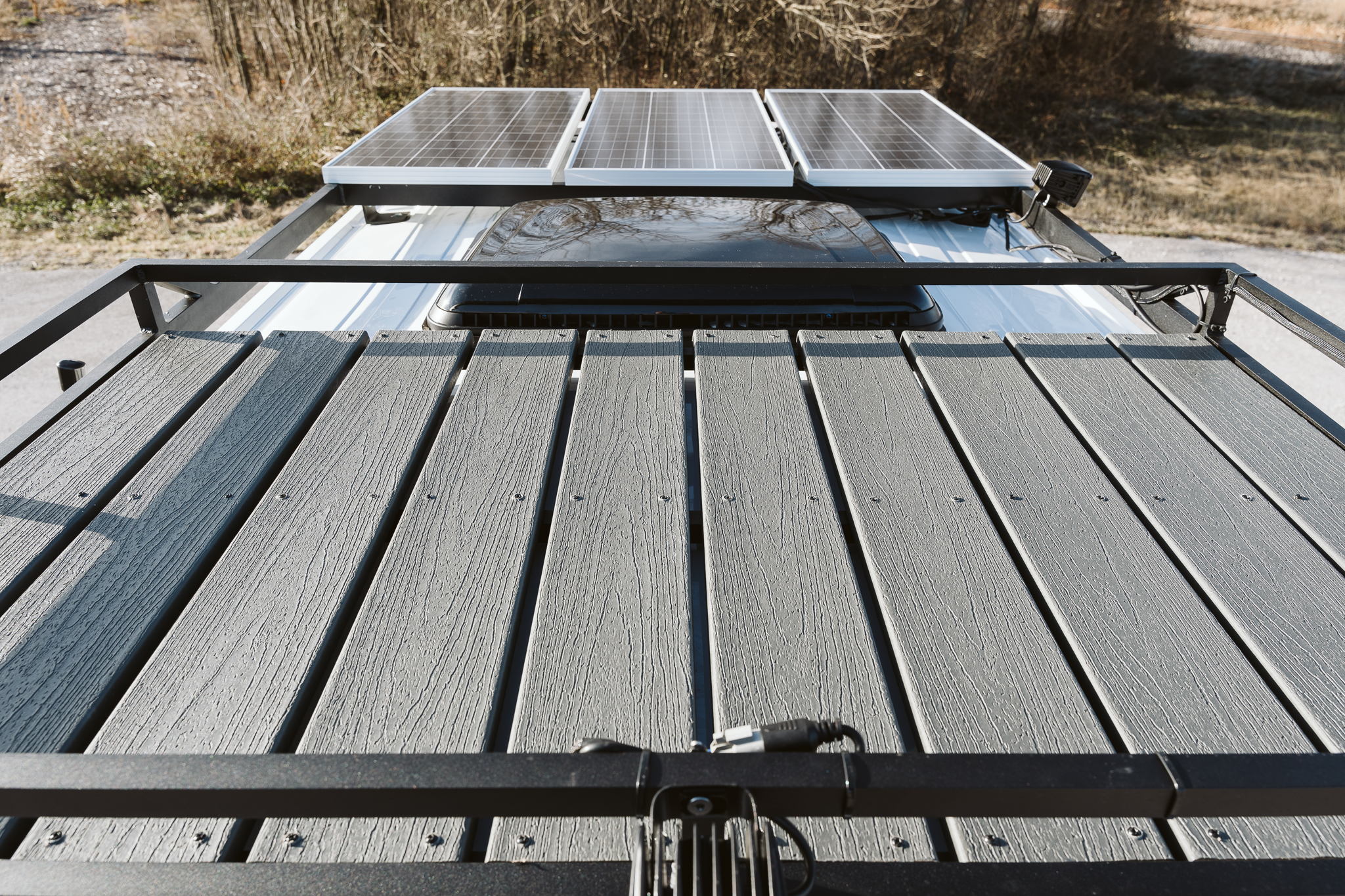 The rooftop provides you with a Custom Welded Full Aluminum Roof Rack and Gray Composite Roof Deck, ready for you to relax in the glorious sunshine or stargaze and while the night away.
The rear of the rack also houses three solar panels for energy capture and a Dometic RTX 1000 12V Air Conditioning Unit for when the interior warms up.
Everest Conversions Are Lighting The Way
The exterior is equipped with a 52in light bar at the front and pod lights at the exit and rear of the conversion. This unit also comes with a tow package, 30AMP electrical hookup, city water hookup, freshwater inlet, industrial-grade aluminum ladder, and teardrop windows.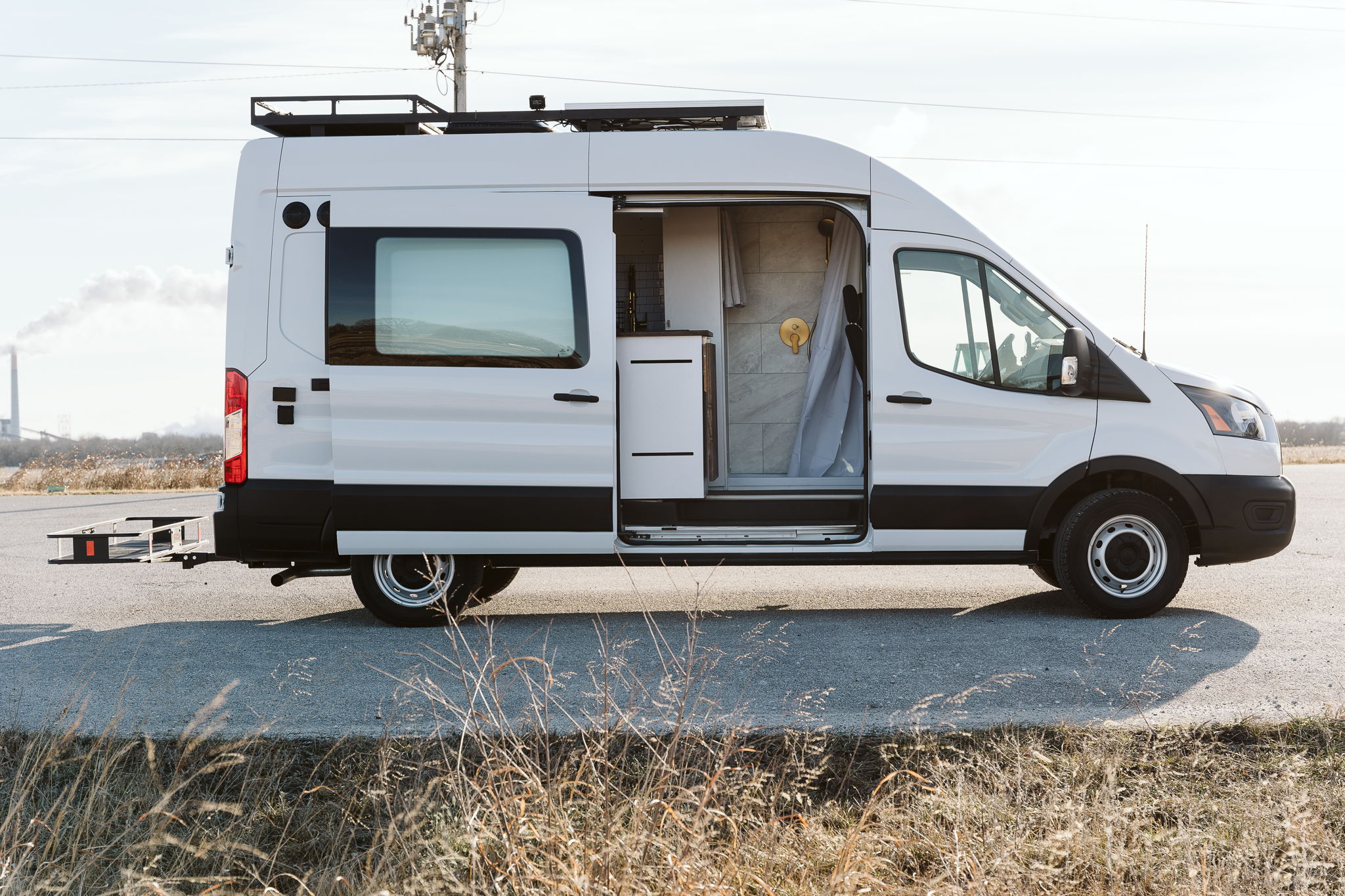 About Everest Conversions Inc
Everest Conversions Inc. is a family-owned and operated Vehicle Conversion center. They provide a tailored experience for those seeking a mobile lifestyle, outdoor adventure, or a means to travel in comfort and luxury. They strive to create a safe and special experience for their customers, both on the road and in their facilities.
There are far too many features to list here fully, so why not get in touch with Everest Conversions Inc to find out more or visit their website www.everestconversions.com