Meet Ravy, the micro campervan that's smaller than a Mini Cooper but impressively packs in two beds, a kitchen, camping storage, heating and electricity.
Small Yet Mighty
The Kia Ray takes micro campervans to a whole new level. Measuring a mere 141.5 inches (359.5 cm) from bumper to bumper, it's shorter than a two-door Mini Cooper. And totally adorable because of it.
That may sound incredibly tight, but the pop-up roof actually offers enough additional sleeping space for four people. Although we're not sure how much fun road trips would be with four people crammed into the teeny Ravy. It's really much more suited to an adventure duo.
Stepping into Narnia
Inside Ravy, the front seats fold flat, turning the entire cabin into a fairly large bed. And when we say it's cosy, we can't think of a cuter way to sit and enjoy the scenery than in a fully converted bed like this one.
The bed also half folds into a sofa, giving the best spot for sipping on a hot drink and enjoying the view out of the rear door.
You'll also find a pull-out kitchen featuring a single-burner stove, sink, and storage space for utensils and food, as well as integrated hanging storage for your things. Not to mention charging outlets and USBs for all your appliances.
The only thing this micro campervan is missing is a fridge, but could you really expect any more to be crammed into this micro campervan?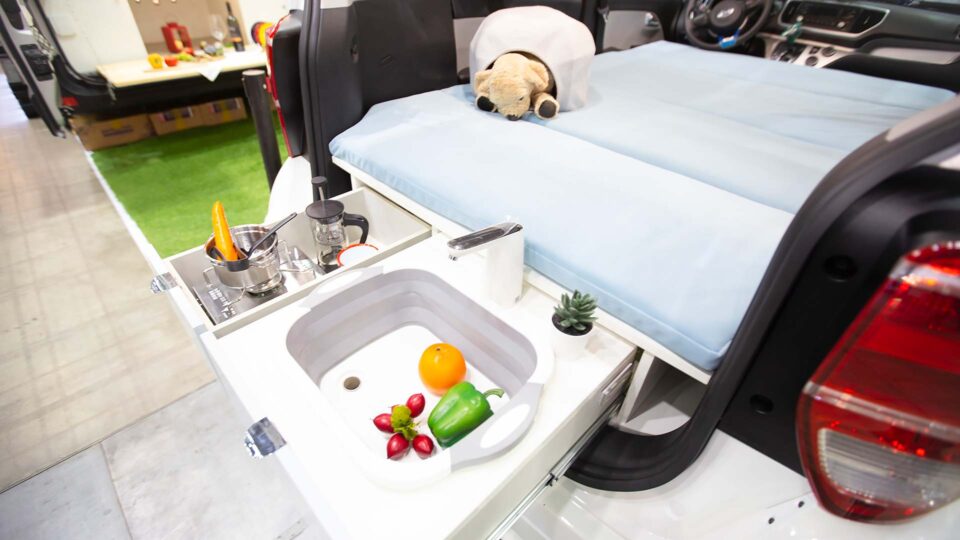 Is the Ravy for You?
The Ravy is currently only available in South Korea, but we can't wait for this to roll out worldwide. With micro campervans becoming more and more popular, adventures lovers are finding the best stealthy locations to explore.
Final Thoughts
Would you hit the road in this Kia Ray? Let us know your thoughts in the comments below!