The Ranger is brought to you by Outside Van, an industry leader in custom 4×4 campervan conversions. Based in Portland, OR, they produce over 100 custom vans every single year with their impressive team of over 65 professionals.
Built for Any Terrain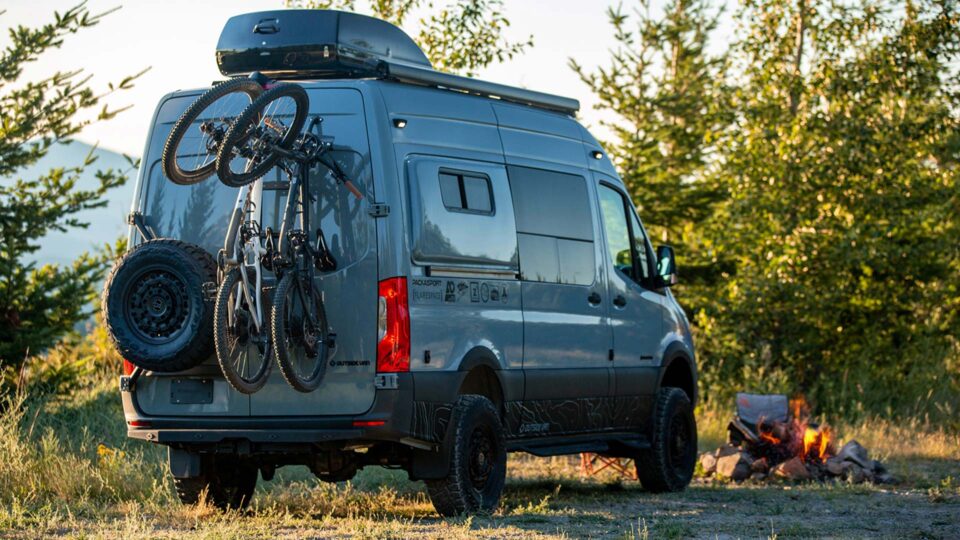 From the outside, this Overland Mercedes Sprinter campervan is a beast. From the Black Rhino Arsenal wheels to the safari roof rack and huge front lightbar, this 4×4 campervan is ready to go anywhere and take on any terrain. It's kitted out with a ZAMP rooftop solar panel and a packasport roof box system for extra storage. Not to mention the rear utility ladder and bike rack for taking your bikes on the road.
Even the paint job looks insane. The metal grey and custom design around the bumper makes this van stand out for all the right reasons. Before you even open the doors, you can tell this van is made for the most rugged adventures.
Form and Function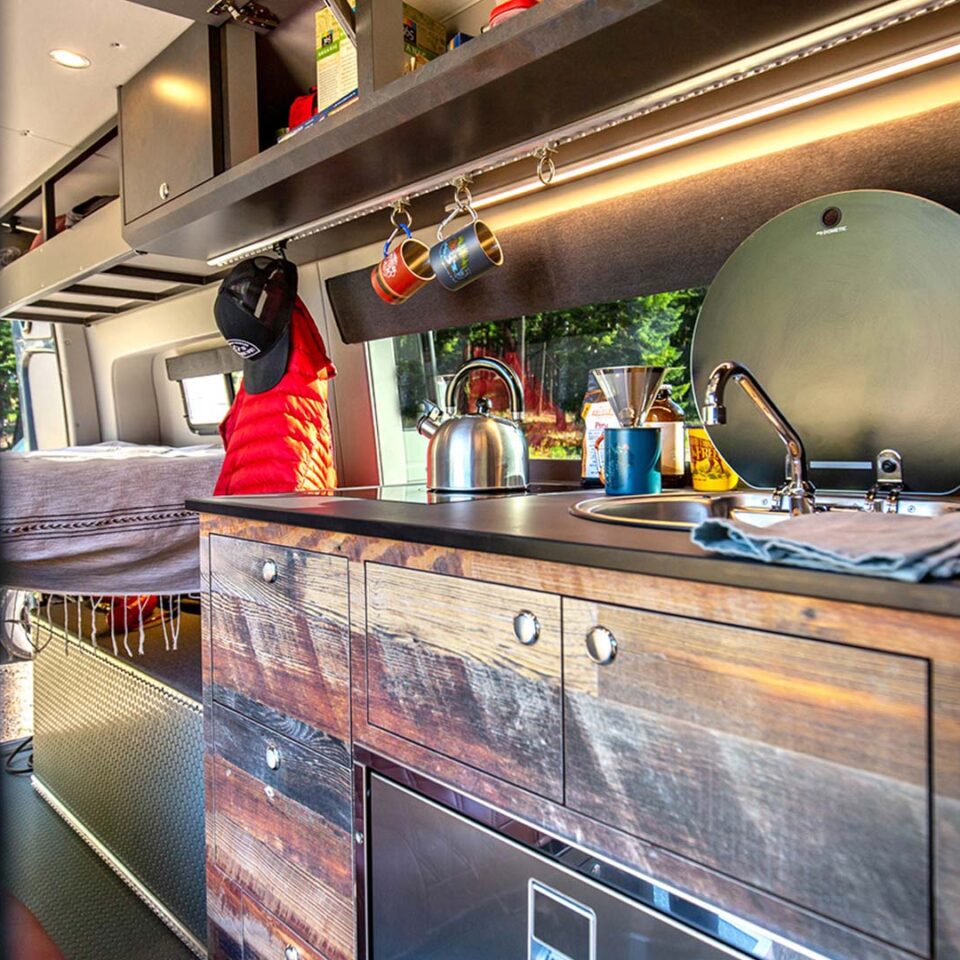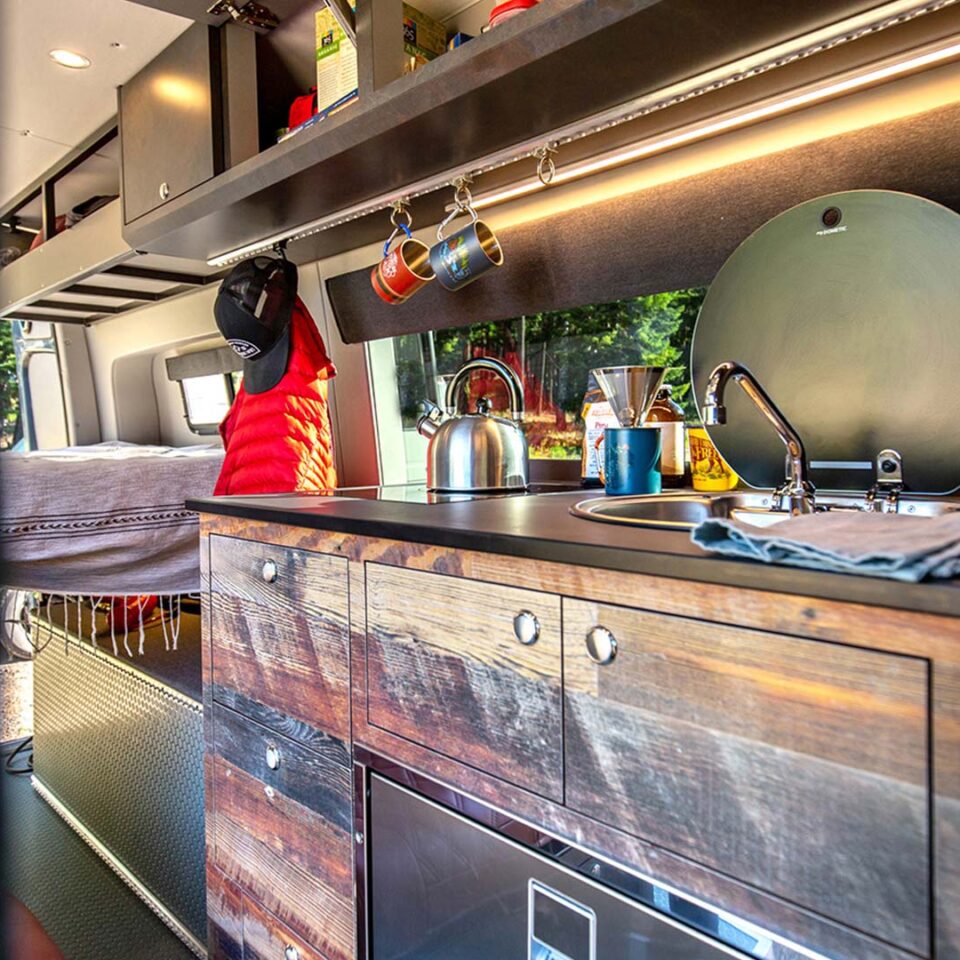 The interior of the Ranger matches the rugged exterior perfectly. The leather seats and wood built-ins look fantastic. But you can tell the focus of this 4×4 campervan is on making it ultra-functional for two people. The galley kitchen has a fridge, sink, induction cooktop as well as plenty of storage space, yet it still feels spacious to stand in.
The back has a full-length bed and the leather chair folds out to give a second bed. But even with all this sleep space, there is still so much storage space at the back for everything you could need on long road trips. The power system in the Ranger is just as impressive as the design. It has two AGM batteries, a 2000 watt inverter, and a second alternator that charges the van while in motion.
You'll also find a powerful Espar heater that heats the water for the kitchen and shower, meaning you'll never be without a hot shower on the road. They have packed this van with all the modern features and conveniences you could need for long road trips off the grid.
Is the Ranger Your Dream Van?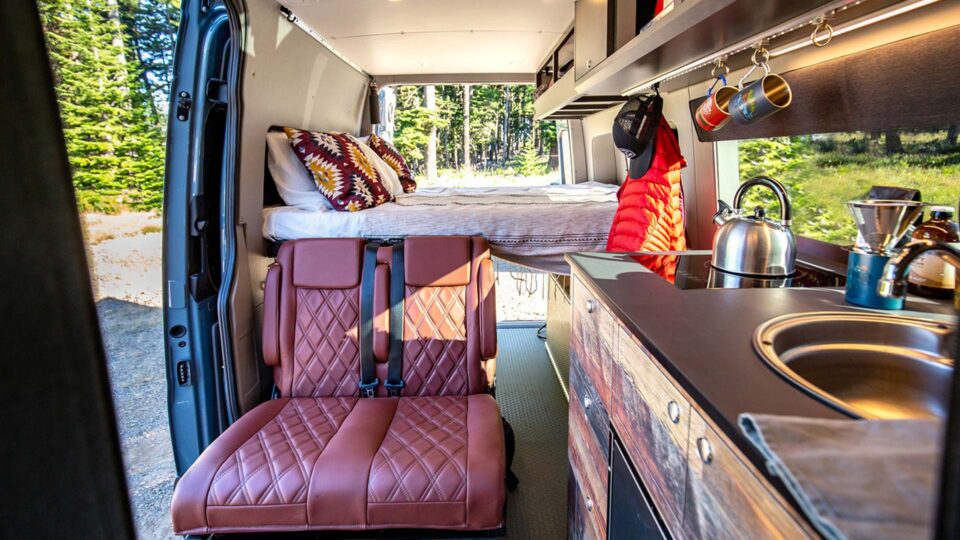 The team at Outside Van hit it out of the park when they designed and built the Ranger. From the rugged exterior to the function-packed interior, we love this Mercedes Sprinter campervan.
What's your favourite part of the Ranger? What would you change if you were commissioning a custom van from Outside Van? Let us know in the comments below!