Once again, Storyteller Overland is storming the world with this professionally built, super capable 4×4 Sprinter camper conversion!
The aptly named "Beast Mode 4×4" has been knocked up a few gears over previous editions by the Alabama, USA based firm using its vast experience at building reliable and strong go anywhere vehicles.
The Beast Mode 4×4 will be added to their small but exquisite 2022 line up and is sure to have a solid waiting list. It's handsome, capable and rammed to the brim of features to keep you moving on and off the road. Under the hood is a mighty V6 turbo diesel power plant to soak up the long miles across the desert and give you the power to ascend pretty much any hill or mountain pass that you should happen across whilst out exploring.
What makes Beast mode so capable?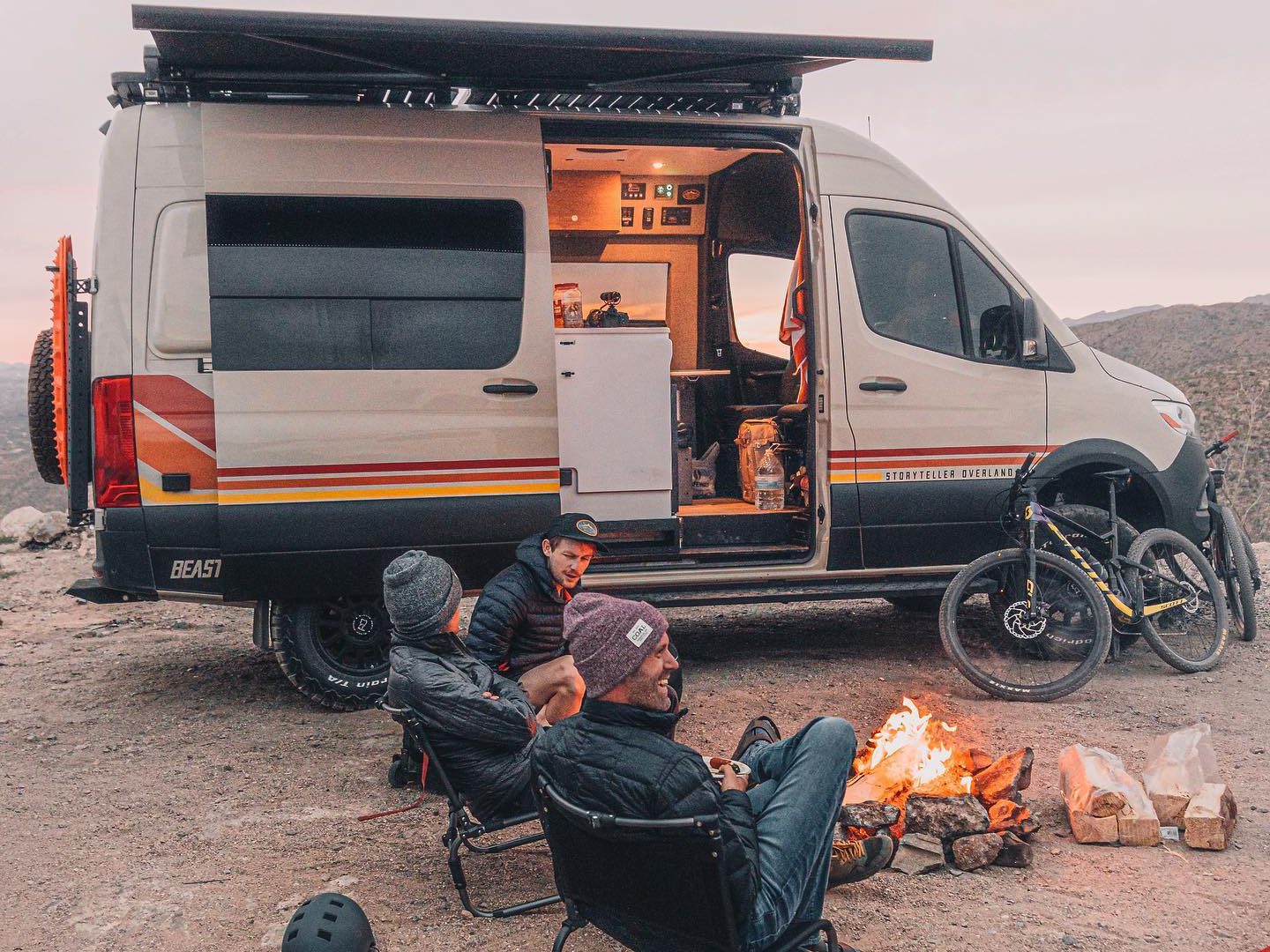 With the Incredible Mercedes Benz 4 wheel drive system as standard, there won't be much to stop you from getting to those insane vistas that you've been aching to find.
The terrain is smoothed out by the upgraded Fox shocks and 4 inch lift kit and electronic traction control electrickery. Huge BF Goodrich all terrain K02 tyres provide the best combination of grip, sure footedness and confidence on the loose gnarly stuff as well as on the black top.
Designed to look as tough as it actually is, Beast Mode lets you know that it means business. A choice of Arctic White or Pebble Grey paint colours with Storyteller's trademark nod to a decade long gone by, the red, yellow and orange livery will definitely turn heads wherever you go.
Beast Mode 4×4 is rammed full of features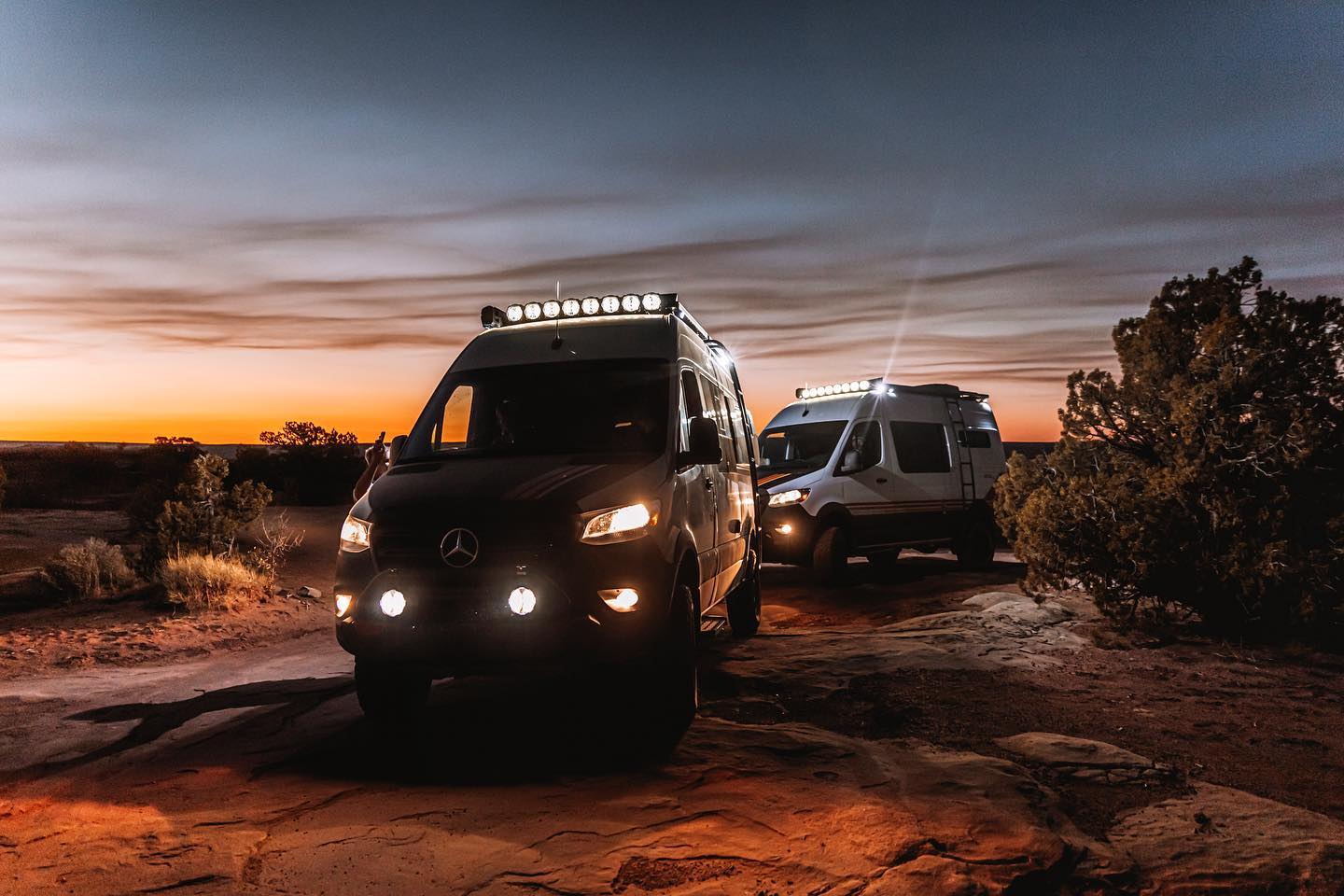 A huge roof rack accessed by a side mounted ladder means you can carry plenty of goodies up top for those extra long trips. Or you could even request a gorgeous sun deck for those lazy days where you'd rather watch the world go by with a beer. Not sure why you'd want to stop driving this stunning rig though!
Powerful LED lights adorn the front as well as LED headlights will ensure you're on the right path through the night, in case you do decide to keep driving and not have that roof top beer.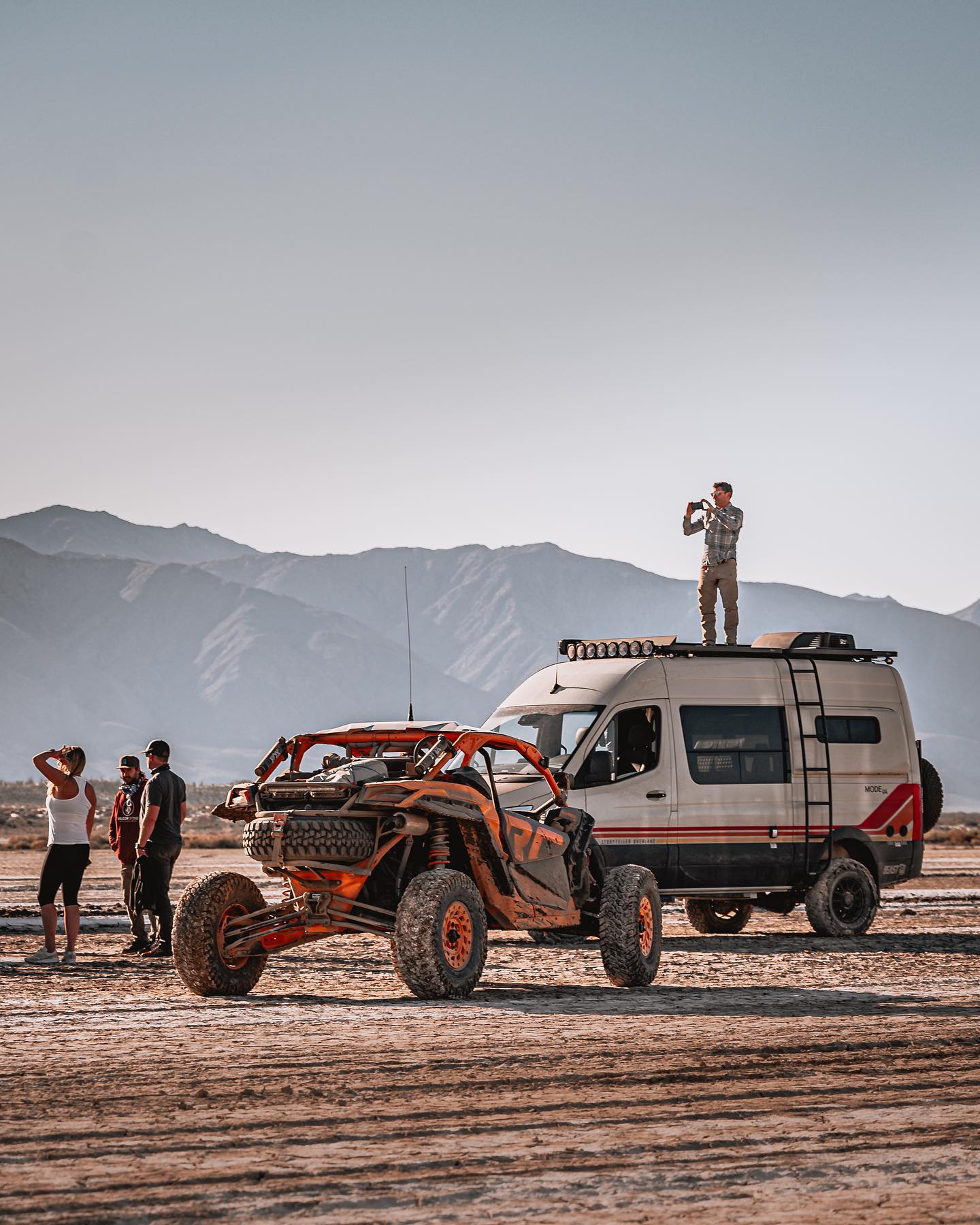 For those days when you really do need to take a break from the adventures, Beast Mode is fully equipped to take care of you. Pull up at your chosen spot and you can spin the captain seats round to face into the rear of the van to admire its beauty. The first thing you'll see is the kitchen with an induction hob built into the countertop, with a fridge and microwave to assist you with your culinary wonders!
Further along is a GrooveLounge seating area that is not only your sofa and workspace, and an extra two belted passenger seats but converts into a double bed! A portable toilet and the awesome HALO shower (that drops down from an overhead locker) take care of more personal things.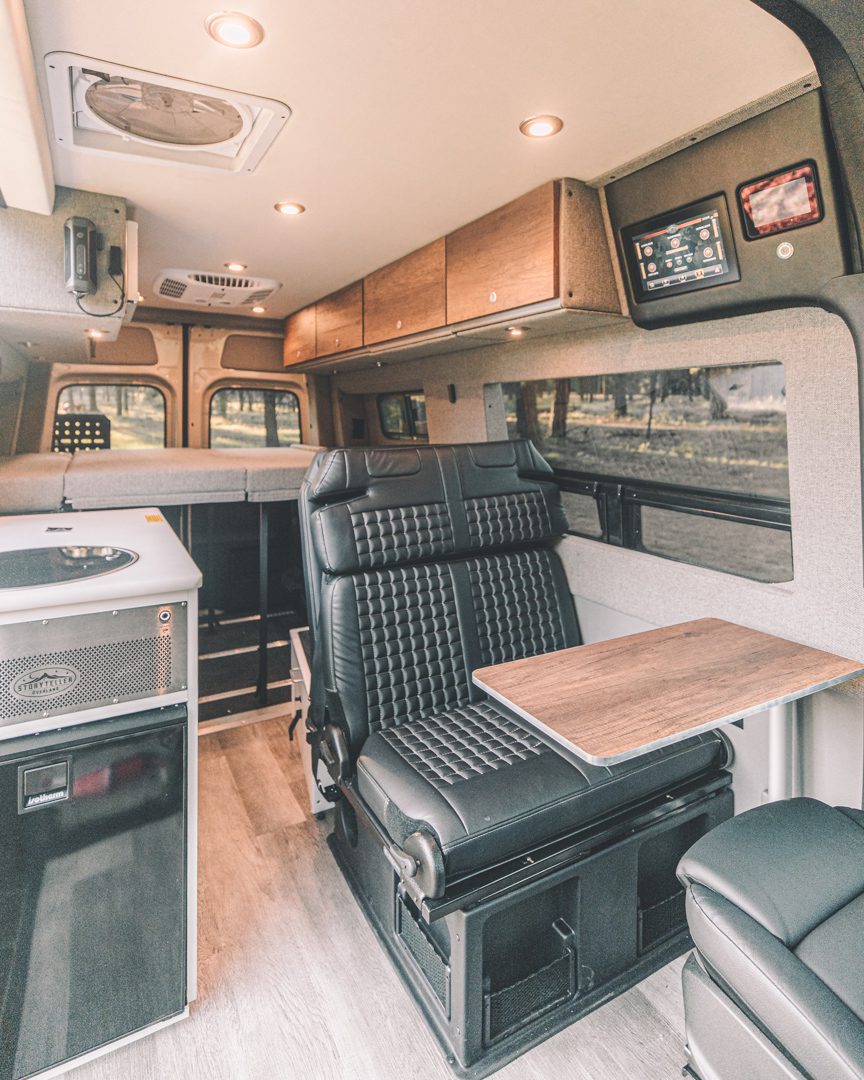 Controlled by an 11 inch full colour touchscreen, the 12kWh M-Power Energy Storage System with high output alternator and 3200W inverter look after the electrical side of things. When the desert sun gets too much, simply flip on the 13.5k BTU Air Conditioner and chill yourself to the bone. Six USB ports, eight inside 110V outlets and four outside and three 12V power ports let charge, watch and play to your hearts content!
Blackout blinds stop the early morning sun from waking you and bug screens stop the, well, bugs. A 21 gallon freshwater tank hides away with a powerful pump system keeps the pressure up full.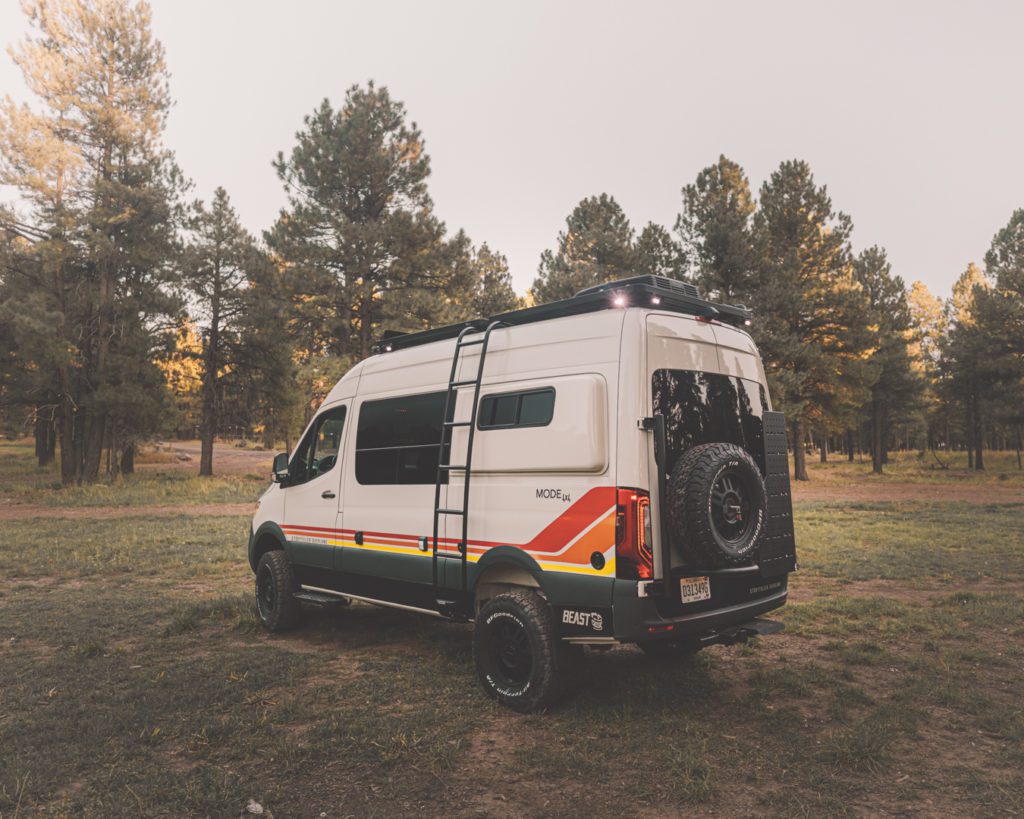 Outside isn't forgotten either and is packed full of features including the 24 gallon grey water tank with heater to stop it freezing, powered awning with dimmable lights and a 90 watt solar panel that's expandable to 600 watts!
Bathroom
Halo Interior Shower™ System
FlexSpace™ Concealed Shower Pan
Exterior Shower
Portable Toilet
Gasoline/Diesel Fired Water Heating System
Hot Water Recirculation System
Interior
Dreamweaver™ Bed/Convertible Work Surface
GrooveLounge™ 2-Seater Convertible Sofa Bed
MODE COM 11″ Full Color Touchscreen Control System
Removable Upper Cabinetry
High Powered Ceiling Intake/Exhaust Fan
Dimmable LED Ceiling Lights
Dimmable LED Under Cabinet Lights
Dimmable LED Cargo Area Lights
Cabin Air Conditioner
Diesel Fired Heating System
Water Control System
(8) 110V Outlets
(6) USB Ports
(3) 12V Outlets
Garage Cargo Area w/ L-Track
Side and Rear Door Bug Screens
Privacy Shades for All Windows
Portable Bluetooth Speaker
Sheep's Wool Insulation
Exterior
Roof Rack w/ Sonic Wedge Wind Deflector
Tubular Side Mount Ladder
Lower Solar Port
Powered Awning w/Dimmable LEDs
Running Boards
21 gal Fresh Water Tank (in Cabin)
24 gal Grey Water Tank w/Heating Loop
City/Fresh Water Connection
Heavy Duty Shore Power Inlet
(4) 110V Outlets
Energy System
M-Power™ 12kWh Energy Storage System (Powered by Volta)
Volta Touch Screen Display
3200W inverter, 6400W peak
Intelligent Power Distribution Module (Managed by MODE COM)
High Output Auxiliary Alternator
90W Solar Panel, expandable up to 600W
30A Power Cord
Your search for the ultimate overland adventure vehicle is over. Beast Mode 4×4 is available to order from Storyteller Overland for $198,746