When it comes to planning the layout of your campervan, this should not be rushed.
Remember, you will be spending a lot of time in the vehicle once you have finally finished the conversion. Coming up with the best planning solution at the very start of the build should be your priority.
Where to look for campervan layout inspiration?
Thankfully, there are thousands of self-build campervans out there, so finding tons of inspiration for your build is just a Google, Pinterest or Instagram search away. (Good hashtags to use when searching are #VanLife, #VanLifeAdventure)
But keep in mind that you will need to plan adequately and make sure that you take only the items you require. You don't want to take to much stuff and end up getting crammed in. So sorry, the dishwasher will have to stay at home!
After all, your comfort is the main priority. If you want to make living and travelling in a campervan the joy that it is, planning it correctly from the very start will be the key to success.
Things to consider when planning your campervan layout;
How many people will be living in your campervan? If you have more people, that means you will need more space for beds. Or you may need some areas that can convert to sleeping areas. And then you also need space to host all those extra guests.
Pets? Many people who travel in campervans often go with there four-legged friends. You will have to make a comfortable space for your pet(s), too. #VanLifePets
Your height. Many vans have a maximum internal width just under 6 foot. People that are taller than this will not be comfortable sleeping in a crosswise position.
Storage space. Depending on the size of the van, once converted, you will soon find you may not have that much of extra space. Bring only stuff that you need. Downsize as best as you can and keep only things you care for and which you will need often.
Do you want to work in your van? If so, you will likely need to have a sitting area and a table with a comfortable space to work. It can be your kitchen, but you can also have a convertible space created solely for work if you want.
Want to cook inside your van? In that case, you may need a stove, fridge, sink, counter, a water tank, and so on. Not to mention, you also need space to store your food as well as all the pots, pans and utensils.
Are you taking any sports equipment along with you? You need to think about storing those large items — things like mountain bikes, skis, surfboards, and so on. You can attach them on the outside of the van, but there are campervans which offer dedicated storage space for them.
Correct campervan planning weight distribution
You want to avoid having all the heavy items on one side of the campervan as this can affect the handling of the vehicle, and in rare cases, become quite dangerous.
Try to design the campervan to have an even weight distribution, especially when it comes to the more substantial items like the bed, water tanks and fridge.
Multifunction items preferred
Since space inside your van is limited, the best thing that you can do is to opt for items that will offer multiple functions (a table that is a work area as well as a place to eat). Design your layout with the right focus on various features.
Make it inviting, but also think about what extra functions you can add to it. Van space is at a premium, so make every square inch count.
Common Campervan Layouts
Many designs follow the same type of layout as they have become quite popular.
What you need to keep in mind when it comes to your campervan layout is that this is a very personal thing.
Here are some of the more common campervan layouts for you to think about and hopefully give you some inspiration for your build;
Campervan Fixed Rear Bed Layout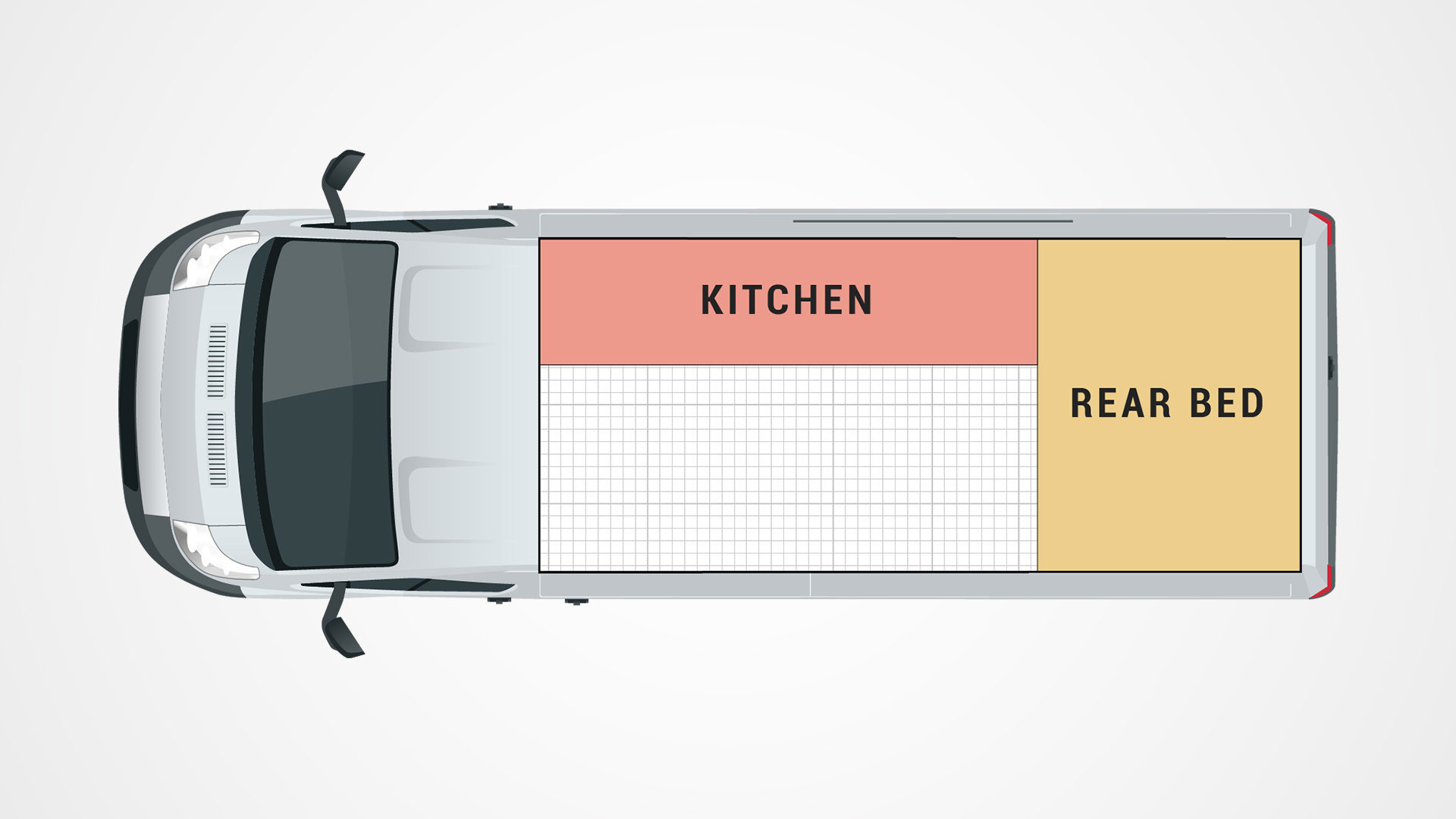 This layout is super popular because it's found in most campervans out there such as a VW Westfalia for example. You have a futon style bed inside at the rear of the van, and this flips out into a couch. It is a winner with many campervan layouts as it is versatile, easy to use, and the best part is that you get storage space under the fixed bed platform.
The downside for it is that you do end up covering a lot of space with your bed, especially when your van is in the day mode. It works well if you have tons of items to store and you need that extra space.
Campervan Lengthwise Bed Layout (Rock n' Roll bed)
As the name suggests, here you have a lengthwise bed, and this will function as a couch during the day. Give the couch a simple 'rock n roll' (or lift and pull), and this will now transform into a full-sized bed for sleeping.
The benefit of this layout is that you have an ample amount of space to move around inside the campervan when the bed is in its 'closed' position. All the storage, including the cupboards, are along one side of the vehicle as well as the kitchen located towards the cab.
It is an excellent compromise because you have lots of ways to organise and access your stuff. And the way these Rock n' Roll beds are designed, you can cram items under if needed for extra storage space.
If you require even more room, you can install cabinets and shelving attached to the walls high up above the bed.
Here is a demonstration on how a Rock n' Roll bed operates.
Campervan Convertible Rear Bed Layout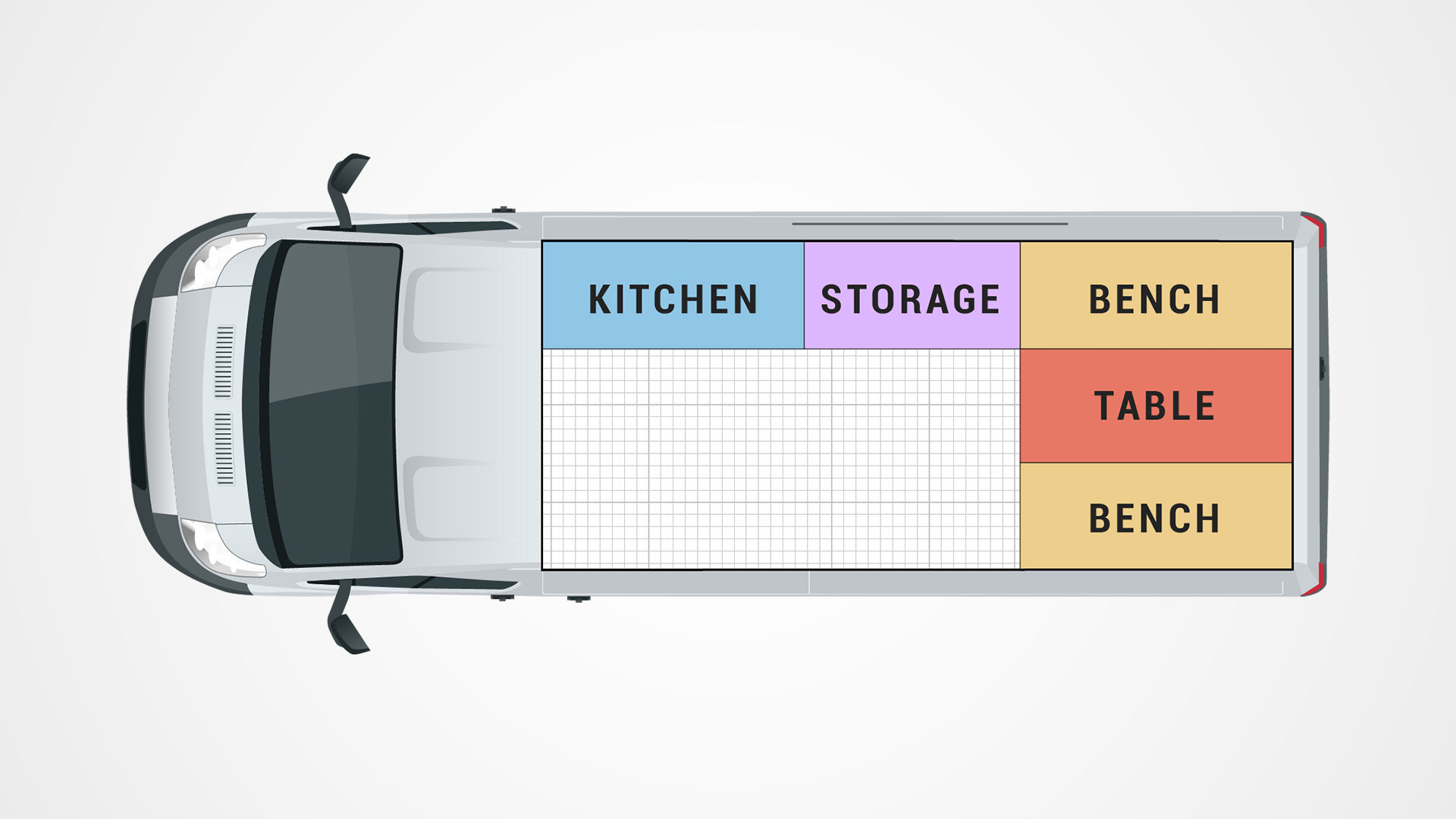 Here you have a combination of the best features from all the options mentioned above.
In the day, you set it to its table position and used as a dining or work area. When its time to sleep, lower the table into the bed position, put the cushions in place, and now you have a place that will sleep two people comfortably.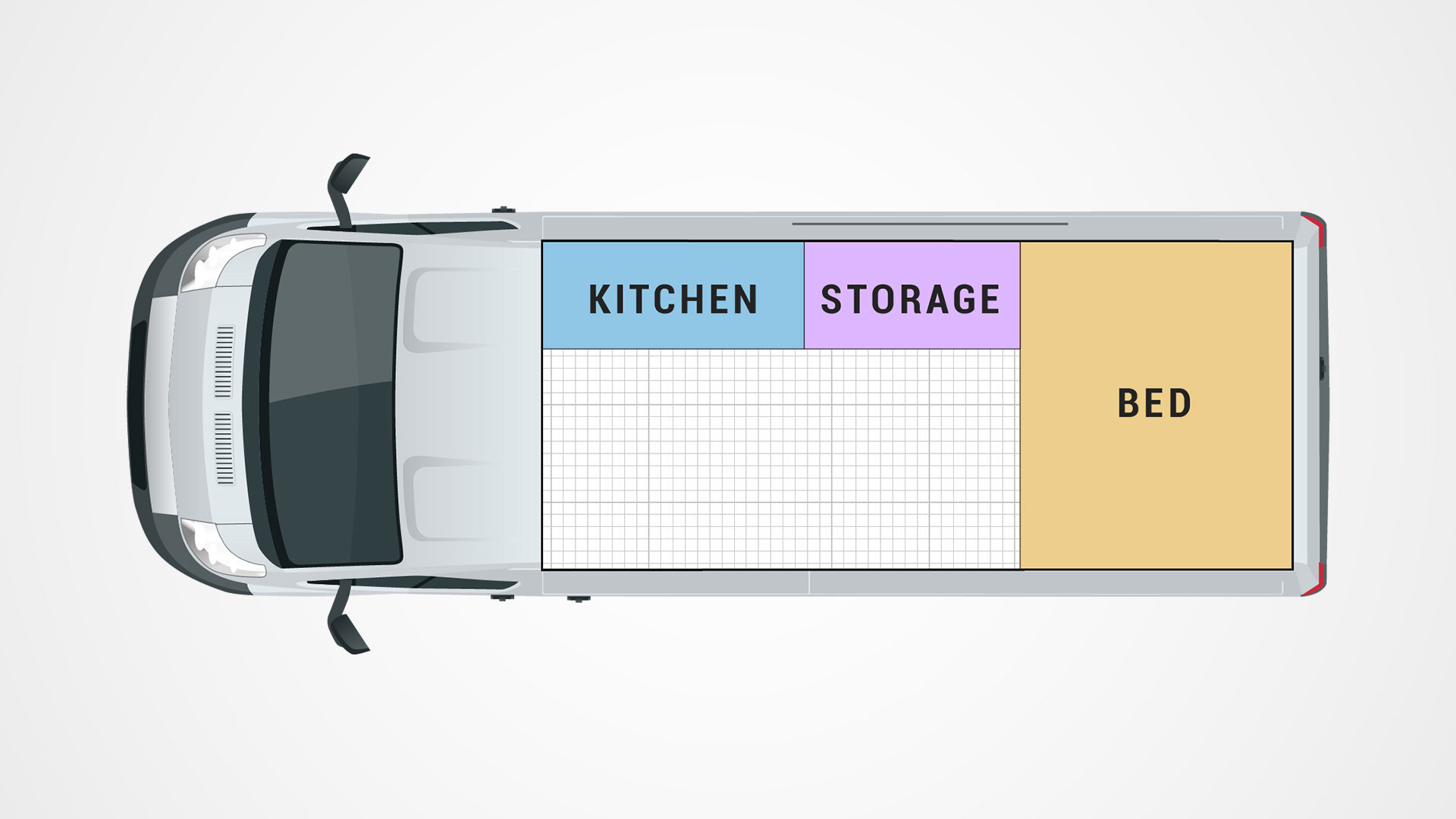 It is an excellent option if you want to save on space, not to mention the van is free during the day for hangouts and just having fun.
Another excellent benefit of this setup is that as this is at the very back of the van. It means you can open up your rear doors and enjoy the views of the day.
Kitchen Behind the Cab Campervan Layout
To preserve space, you will find that some campervans come with kitchen units attached directly behind the cab. It is a permanent seal to the driver's area and the leading campervan living area. It is a simplified layout amongst the more stealth camper van builds.
You have privacy, and at the same time, you can add in a combination of bed styles.
Design and testing your campervan layout
Coming up with ideas might be the easiest part here, so now its time to put pen to paper and create your campervan flooring plan.
As we are living in a world of the digital age, there are a few more advanced options you can use when it comes to planning the interior layout of your campervan.
But first, we will start with the very basic;
A Pencil and Graph Paper
One of the simplest options is the drawing your plans with a pencil, ruler and graph paper. All you need is a bit of creativity, and you will be just fine here. Try to make sure that you draw your plans to scale to avoid any unwanted issues.
If you have multiple layouts, the best thing that you can do is to draw various plans. It is an excellent way of planning as it allows you to take your time and eventually see which one works best.
Campervan Design Software: SketchUp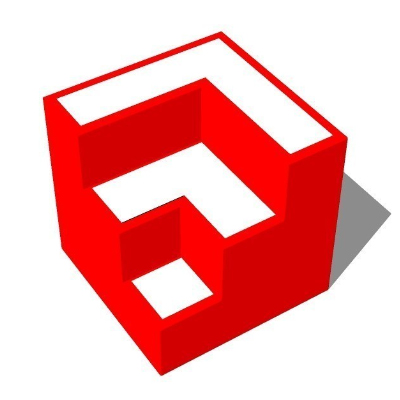 For the more technically savvy out there, you can always use CAD (computer-aided design) software. One such application that is very popular with campervan planning is called Sketchup. Initially developed by Google, Sketchup is used by thousands of users around the world for its ease of use and its extensive pre-built 3D items. All these are free to download on its vast 3D warehouse.
Mind you, Sketchup does have a little bit of a learning curve at the beginning, so we do recommend watching a few YouTube tutorials to get you up to scratch on the basics.
But, once you get past the initial hurdle on how to use Sketchup, drawing your plans in 3D will give you a brilliant visual representation of your future campervan build.
You can even add textures to your design. It will give you a realistic look at how your campervan will look once completed.
Conclusion
We have tried to cover planning your campervan build in as much detail here in this article. If you feel you have some fantastic advice, you would love to share with people who are just about to set out on building their new campervan.
Please leave it below in the comments section.