Just because a campervan kitchen is a small space, doesn't mean it has to be boring and impractical. Even the tiniest of vans can have a functional kitchen that shows off your personality if laid out the right way. That's why taking your time to plan out your perfect campervan layout should not be rushed.
Below are six amazing campervan kitchens to inspire your next self-build campervan conversion.
6 – Cosy and Functional by Lightravelers
View this post on Instagram
This campervan kitchen makes use of every square inch of available space. The small ceiling cabinets above the sink give extra storage without making space feel cramped. The pull out side table offers a cosy space for breakfast in bed – without getting crumbs in the sheets.
Plus, the blue tile backsplash makes the entire space pop with colour and really come to life. Who says a small space can't be stylish?
View this post on Instagram
This campervan kitchen oozes personality. The bright teal accents give a hippy vibe and ties in so well with the wood shelves and storage.
Having hanging utensil holders on the wall is such a great space-saving idea and blends in so well with the overall design.
Did anyone else notice the fold-down desk? What an awesome bonus space for those rainy days of chilling in bed. When you're done, you can fold the desk away and relax in a nice open space.
4 – Minimalist Monochrome by Ourvanquest
View this post on Instagram
This black and white kitchen takes sophisticated style to a new level. If bold colours aren't your thing, this simple but effective use of black and white will bring your campervan kitchen to life.
The white subway tiles with dark grout lines give a timeless style and goes so well with the black accents throughout.
Keeping things bright and white also gives the illusion of more space, making it comfortable and relaxing on even the hardest of vanlife days.
[su_divider top="no" size="1″ margin="40″]
[su_divider top="no" size="1″ margin="40″]
View this post on Instagram
The use of space in this campervan kitchen is something to aim for. The pegboard on the end of the counter gives a great space for those bulky kitchen items that are hard to stow away.
Plus, the basket hanging above it and the hooks for cups give bonus space so you don't have to sacrifice on your favourite mugs and utensils on your next road trip.
The rustic floor and the brick style wall bring the design to life, giving a more timeless, cottage style feel to the interior space.
2- Bold and Modern by Yamanomad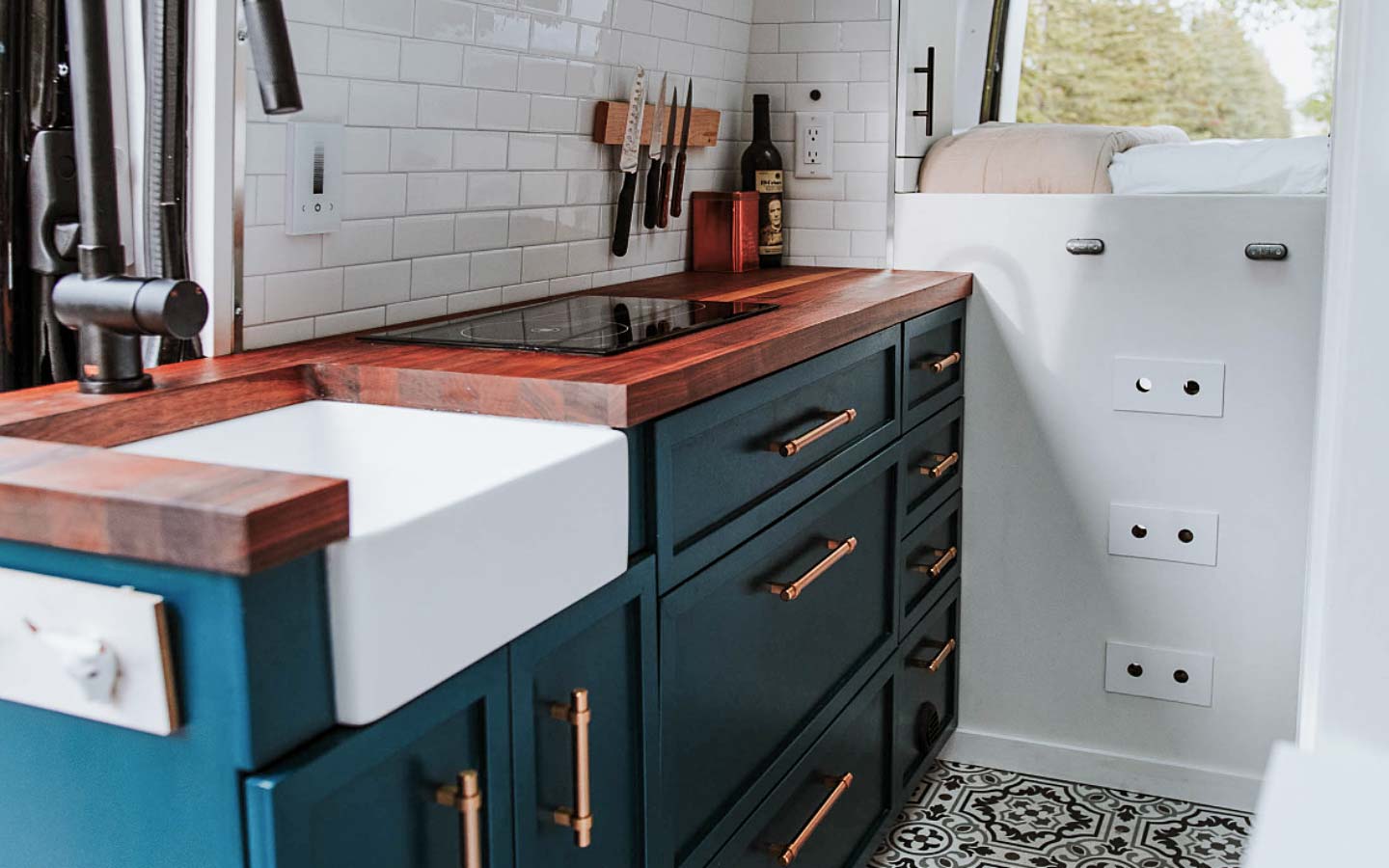 The bold style in this kitchen makes it so stylish with a cosy feel. The blue cabinets with gold accents are striking and modern and go beautifully with the Victorian style floor tiles.
Don't be afraid to add a mix of colour and pattern during your next conversion. Both can make a campervan kitchen space feel much bigger and more like home.
1 – Scandinavian Simplicity by Happyhomebodies
View this post on Instagram
Scandinavian style is a popular one for vanlife these days. The light woods, white tones and natural greenery go so well with the campervan lifestyle.
By going with a lighter tone for the wood floor and ceiling, this campervan feels huge. The white kitchen and walls add to the feeling of space and give a sense of calmness that's a great retreat on busy road trips.
[su_divider top="no" size="1″ margin="40″]
What's your campervan kitchen style?
Has inspiration struck for your next van conversion? Let us know your plans in the comments below.