Not sure which driveaway awning to buy for your campervan? This is our guide to picking the best driveaway awning for your budget and your campervan.
On this page, you'll find our pick of the best driveway awnings of 2020. Scroll down to the bottom of the page and you'll find our driveaway awning buying guide, which takes you through everything you need to know about finding the right driveway awning for your campervan and detailing all the features you need to look out for.
Quick Glance: What are the best Driveaway Awnings to buy in 2020?
Vango Noosa Low Awning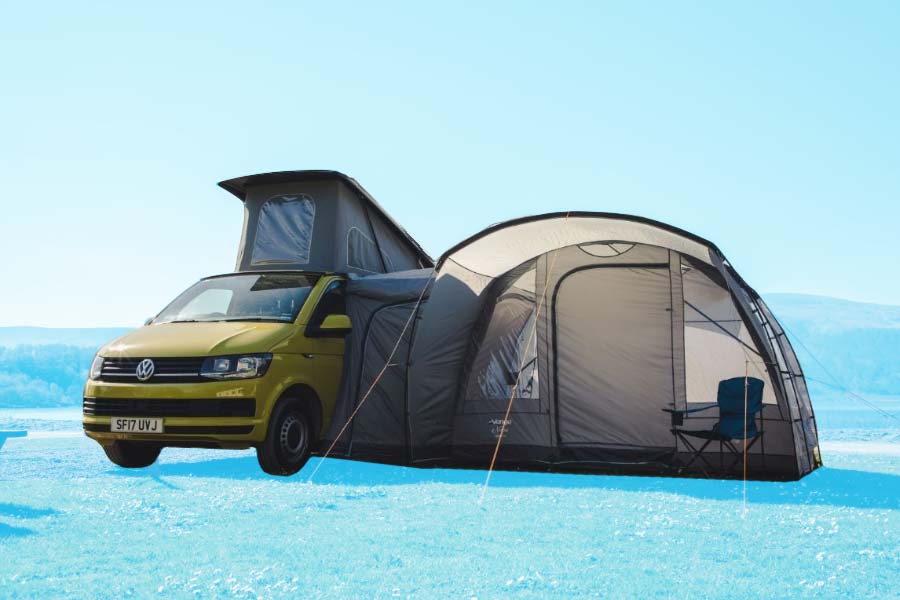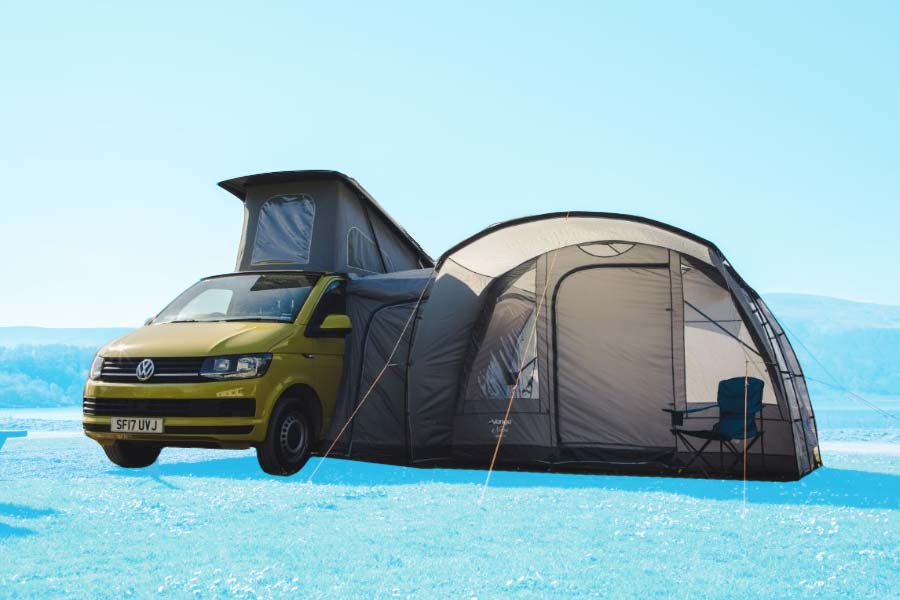 The Best All-Round Driveaway Awning
Whether you're heading off on a weekend road trip or going on an epic vanlife adventure, the Noosa Drive Away Awning gives you a great balance of indoor and outdoor space. Named after a secluded Australian beach, the Noosa is an excellent piece of kit and an excellent addition to your campervan arsenal.
The awning features a pre-attached front extension that offers a versatile amount of space. It's also pretty handy for keeping you dry, just in case the weather decided to let you down.
And when the sun finally decides to come back out, the awning features crystal clear windows that maximise the amount of light beaming to the interior.
And for those windy days, the awning is supported by pre-angled poles that provide effective bracing against side winds.
To control the internal climate, the Noosa is fitted with the AirZone ventilation system. This allows you to control the airflow, creating a perfect atmosphere keeping everyone happy inside.
Features
Fit: Small to Medium-Sized Campervans.
Attaching Height: 180 – 210cm.
Pitching Time: 10 – 20 Minutes.
Open Dimensions: 4.30m x 3.10m
Package Weight: 12.60kg
Vango Palm Air Low Awning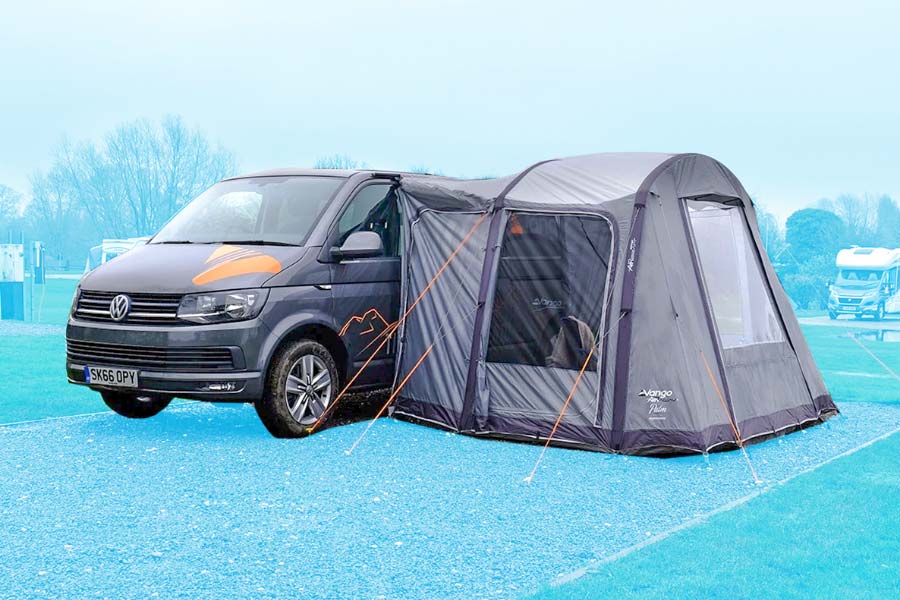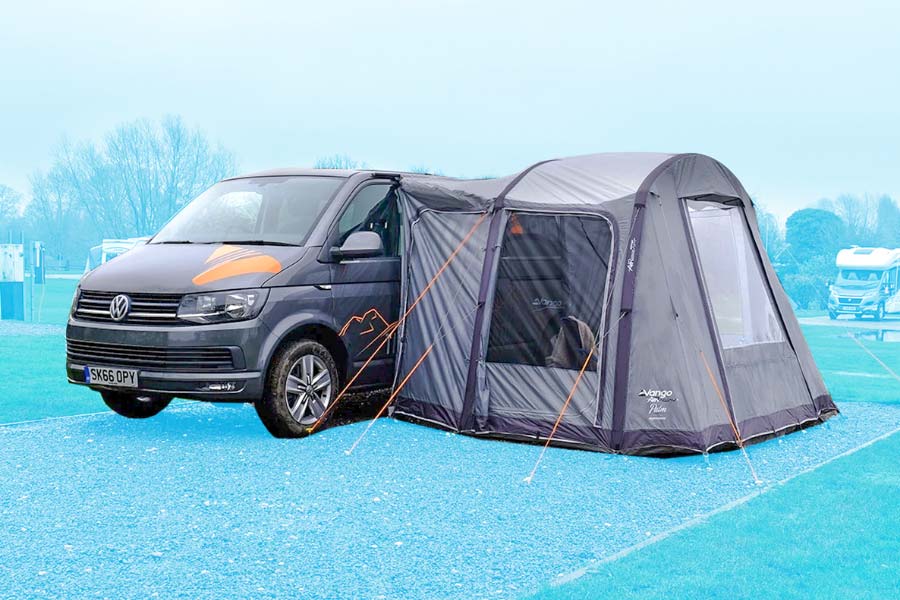 Best Driveaway Campervan Awning For Small Campervans
The second Vango on our list is the ultra-popular, super practical Palm Air Low.
Simple to set up, this high-quality awning by Vango is perfect for active families who need that little extra space for mountain bikes and surfboards. We feel this is just right between size and practicality when it comes to additional space while travelling in your campervan. When the weather is just right, the large front door can open up and be transformed into a canopy using optional king poles (not included). Alternatively, simply roll the door up and use the built-in mesh screen to create a bug-free environment.
To keep you and the occupant's comfortable, ventilation is controlled via the AirZone Ventilation System. This provides an ample amount of airflow and should keep everyone happy. The awning features diamond clear windows which will give you plenty of additional light. Alternatively, the built-in privacy curtains will provide you with all the privacy you require. And finally, the Palm Air Low features a handy roll-away connecting tune that makes it super simple to roll back and drive the campervan away for the day.
Features
Fit: Small to Medium-Sized Campervans.
Attaching Height: 180 – 210cm.
Pitching Time: 10 – 20 Minutes.
Open Dimensions: 3.30m x 3.30m
Package Weight: 12.10kg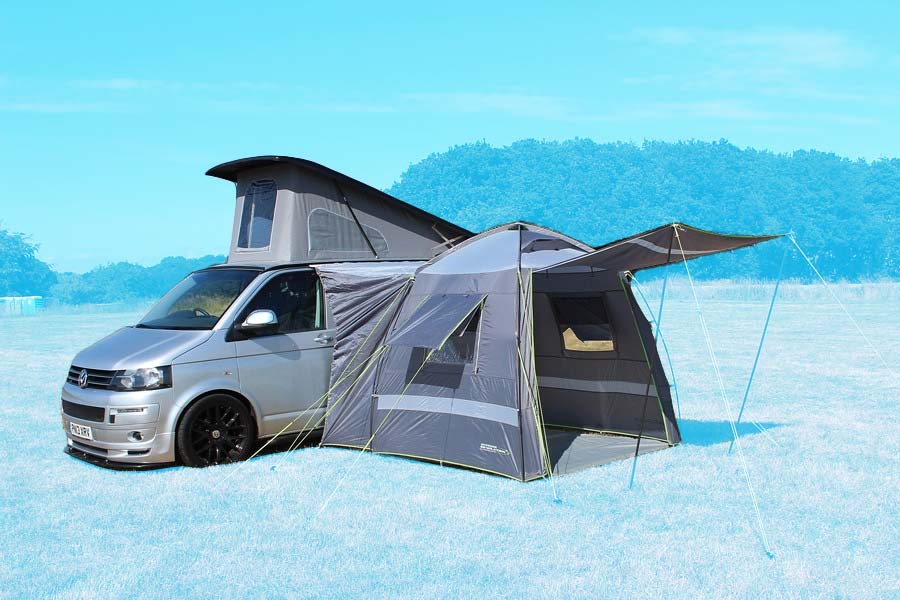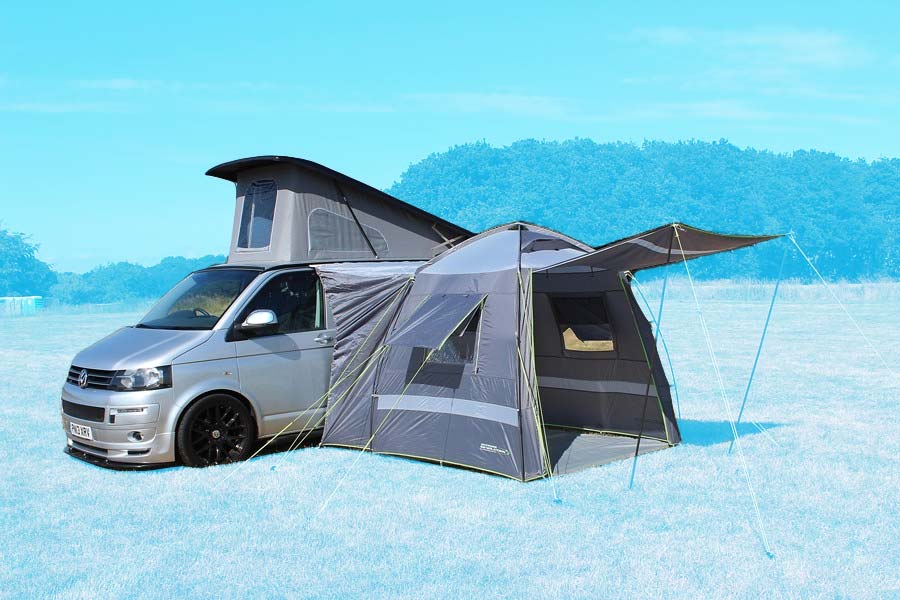 Outdoor Revolution Outhouse XL Handi Awning
Best Inflatable Driveaway Campervan Awning
Fit: Small to Medium Campervans | Attaching Height: 180cm to 210cm | Pitching Time: 20 Minutes | Open Dimensions: 2.00m X 2.00m | Package Weight: 5.6kg
One of the most popular awnings on our list is the Outhouse XL Handi by Outdoor Revolution. Its also the cheapest, coming well in under £200.
The Handi is one of the most popular driveaway awnings on the market, and rightly so. It dominates the driveaway awning category often highlighted as the affordable one. But just because it is low priced doesn't mean it lacks any of the essential features you would come to expect on something a little more premium. It's actually quite the opposite.
With an ample amount of interior space, the Handi XL makes a perfect addition to your complete camp setup. In fact, whether you fancy a separate space for relaxation, shelter or even a separate toilet or shower area, you can't go wrong with this model. And thanks to the intelligent design, assembly time is kept to a minimum.
Inside its bright and airy thanks to the clear PVC windows. Ventilation is managed with opening points located on both the walls as well as the roof. Additionally, the front door can be transformed into a sun canopy by using the optional poles. This creates an additional area for you to enjoy. Other useful features include a mains cable access point, high-visibility guidelines, and a convenient repair kit.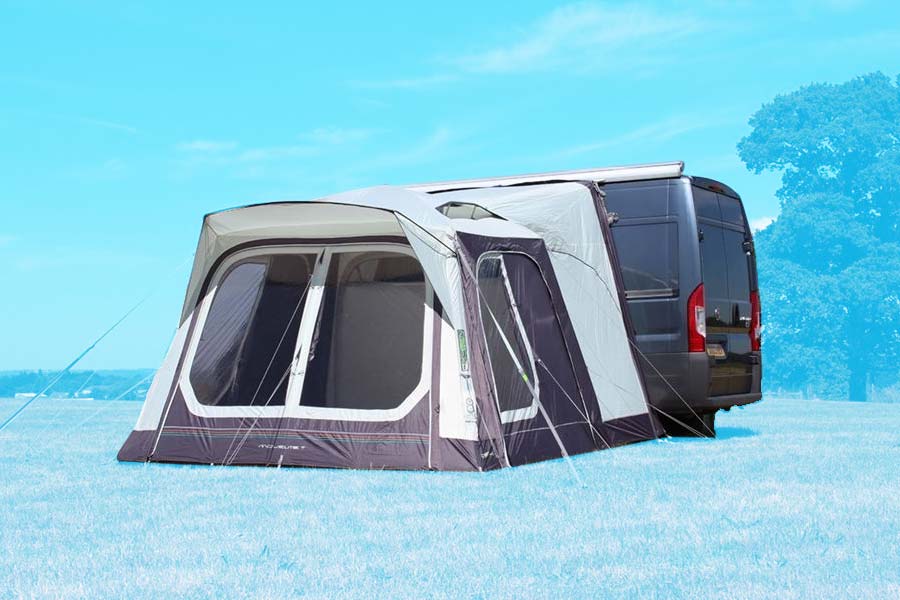 Inflatable Pick: Outdoor Revolution Movelite T1 Awning
Best Inflatable Driveaway Campervan Awning
Fit: Small to Medium Campervans | Attaching Height: 180cm to 255cm | Pitching Time: 10 to 20 Minutes | Open Dimensions: 3.00m X 3.00m | Package Weight: 22kg
Made from lightweight 480HDE double ripstop fabric, the Movelite T1 has secured its place as one of the best inflatable driveaway awnings you can buy.The awning features enhanced architecture with an arched roof design, making this awning one of the most stylish on our list. As you step inside, you'll find a generous 3m x 3m interior space that is perfect for creating an additional functional area.
Additionally, it also comes with an optional two-person annexe, making the T1 a brilliant choice for people who may have a smaller campervan who crave a little extra living space.
The model features a tapered profile making a weather-tight fit. It also features waterproof zips, while providing both left and right-hand entry for easy access to your vehicle. Furthermore, you can use the extra mesh flyscreen for both side doors to create a bug-free environment (not included).
And finally, the T1 can also function as a free-standing gazebo in summer.
Vango Kela V Air Awning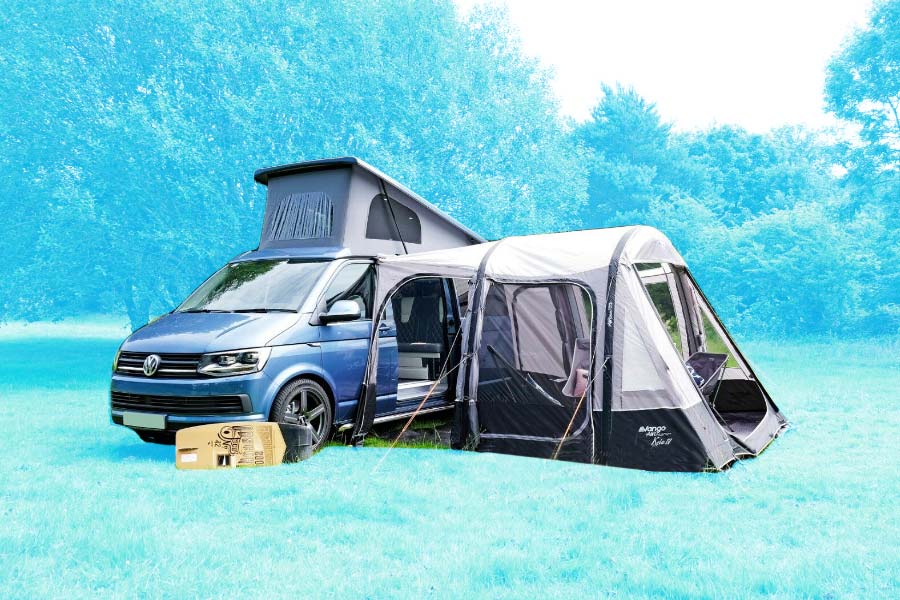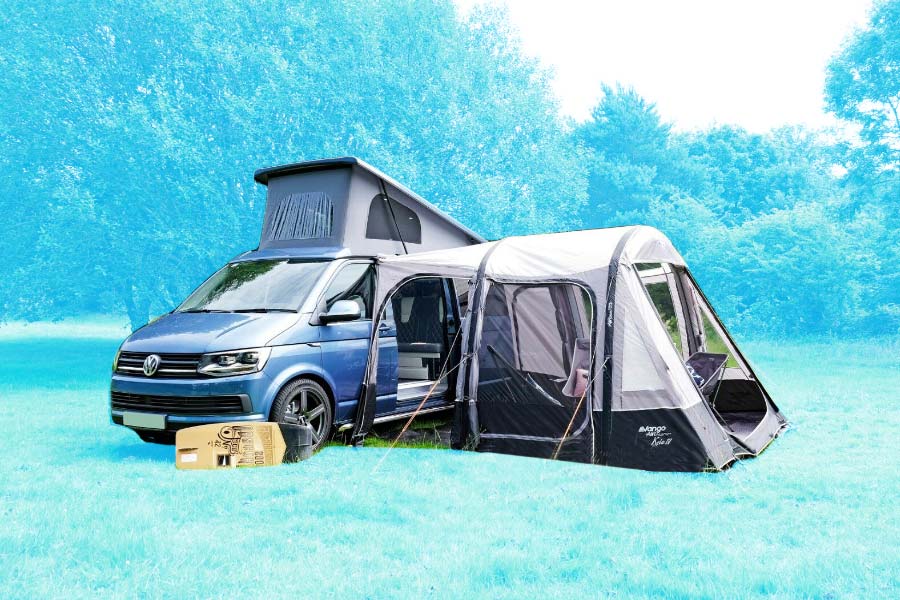 Best Driveaway Campervan Awning For Superior Durability
The third and final Vango on our list is the super popular Kela V Air Drive. Made out of extremely durable Sentinel Pro that boasts a high performance double ripstop weave, the Kela V Air Drive is a robust choice for the more adventurous traveller.
The connecting roll-away tunnel provides a practical entrance with the addition of extra storage space. Inside, the awning is lit up with light coming from both the diamond clear windows and the integrated roof lights. For privacy, the awning features zipped curtains to keep prying eyes out. And the integrated low-level ventilation system helps circulate the air creating a comfortable interior climate as well as helping to reduce the build-up of condensation.
Both the front and side doors feature an integrated mesh screen to further aid ventilation while keeping the bugs out. The awning also features the super practical SkyTrack II® System. This is a flexible hanging system that allows you to easily attach items such as a Bluetooth speaker, 12-volt fan, or interior lighting.
This driveaway awning is sure to be a favourite amongst the more adventurous traveller!
Features
Fit: Small to Medium-Sized Campervans.
Attaching Height: 180 – 210cm.
Pitching Time: 10 – 20 Minutes.
Package Weight: 18.9kg
Driveaway Awning Buying Guide
Is there anything better than hitting the open road and going on an epic VanLife Adventure?
Picture the scene: You finally arrive at your camp location, park up, switch the engine off, and begin to get everything set up. For some, depending on the type of campervan you have, as well as how long you expect to camp, over time, it may get a bit cramped. Wouldn't it be nice to just magically add an extra room to your super-awesome adventure machine? That's where a driveaway awning comes in!
What Are Driveaway Awnings?
Simply put, a drive away awning is a specially developed free-standing tent that attaches to the side of your campervan.
The key difference to a regular campervan awing is a driveaway awning can be detached from the body of your vehicle in a matter of second. This then allows you to drive away in, leaving the awning standing for when you return.
What Is A Driveaway Awning For?
Over the last few years, the popularity of drive away awnings have exploded. Owners find they're the perfect cross between a traditional awning and a free-standing tent. Furthermore, they come in a wide variety of sizes and are usually made out of super-durable materials. Consequently, they give you additional space that helps free up the interior of your campervan.
Fancy a lounge? No problem. Want a little more privacy when using the washroom and toilet? You got it. Need somewhere to cook as to keep the smells out of your van? Sure thing! And the best bit? You don't have to disassemble the whole unit if you fancy going on a little adventure for the day.
They take a few minutes to set up and offer a significant amount of additional space. And when you're ready to go home, they neatly pack away just as quick, all prepared for your next VanLife Adventure.
What Driveaway Awning Do You Need?
When looking for a driveaway awning, the most essential feature you should be looking out for is the attachment height. For instance, you'll need to make sure the attachment height will closely match your vehicle. However, it's worth mentioning, you don't have to be that exact as there's usually room for some adjustment.
And when it comes to finding the perfect one? There's a driveaway awning out there for every type of campervan.