Thanks to rapid technological advancements, installing solar panels on your campervan is an excellent way of providing additional power.
There is also the green credentials. Many of us want to decrease our use of fossil fuels (both through the national grid and/or fuel-powered generator).
By installing a solar power system into your campervan, you can harness the power of the sun and store it in your leisure battery. This energy can then be used when you turn on an appliance and/or gadget.
Did you know:
It's estimated that every hour, enough photons hit the planet to generate enough solar energy to theoretically satisfy global needs for an entire year!
What Is A Typical Solar Power System In A Campervan?
A typical campervan solar power system is comprised of four main electrical items.
Solar Panels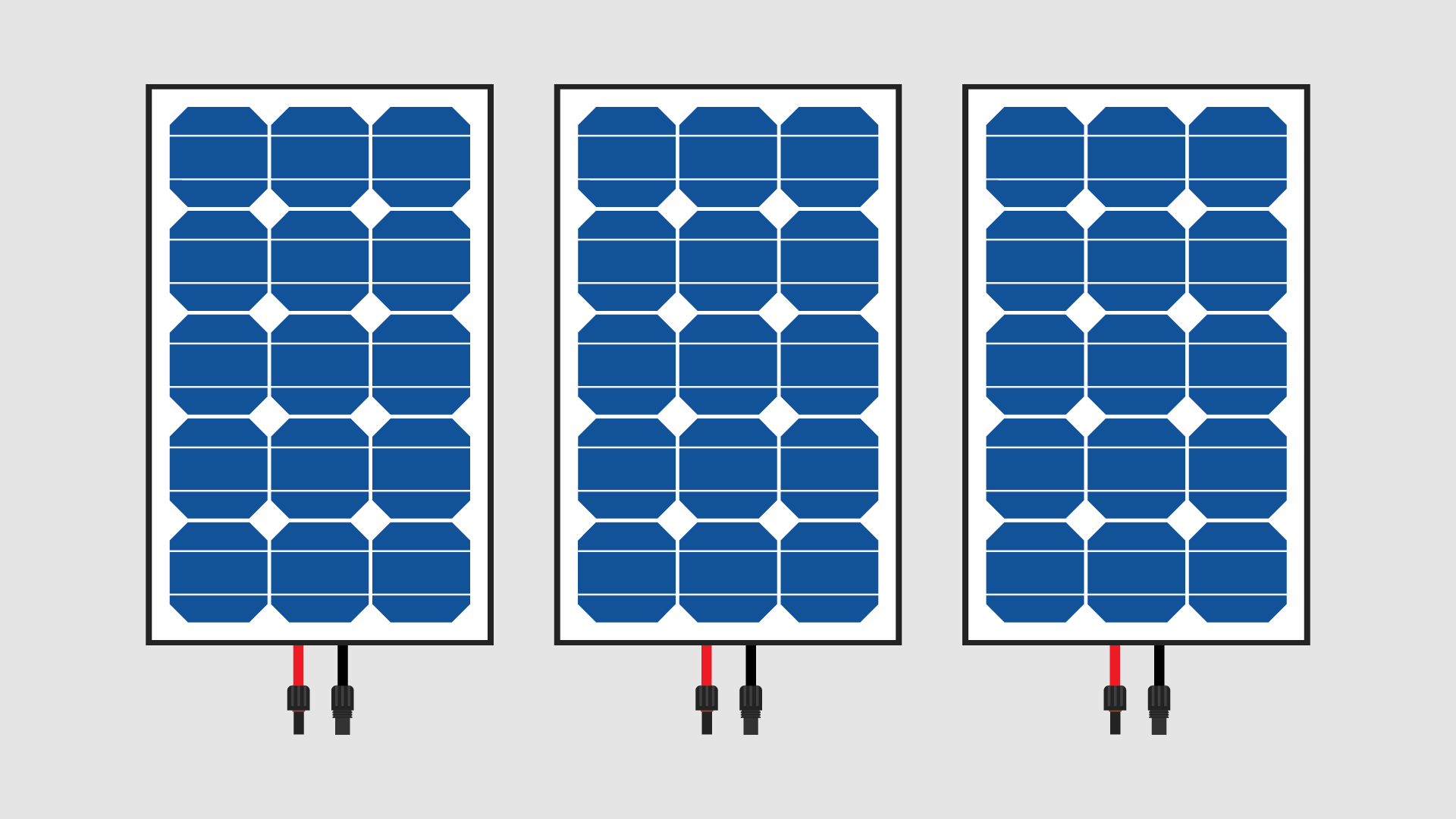 How does a solar panel work?
A Solar panel works by capturing the energy coming from the sun and turning it into electricity that can then be used for your campervan.
Photons from the sun collide with solar cells inside a solar panel. A typical 14.72-volt solar panel has 32 solar cells.
The photons knock the electrons loose from their atoms inside each of the solar cells.
Conductors attached to both the positive and negative sides of each solar cell forms an electrical circuit.
When the sun is shining, electrons start to flow through the circuit, creating electricity.
What are the two main types of solar panels used in a campervan?
The two main types of solar panels used in a campervan are Monocrystalline Solar Panels and Polycrystalline Solar Panels.
These panels are both an excellent choice for your campervan solar installation.
But, there are a few key differences between the two types of solar panels that you should first be aware of before making your final decision.
What are the main differences between a monocrystalline & polycrystalline solar panel?
The main difference between monocrystalline & polycrystalline solar panels is the type of silicon solar cells that are used in the construction of the panel.
What are the best solar panels for my campervan?
When selecting the type of solar panel to install in your campervan, this will ultimately come down to your budget.
Monocrystalline solar panels are a little bit more expensive compared to Polycrystalline panels.
Premium Option:
Go for Monocrystalline Solar Panels if you want better solar efficiency.
Budget Option:
Go for Polycrystalline Solar Panels if you are trying to keep the costs down.
Solar Panel Wiring
How do I wire solar panels in my campervan?
When it comes to wiring your solar panels to your campervan, you generally have two options. (Well, you actually have three, but we will get to that later)
You can wire your solar panels in a series or parallel format.
What are the differences between wiring solar panels in series or parallel?
Should I wire my solar panels in series or parallel?
This is really not a question we can answer as this will ultimately come down to your personal preferences.
How do I connect the solar panels between each other?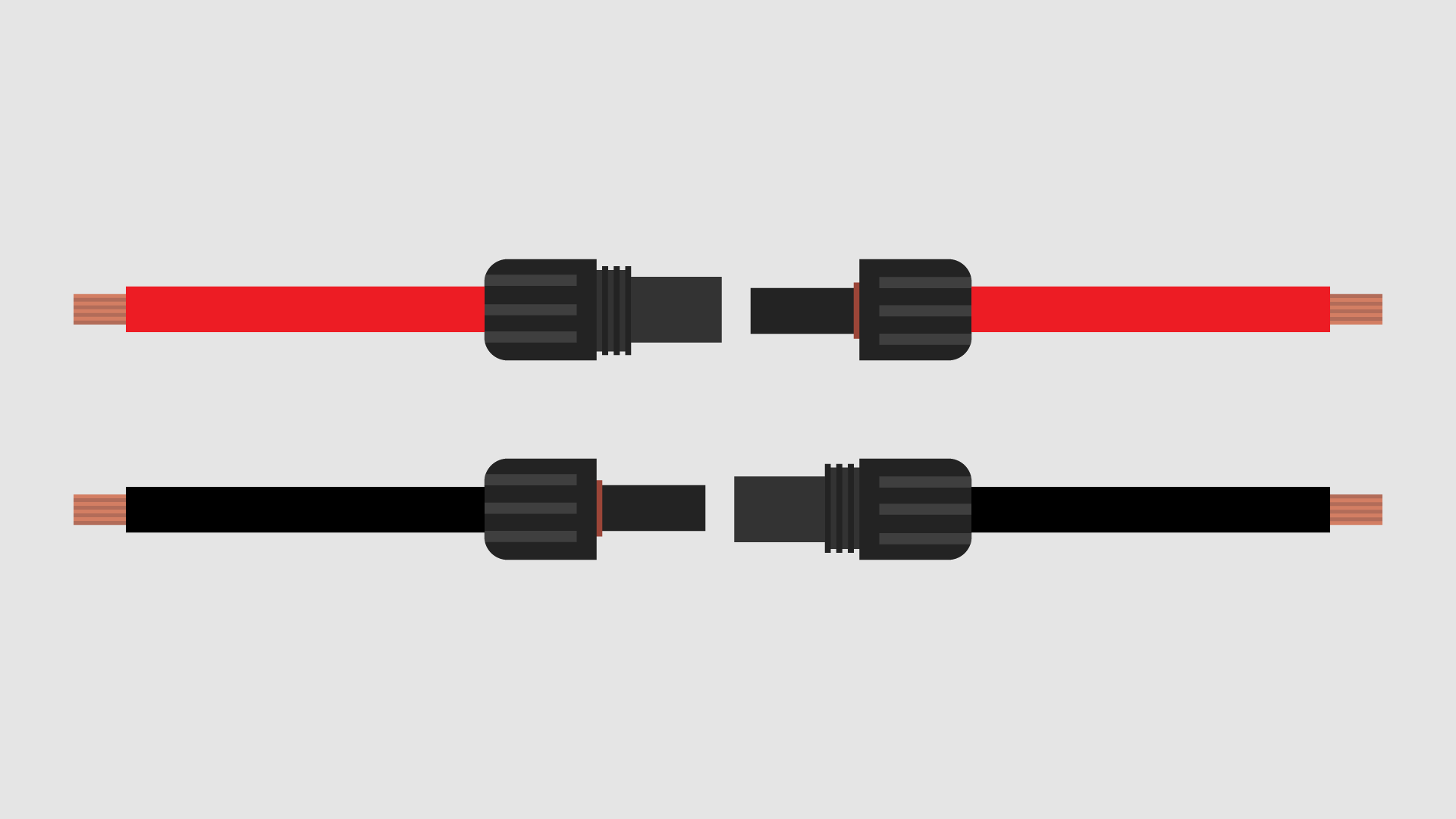 The most common way of connecting solar panels to one another is via a watertight connection plug known as an MC4 Connector.
However, some installers simply cut and join their wires using more primitive ways (junction boxes, spline and solder). By using an MC4 connector, this can make installation a lot easier and safer.
Another benefit of using MC4 connectors is that it can make it a much simpler process if you ever need to remove your solar panel for maintenance/cleaning.
Charge Controller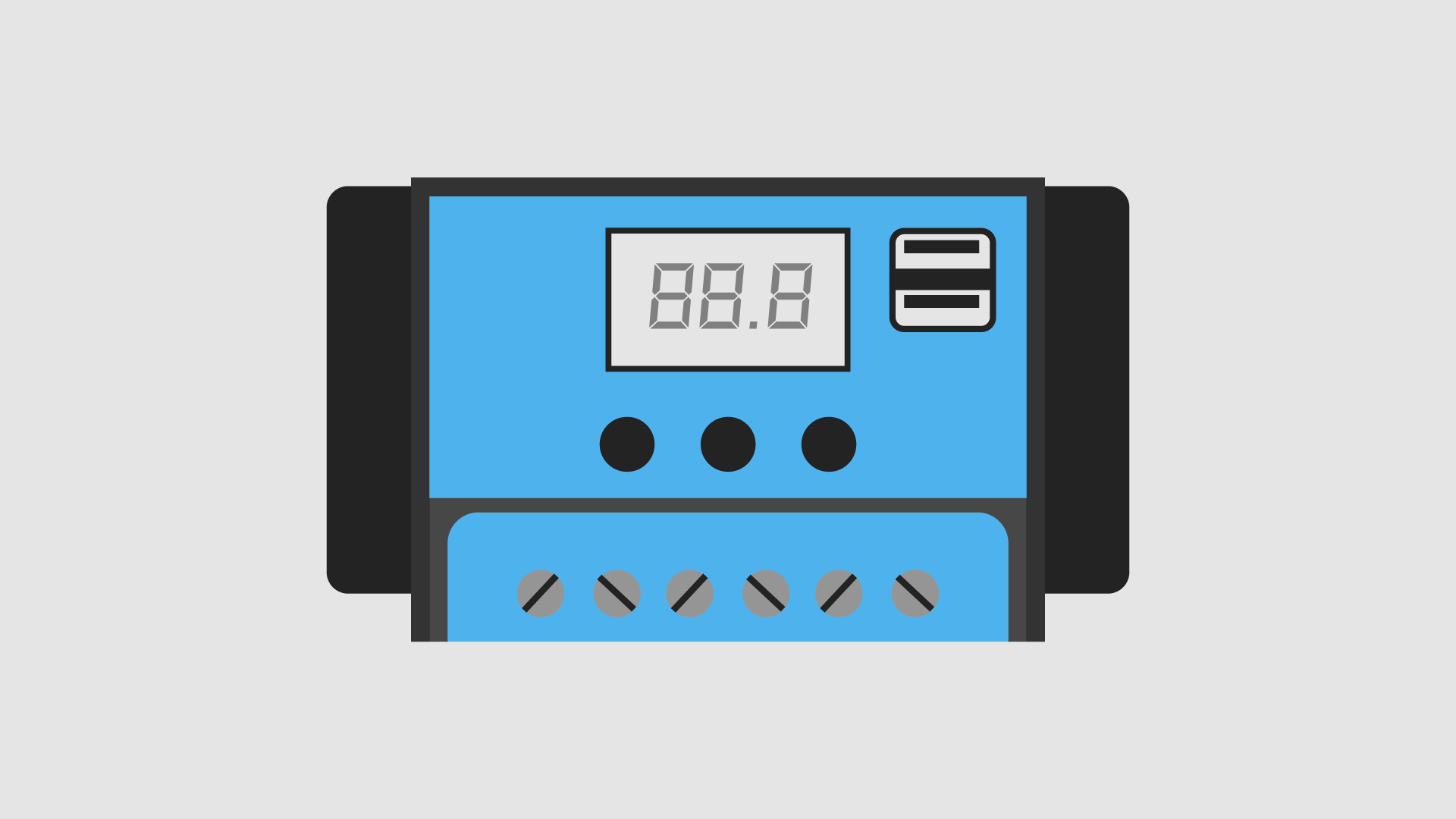 Now you have the solar panels (solar array) fitted to your campervan, you should now be able to produce power. But, simply connecting the solar array directly to the battery bank is not the correct way.
As mentioned above, the energy being produced from your solar array will fluctuate quite a fair bit. To control the fluctuation, you will have to run the power through a charge controller.
What does a solar charge controller do?
A charge controller (or sometimes referred to as a charge regulator) is an electronic device that regulates the voltage and/or current that comes from the connected solar array to the battery bank.
As a typical leisure battery needs around 13.8 to 15.5 volts to fully recharge, most charge controllers output 10.5 to 15 volts.
This all depends on:
The state of charge of the leisure battery.
The type of battery.
What mode the charge controller is in.
The overall temperature.
Why do I need a charge controller?
If you connected your solar array directly to the battery bank, you could be in for some major trouble. Batteries have a specified voltage capacity.
If you exceed that voltage, you will expose the battery bank to numerous overcharges and over discharges. This would dramatically reduce the lifespan of the batteries – or even worse, you could end up with a vehicle fire!
Are there different types of charge controllers?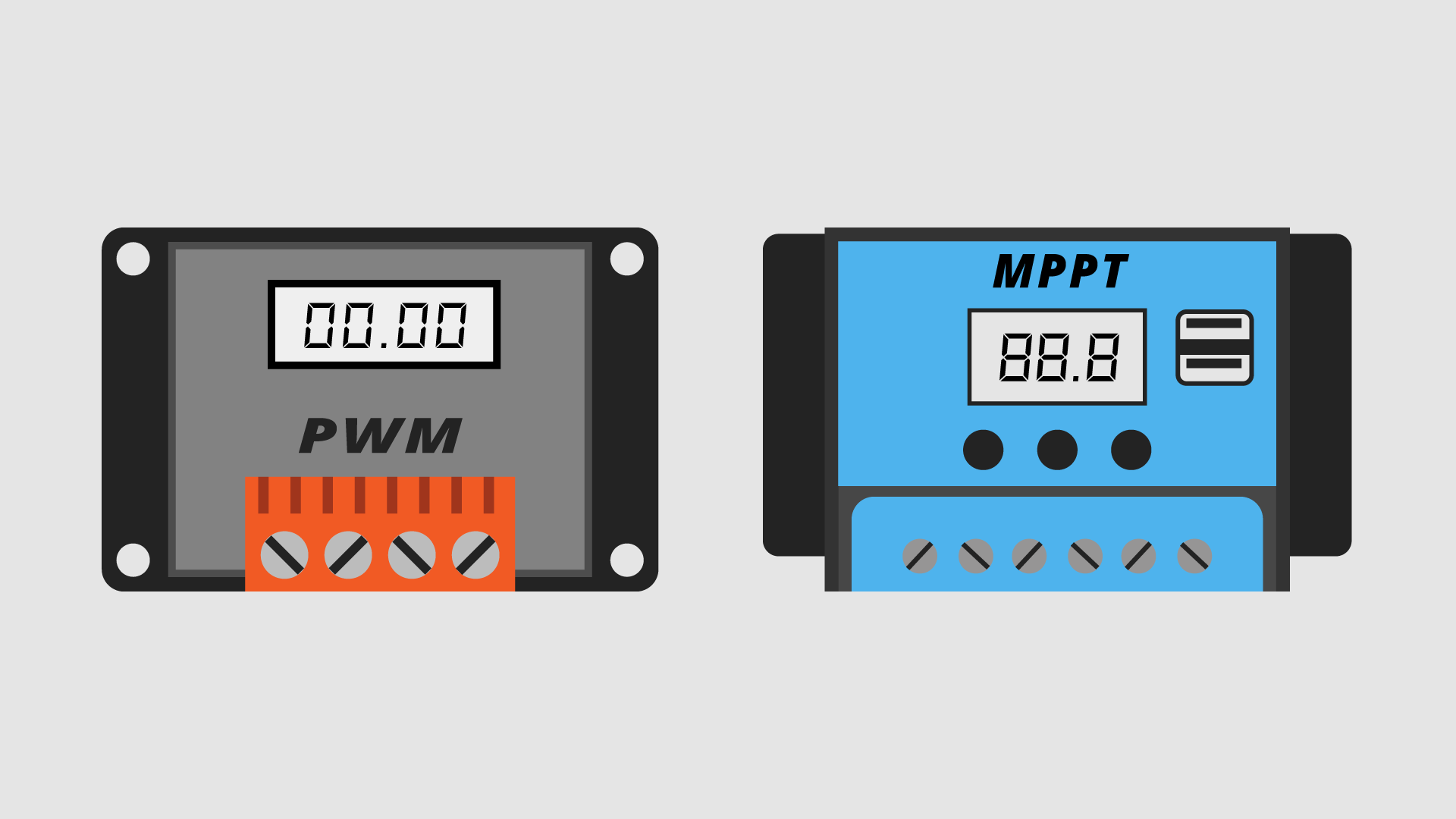 Yes, there are two types of charge controllers. They are:
Pulse Width Modulation (P.W.M.) Charge Controllers
Maximum Power Point Tracking (M.P.P.T.) Charge Controllers.
What's the difference between a P.W.M. controller and an M.P.P.T. controller?
Without going too much into detail, these are the basic fundamentals for each of the controllers:
What is the best charge controller for a campervan?
When selecting what solar charge controller is right for you will primarily come down to your budget.
Complete Campervan Solar Power System
Select Your Required Power
Solar Power Tips and Tricks
Even the smallest shadow can affect the amount of power generated by a solar panel. Always ensure as much of the panel is in direct sunlight.
Try and park your campervan so your solar panels will catch as much of the midday (strongest) sunlight as possible. In the summer, this usually is directly overhead. Remember trees and tall buildings too!
Before you head out and buy your brand new solar panels, make sure they will actually fit on top of your campervan. This may sound so obvious, but this is one of the most significant errors people often make when they purchase solar panels for their campervan. You may also need to purchase special adapters.
Make sure you carry out regular leisure battery maintenance. For example, a poorly maintained battery will affect how well your solar panels effectively charge them back to the optimal capacity.
Try and replace any electrical items inside your campervan with the equivalent energy-efficient ones. Think halogen bulbs to LEDs. By doing so, you can drastically reduce the power you consume, meaning your solar panels won't have to work as hard.
Remember: Pollution, dust, tree gunk and bird droppings can reduce the amount of sunlight hitting your solar panels. Remember to regularly clean your solar panels with soap and warm water to remove any build-up of dirt. This should keep your panels as efficient as possible. This is also one of the most common issues people will find when they first install solar panels on the van.
Solar Power Frequently Asked Questions