What is the Jackery Explorer 1000?
The Jackery Explorer 1000 is a solar generator that packs a mighty punch from its small, aesthetically pleasing form. Boasting a continual output of 1000 watts and a surge peak of 2000 watts, this little black and orange box of electrickery is perfect for those extended breaks away in your campervan, or as a worthy extension to your campervan electrical installation for those moments when you need extra oomph. And we've all had plenty of those moments!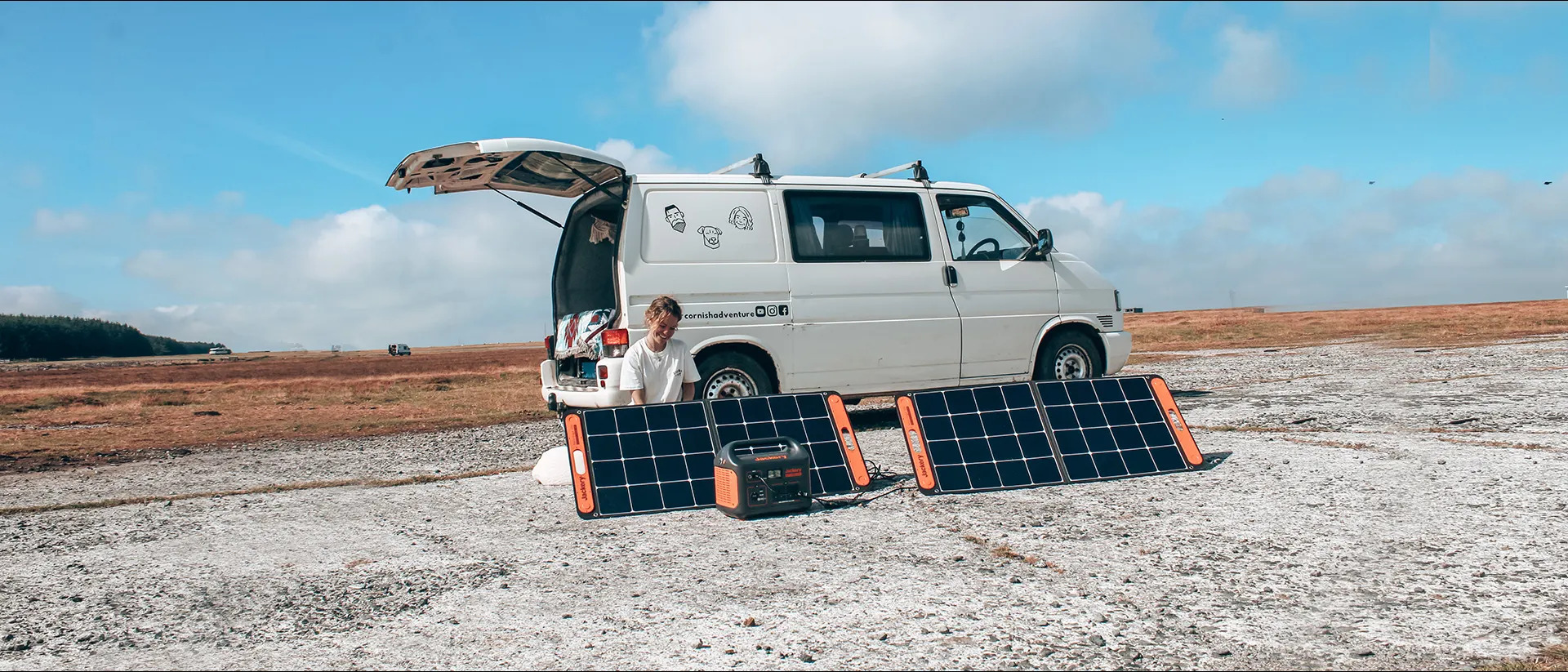 Just how portable is the Jackery Explorer 1000?
With its ergonomically shaped body, perfectly sized fixed handle, and balanced weight distribution, coming in at 10kg, the Jackery Explorer 1000 is easily manageable. Add the two folding solar panels at a little under 5kg each making the whole package super mobile. Overall, the Jackery Explorer 1000 is a pretty good size and weight for the output, and we feel most users will find no trouble loading and unloading the kit in and out of their van.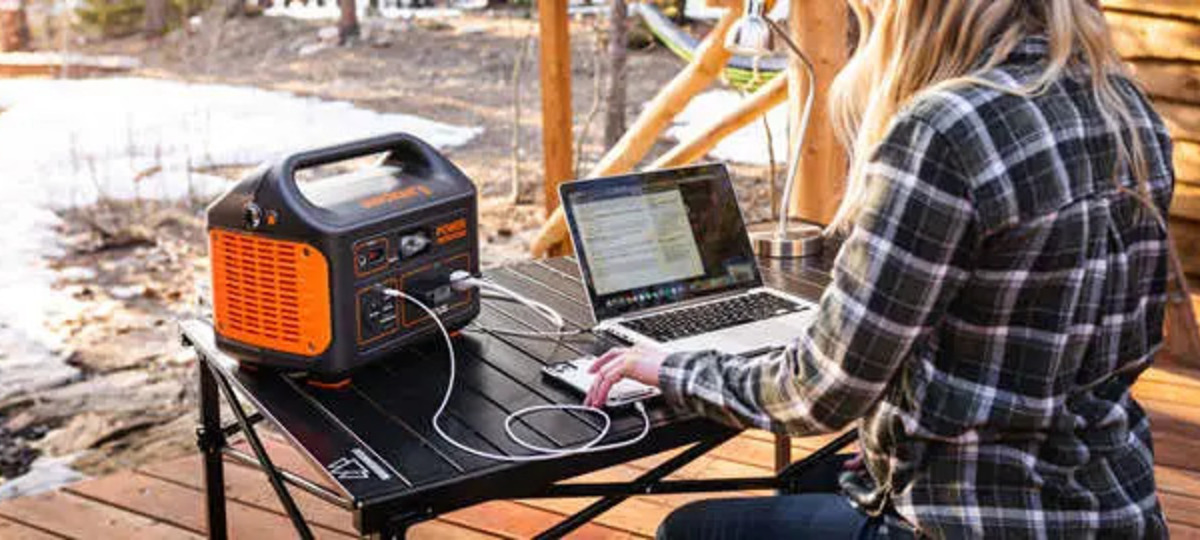 What can the Jackery Explorer 1000 power?
With its built-in pure sine wave inverter, the Jackery Explorer 1000 can power pretty much anything you'd want to take on a camping trip and more, although it does draw the line at a household kettle – let's be honest though, there's not much out there that can. However, your Dolce Gusto or Tassimo? Sure! Hair straighteners? Absolutely. MacPro 13? 8 charges. Watch TV for 13 hours? Yes. The Jackery can power items up to 1000w constant, with a surge of 2000w.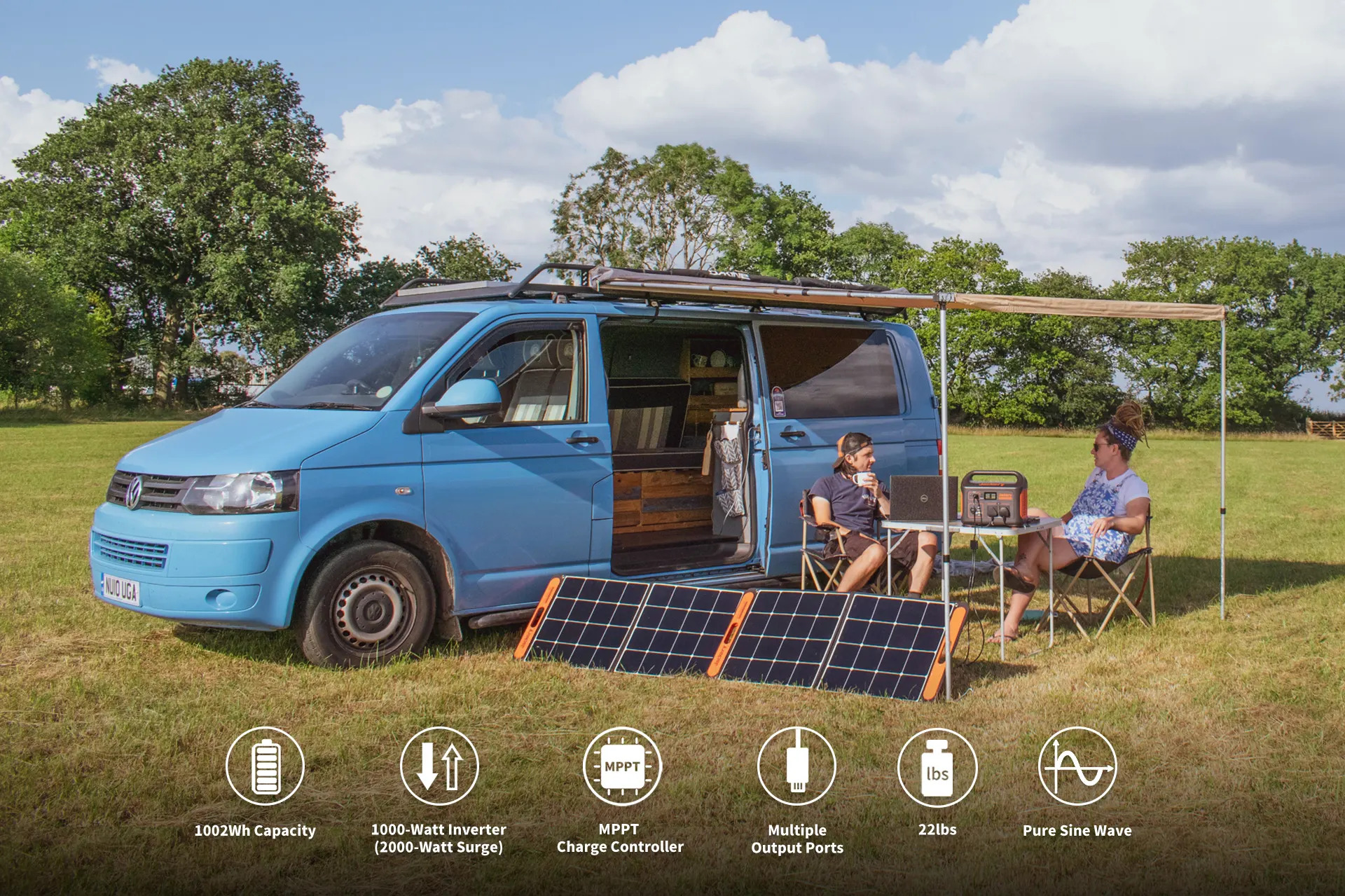 Professional MPPT technology for faster solar charging
Add the included SolarSaga 2 x 100-watt solar panel kit and those figures go up dramatically while there is sunshine to harvest! On a good day of sunshine the Explorer 1000 can be charged in 8 hours. The Jackery can be used while charging so you can power your Traeger Ranger portable pellet grill all day for a long slow St Louis rib or brisket cook and still have enough juice left at the end of the day to charge your devices and watch a bit of TV with a coffee.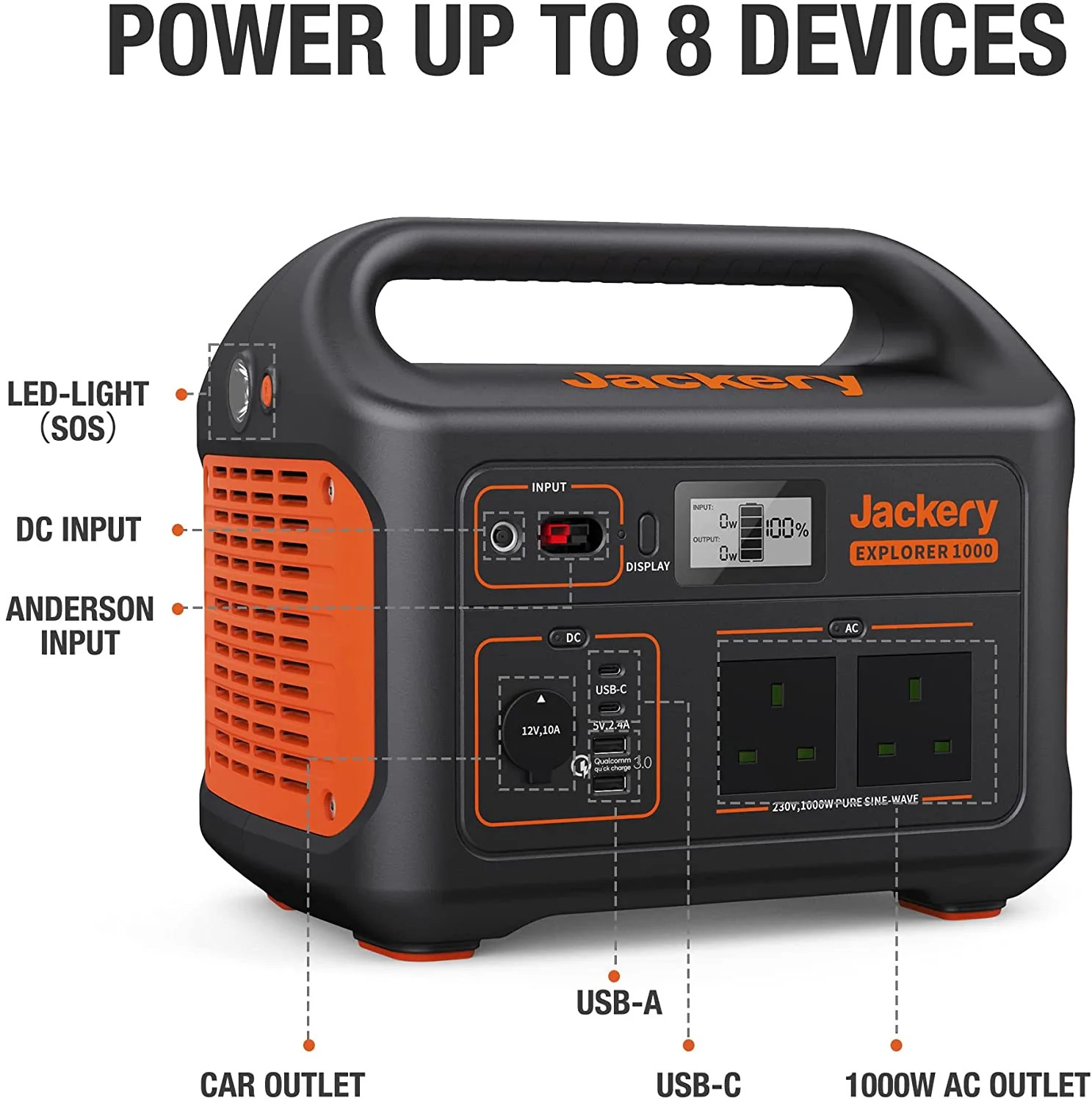 What output sockets does the Jackery Explorer 1000 have?
On the front, the Jackery has 2 USB-C, 2 USB, one DC carport and 2 AC outlets with a pure sine wave inverter. I used the Jackery on our test over a long weekend away and that was more than enough outputs.
I charged my Chromebook via USB-C, the same with my iPhone which left the AC sockets free for other things. I even charged my beard clippers, Dewalt XR 5ah 18v batteries and my Karcher window vac via the AC 3 pin plug sockets.
The solar panels, 2 included in the box, each has 1x USB-C and 1x USB-A outputs, further increasing daytime device charging capabilities.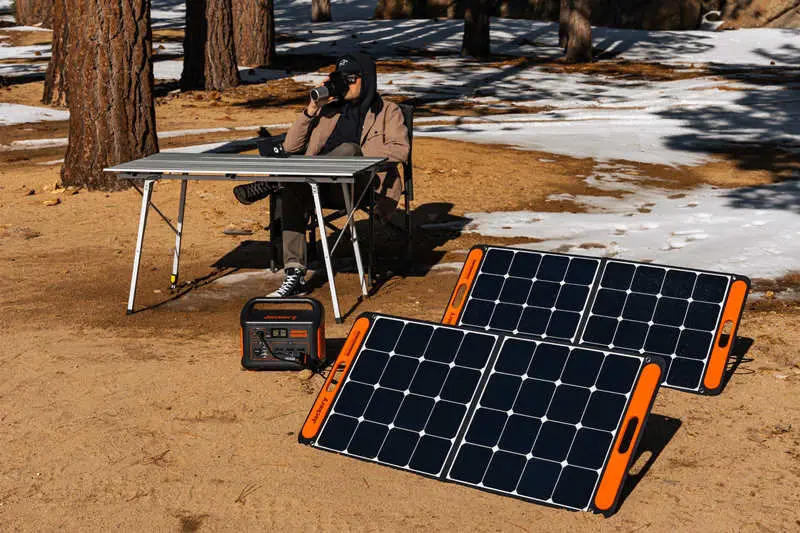 What's the watts?
The Jackery Explorer 1000 hides an incredibly efficient 1000/2000 (peak) watt Li-Ion NMC battery. With a 500-cycle life (to 80% efficiency) and built-in battery management system, over-voltage and short circuit protection. The solar panels have a built-in MPPT charge controller, 100w peak power and claimed 23% efficiency.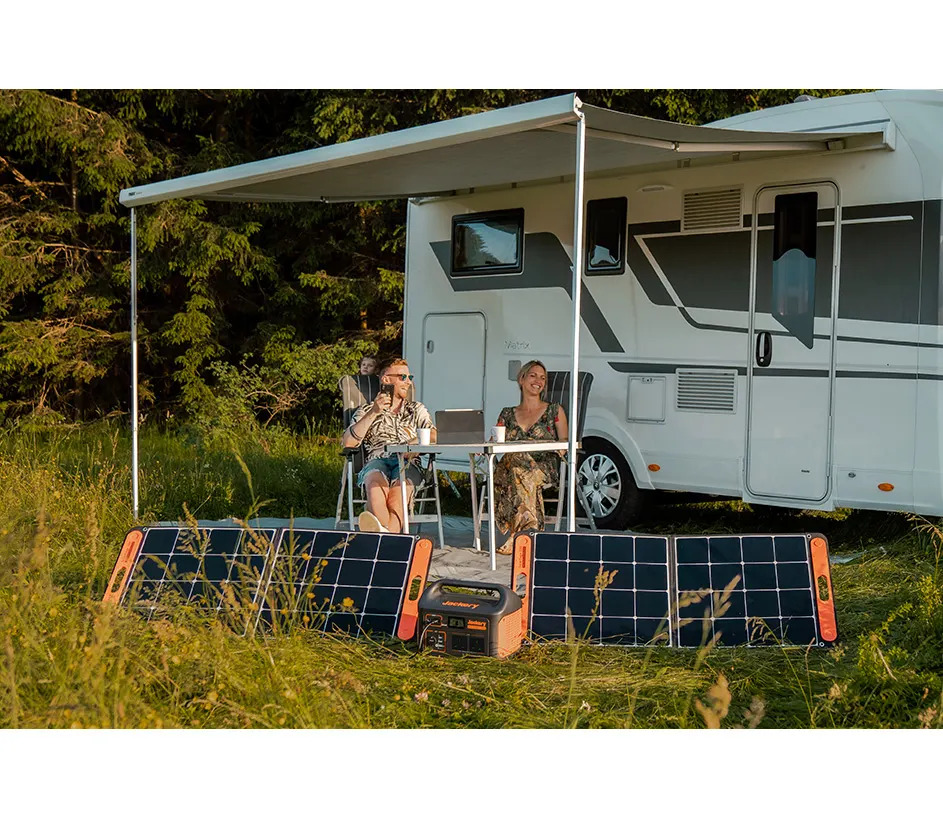 Can the Jackery Explorer 1000 power a cool-box?
My Vitrifrigo C55i compressor fridge (55 litres, 45w/3.6 amp) is 12v dc and is hardwired to my vans electrical system but, just for this test, I snipped the wire and installed a cigar lighter style plug and ran it for 5 hours from the Jackery with incredible results! The power delivery was smooth and stable and in fact, my fridge ran better on the Jackery Explorer 1000 than it does on my leisure batteries! Gone was the noisy start-up after the initial power surge, which was impressive! So will it run a cool box? Absolutely yes. For 17 hours straight at 60w, in fact. Again, don't forget adding the solar panels will extend this indefinitely during good daylight hours.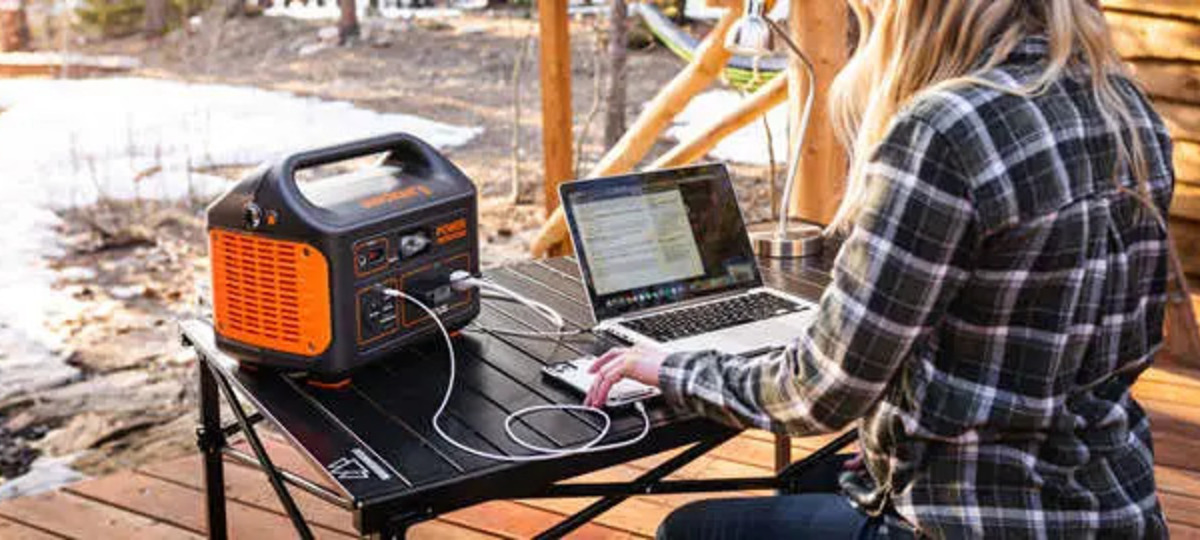 Is the Jackery Explorer 1000 noisy?
No. Even when under heavy load and with the cooling system in action, the Jackery Explorer was virtually silent so you won't get any interrupted sleep from this power generator.
How does the Jackery Explorer 1000 charge up?
As mentioned above, it charges via solar power from the 2 x 100 watt solar panels but also through mains AC using the charger, included, so you can charge at home making sure it's ready to use as soon as you need it.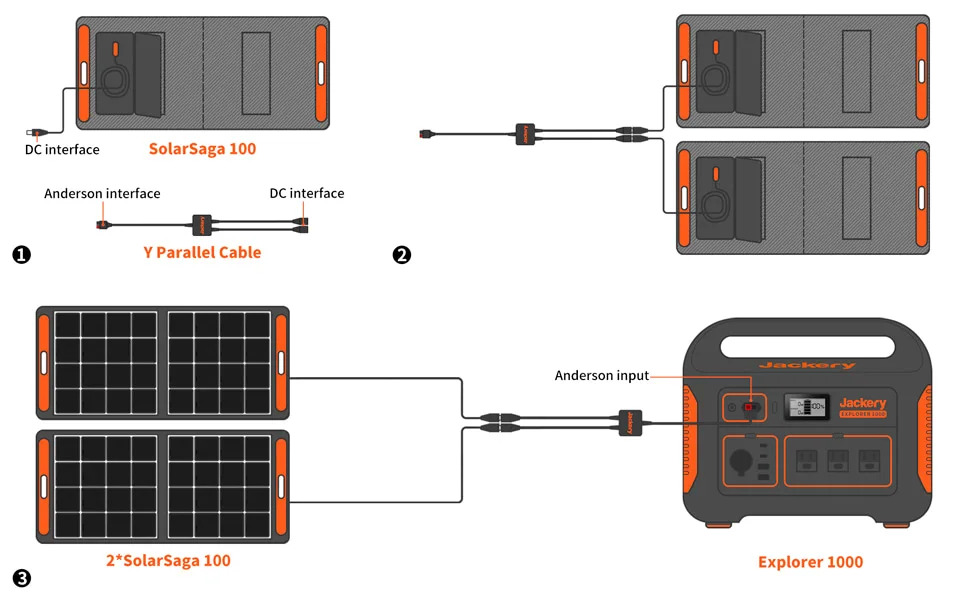 Is the Jackery Explorer 1000 worth the money?
This depends on many factors. If you're looking at buying it for 3 or 4 weekend fishing trips a year then probably no, but Jackery offers a wide range of portable power stations and perhaps a smaller one will suit your needs better. But, if you're a regular campervan traveller, fishing overnighter, or spend extended time off the grid then yes, I feel it's incredible value for money. Taking into consideration the cost of installing a LifePo4 electrical system into your camper of the same power, it works out as great value for money. Add onto that its portability, compact size and lightweight, then it makes even more sense.
If you're a full-time vanlifer then this isn't a replacement for your electrical system but is an excellent backup for those dark gloomy days where the sun just won't shine enough to charge your huge battery bank. Or for those opportunities that often arise when you wish you had a good power supply to take to the beach for lights and music and for charging your devices and camera equipment.