Born in Turin, Italy in 1977 Alessandro Domenino worked as a civil engineer at a nuclear research facility located in Geneva. One day, whilst on a break in Russia, Alessandro spotted a peculiar looking van he had never seen before. The van, known as a UAZ-452, is a very popular Russia van, of which the locals call Буханка (Bukhanka, or to English speakers, loaf (as in bread)). Alessandro fell in love straight away with this quirky little utilitarian looking van. So much so, after 10 years of work, he decided he wanted to buy a UAZ, and to then head off on some big adventures – thus a passion for VanLife was born!
Greece, Romania, Ukraine, Bulgaria, Moldova, Scotland and England are just some of the places he has visited. Preferring the more extreme climates and daring escapades Alessandro has put his cool little van to the ultimate test! Here is my interview of this fascinating yet humble man who decided to buy a Russian UAZ-452 van and then travel to the extremes of Europe.
What van do you have and why did you choose it?
I own a Russian van made by a company called UAZ. This particular one is a 2019 model 452 and is the SE expedition version. The design has remained unchanged since its release 56 years ago, so a door from a 40 year old van will fit a 1 year old van perfectly! I first saw the UAZ whilst I was in Russia and instantly fell in love. I finally managed to speak to an owner of one and they told me I was crazy for wanting such a vehicle! However, I was in love and had to have one immediately.
The journey to be an owner was troublesome. No one would sell me one "They are terrible!" people would say. This made me want one even more. Eventually, I managed to buy a brand new one from a dealer who sent it to me on a train.
I was yet to actually drive a UAZ and after 2 months of waiting for my new orange van to arrive, the day finally came!
My first thought behind the wheel was "Oh no! What have I done!" But as the day went on, and I learned more about my new 452 I was even more smitten.
It's 4 wheel drive with a low ratio gear selector. This has saved me on many occasions. The only bit of modern technology as standard in the van is the GLONASS system which automatically calls the emergency services wherever you are in the world if you have an accident. This has also saved me once or twice!
Tell me about your worst experience.
I was driving through Sibiu, Romania in the winter in January this year. I was tired and had been driving for many hours. The roads were pure ice and deep snow covered everywhere else. I was only 10km from where I had planned to stop for the night when I lost control of the van and crashed into the bank on the side of the road. The van fell over onto its side and slid along the ice.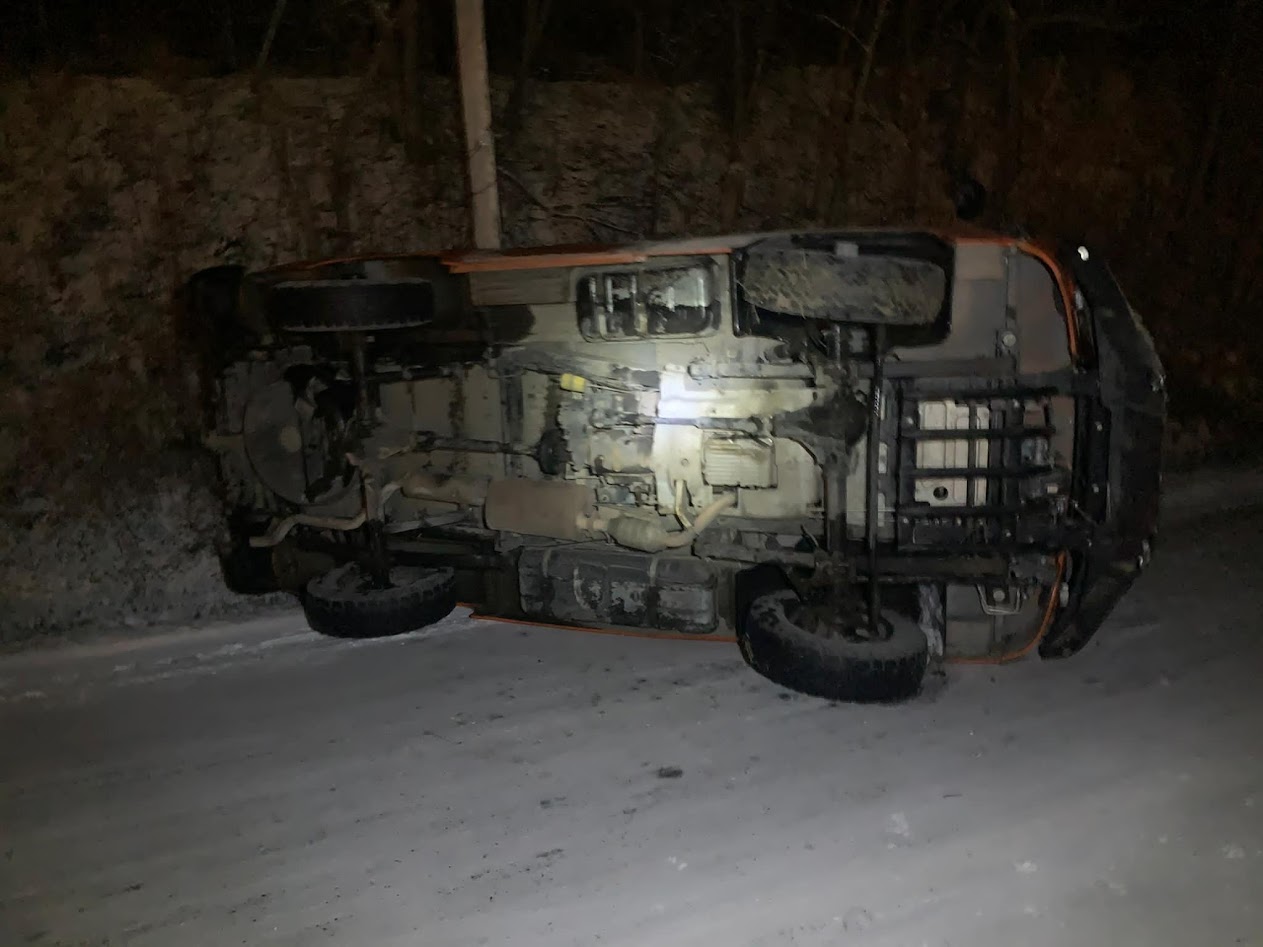 The GLONASS system started bleeping and I heard it send out a distress call. I took a breath and checked my body for broken parts but I was unharmed except for my pride! I saw a torchlight and a man I later learned was called Valentine, he was calling "OK? OK?" I had crashed near the only house I had seen for many many kilometres!
Valentine helped me out of the van and took me into his house where his family fed me and made me a bed for the night. The police came and an ambulance but neither were required.
The next morning we inspected the damage. We used his 4×4 to upright the vehicle. I was amazed as apart from a few scratches and a broken window the van was ok! The van started with the first turn of the key! Valentine fixed the window with wood and tape and I continued my journey, shaken but not stirred!
This was my worst experience but also my best as a complete stranger helped a fellow human with no question.
And what is your favourite memory?
Now that has to be my first ever trip in the van, to the Greek island Milos! I don't even have to think about that one! I drove from Geneva, across Greece and took a ferry to the island. I drove around for a bit and found an amazing beach with a giant cave that had been carved out of the rock to form a house complex centuries ago!

I was able to park close to the cave and stayed there for 3 days! I did not need to leave the van, as I was fully prepared with water, food and so much sunshine for the solar power. It was the first time I got intimate with the van (I'm pretty sure he didn't mean in the jiggy jiggy sense…) Everything was just perfect! The surroundings had a big impact on me during that trip and I found an emotional attachment to nature before me.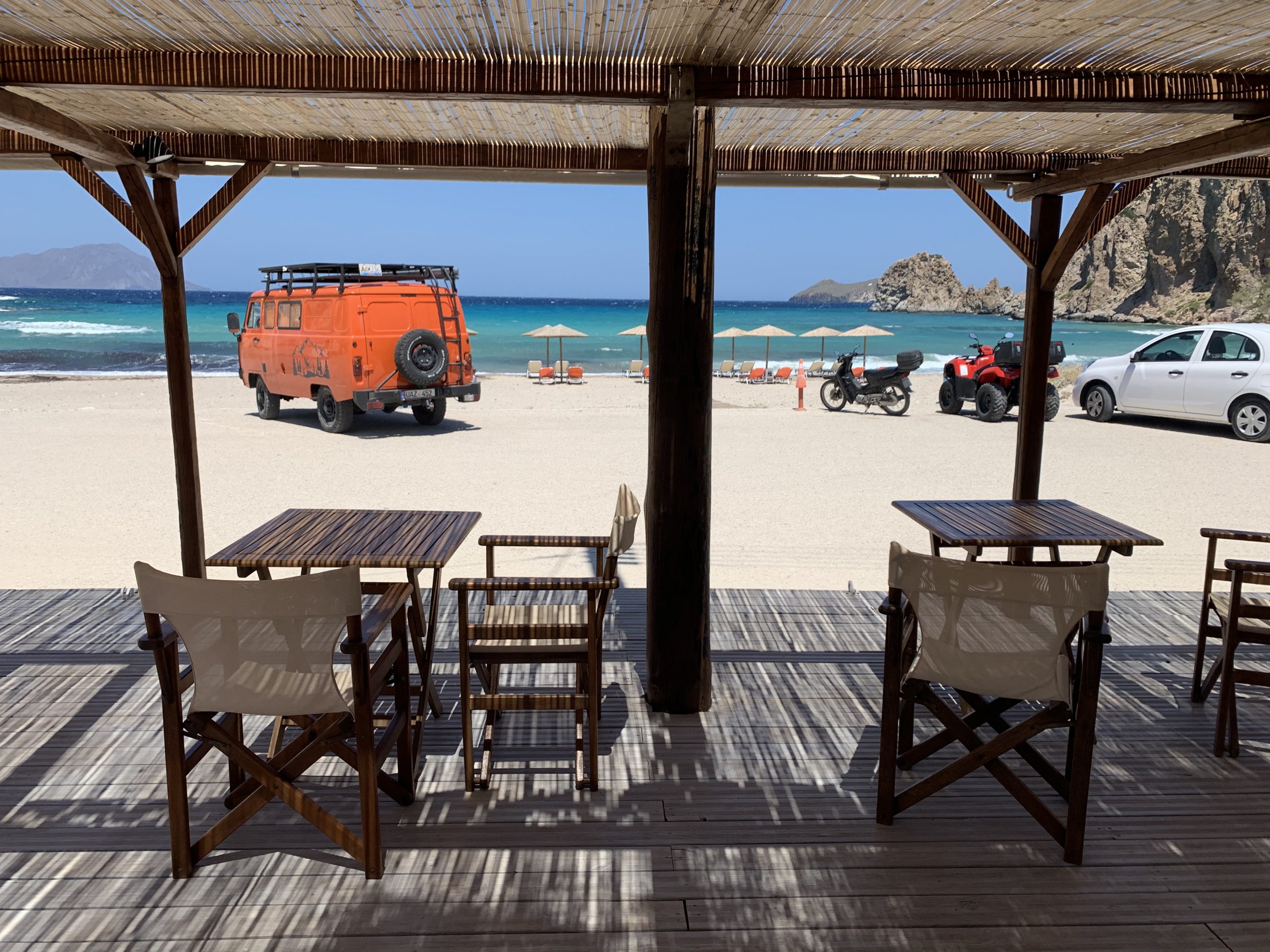 If you had to rescue one thing from your van, what would it be?
Hmmm. I picture myself in this scenario right now and in my head I am reaching for my Mokka coffee pot! I guess because it has given me the opportunity to meet new people, have conversations when I need them most and it beats any coffee from any shop!
I have had lonely moments and once when I saw a backpacker with just his bag and a bottle of water, I knew he would like a coffee and some conversation. I called him over and lit the stove. We chatted for hours about everything imaginable and he has remained my friend to this day.
Where is the most extreme place you have visited?
Last winter I visited Moldova which is a small country, although still vast, in between Ukraine and Romania. It was -20c, even the sea was frozen! There were no proper roads, total isolation! I was told about a frozen waterfall that I must see so I followed the coordinates and ventured into the remote frozen landscape.
Of course, I got stuck. Even my mighty 4wd van couldn't cope. It was the first time I was scared of being alone so far from life. Not knowing what to do, I abandoned the van and started walking to find help. After some hours a car passed and I called out to them.
There was, of course, a language barrier but they must have thought "Italian man, no vehicle and in nowhere land, he must be in trouble". I went with them and we came back in a 4×4 vehicle and managed to pull the UAZ out without getting further stuck!
Do you miss bricks and mortar?
No! I said that abruptly so let me explain. I have a house so I know I can come back to it at anytime. It is like a holiday when I am in my house. I adore being in my van and I am very comfortable, I only wish I could stand up!
Because I know I can return home at any moment it makes my time in the van super special.
How do you work out where to visit next?
Often when I am watching TV I will see somewhere beautiful, isolated, and I will say "I am going there!" So it goes on the list. It's the same thing when I read about somewhere in a magazine or on the web. "Gosh that is very frozen there. I must go there!"
I don't have any particular way. I don't do fancy stuff like throw a dart or flip a coin. It is just paces I have seen or heard of. I then check to see if it's remote enough and not many tourists then again, it goes on the list!
How do you survive in such cold countries?
When there are no roads, it is difficult. But in this van it is no problem, usually. Of course I have been stuck once or twice but it still does not worry me. In really isolated places I don't need to leave the van so I put my heater on and watch the beautiful nature do its thing from the warm bed.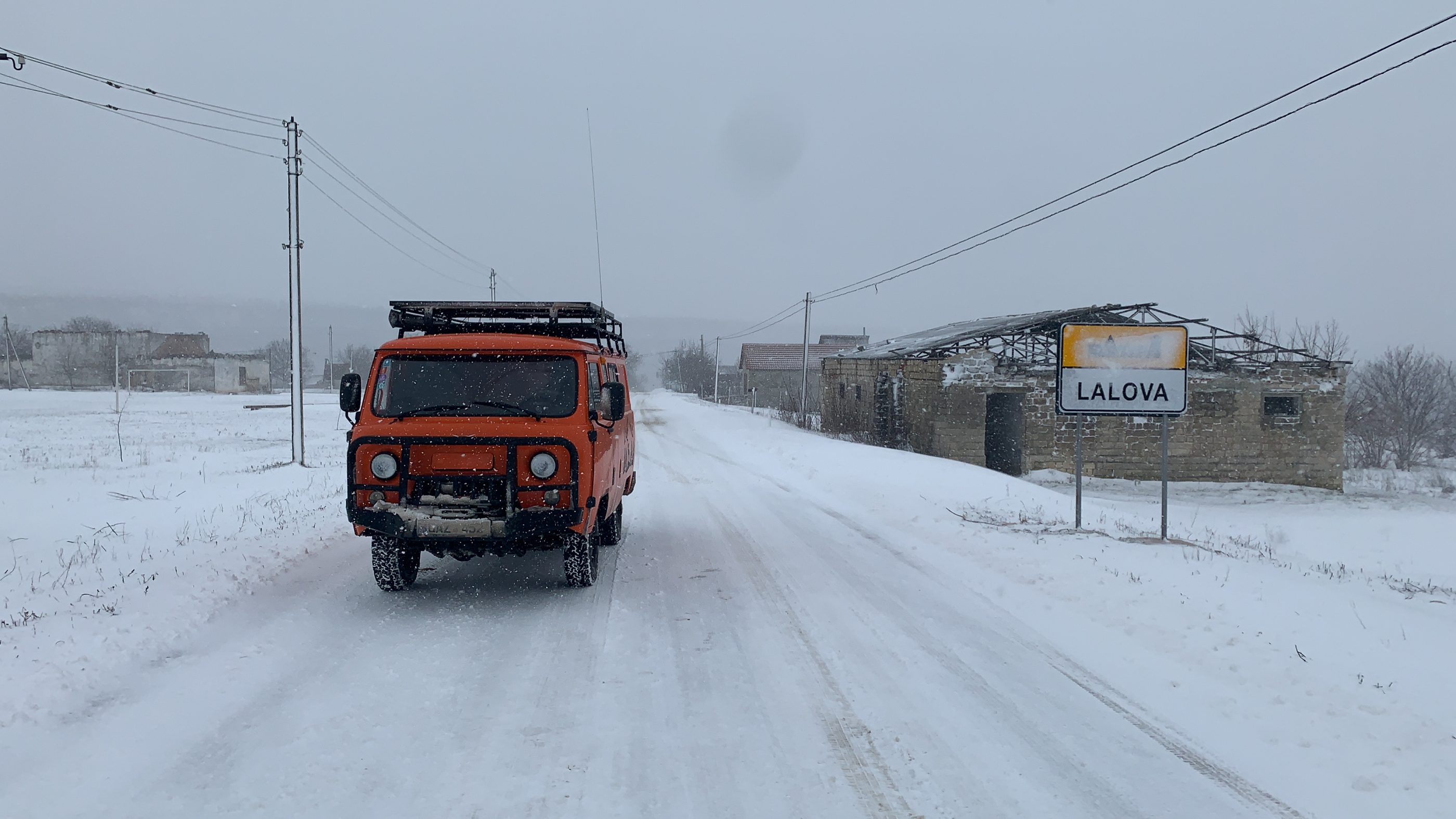 A big hat and fluffy coat helped me a lot in -20c Romania. I had ice 1 metre thick on the front of my van. I saw it and laughed and went back to my warm bed.
Did you build the van interior yourself?
Yes, I did. Although I had some help with the electrical system as it had to be perfect. It is a simple van, with not many comforts. I have everything I need though. It only took me a few days to build because of its simplicity.
I have 2 x 270 watt solar panels on the roof and 1 x 200ah AGM battery.
What's next?
I was watching television and I saw a documentary on Chernobyl. It fascinated me so I then read up and learned all I could. Because of my previous job I felt attracted to the disaster and a fascination also. So, I did not hesitate to make it my next adventure! I know it is not a place for most people but I will learn a lot from visiting such a place.
I will probably visit in winter again, because it will be more quiet, less tourists. I like the thought of having such a place to myself but I haven't made my mind up just yet.