Introducing the V.W. I.D. Buzz: The Campervan of the Future 
Hold on to your seats because Herbert Diess, owner of V.W. has just announced the production of the electric, autonomous I.D. Buzz Microbus.
While showcasing at the Pebble Beach Concours d'Elegance, Diess confirmed this futuristic new V.W. would go into production as early as 2022.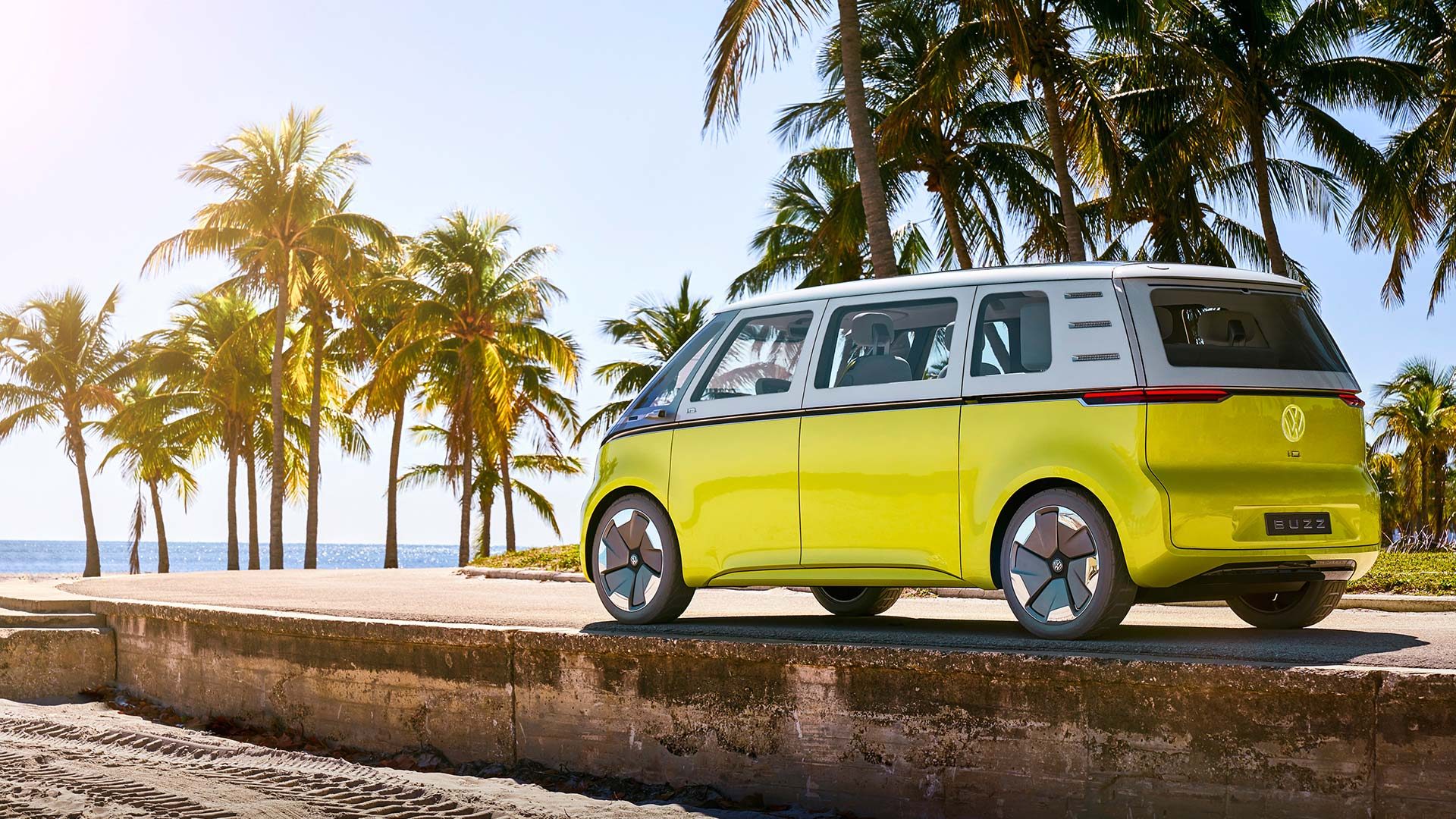 First presented in Detroit at the turn of the year, it's no surprise that this announcement was met with a massively positive reaction, paving the way for this innovative idea to become a reality soon.
Let's take a look at what the I.D. Buzz has to offer;
The Impressive Specs of the I.D. Buzz Microbus
The I.D. Buzz will form a part of a family of E.V.s that includes the electric hatchback that is already in the pipeline. 
V.W. is pushing its aim of selling one million electric cars by 2025. 
The Buzz quite obviously takes many of its design cues from the Type 2 microbus of the 50s.  V.W. claims that they were keen to revive this model as it fits in so well with their brand, both functionally and emotionally. Nothing says V.W. like the iconic blunted front end, two-tone paint job, and chunky V.W. logo – all of which keep the retro feel alive. 
But while the exterior is sticking with 1950s tradition, the futuristic interior will truly blow you away.
Designed to make life easier, it will be built on V.W.'s MEB modular E.V. platform, allowing for more interior space and a sleeker aesthetic.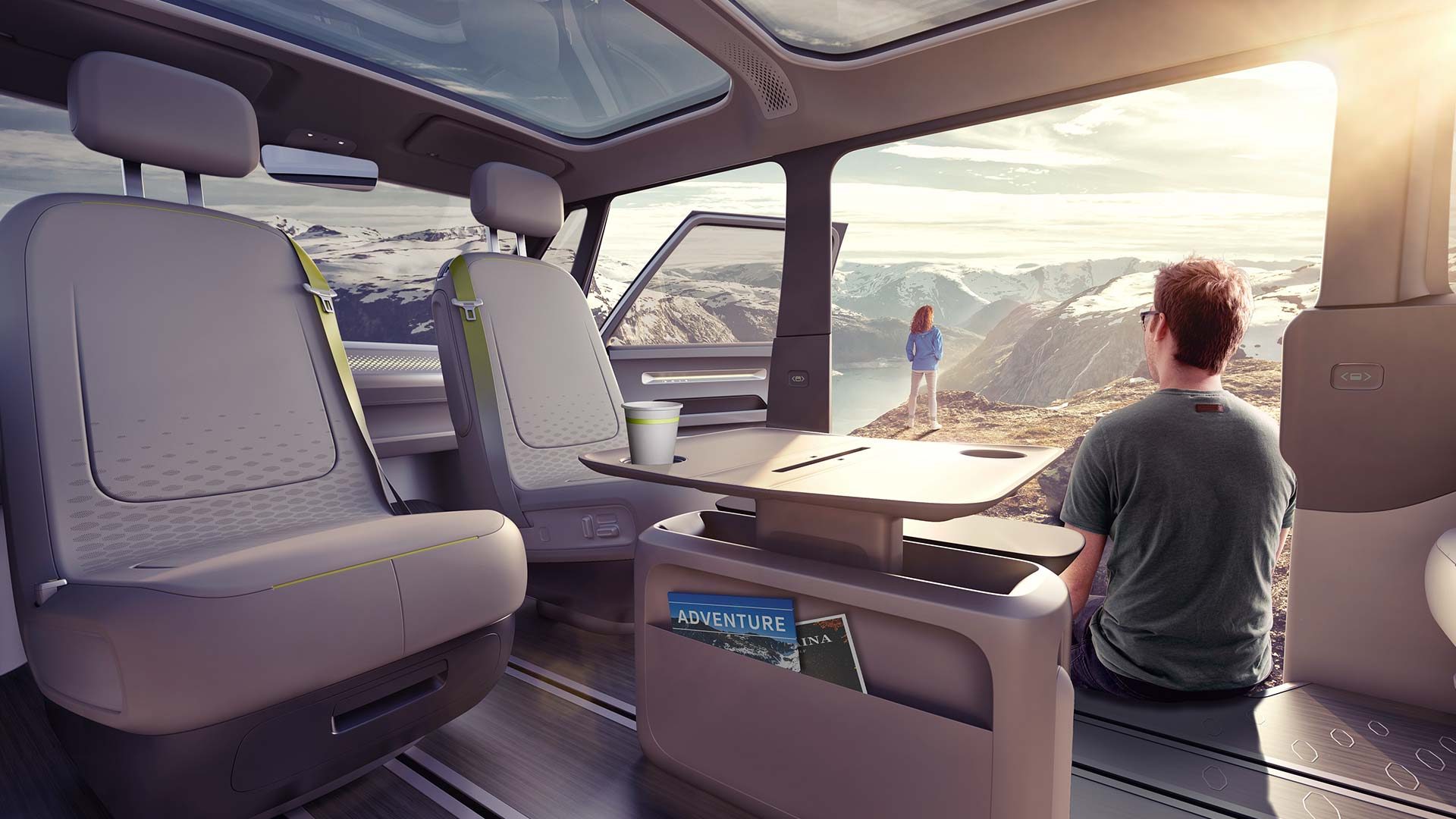 With wraparound LED lighting, a 108-degree revolving driver seat, and more interior space than a seasoned traveller could ask for, this van is going to be on everyone's wish list.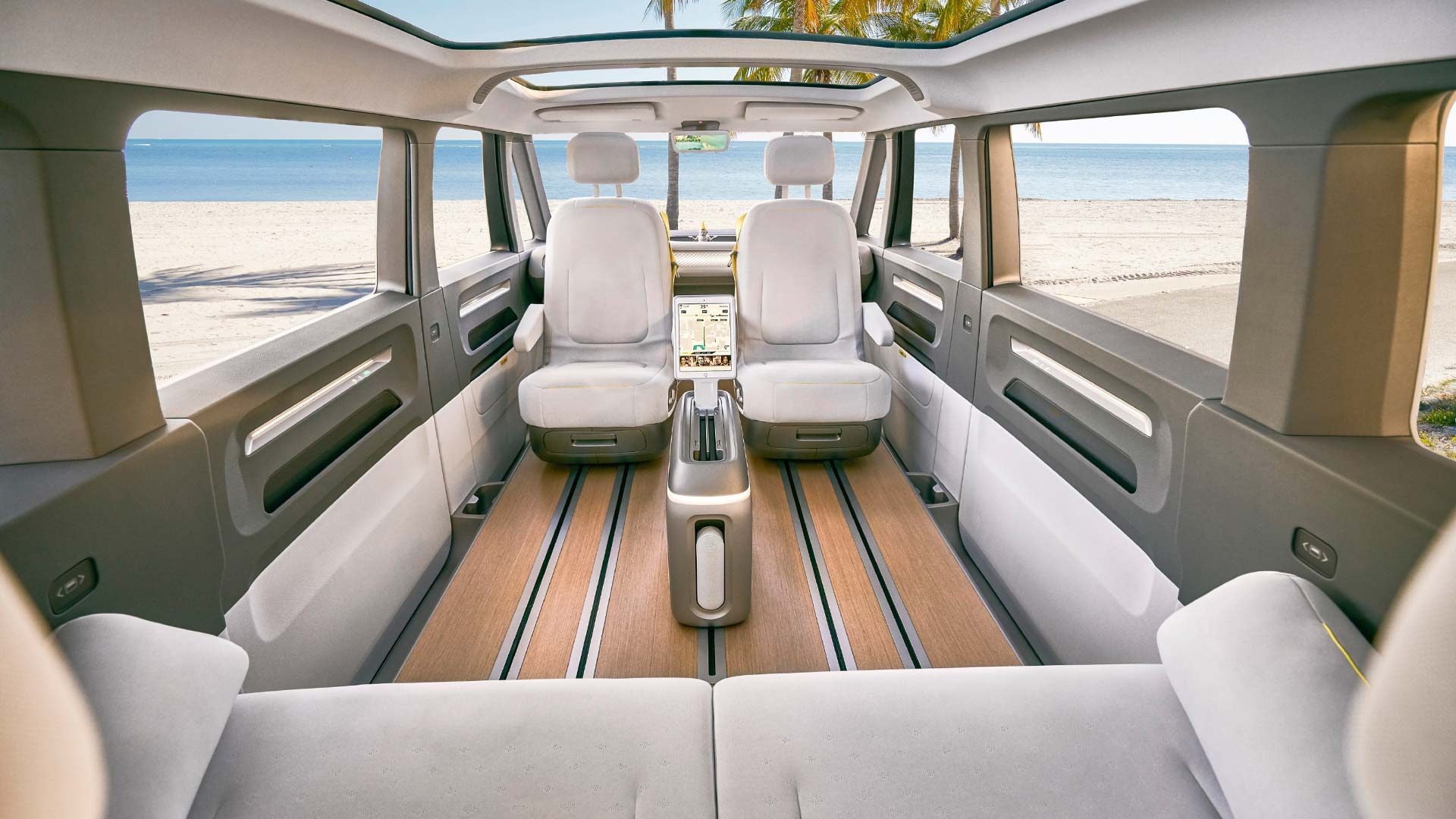 Resting on an extended MEB modular platform, it boasts a 3.3m wheelbase with short overhangs and a boxy shape that is intended to give as much interior space as possible. V.W. also expect to be able to offer a panel van and camper van conversion. 
And if that wasn't enough, they also hope to have a rear-wheel-drive model in production that will have a reduced output of around 268bhp.
The current model is an all-wheel-drive with an output of 369bhp, impressive for an electric model. With a limited top speed of 99mph and a driving range of up to 373 miles, this is the new must-have van for road trips. It even brags an inductive charging tech, allowing a battery charge of 80% in just 30 minutes.  
Driverless Road Trips?
Of course, the most talked-about feature of the I.D. Buzz is the driverless mode.
This means you can relax and enjoy the extensive lounge area, knowing the van is in full control. This is not the only impressive piece of tech in the van, however;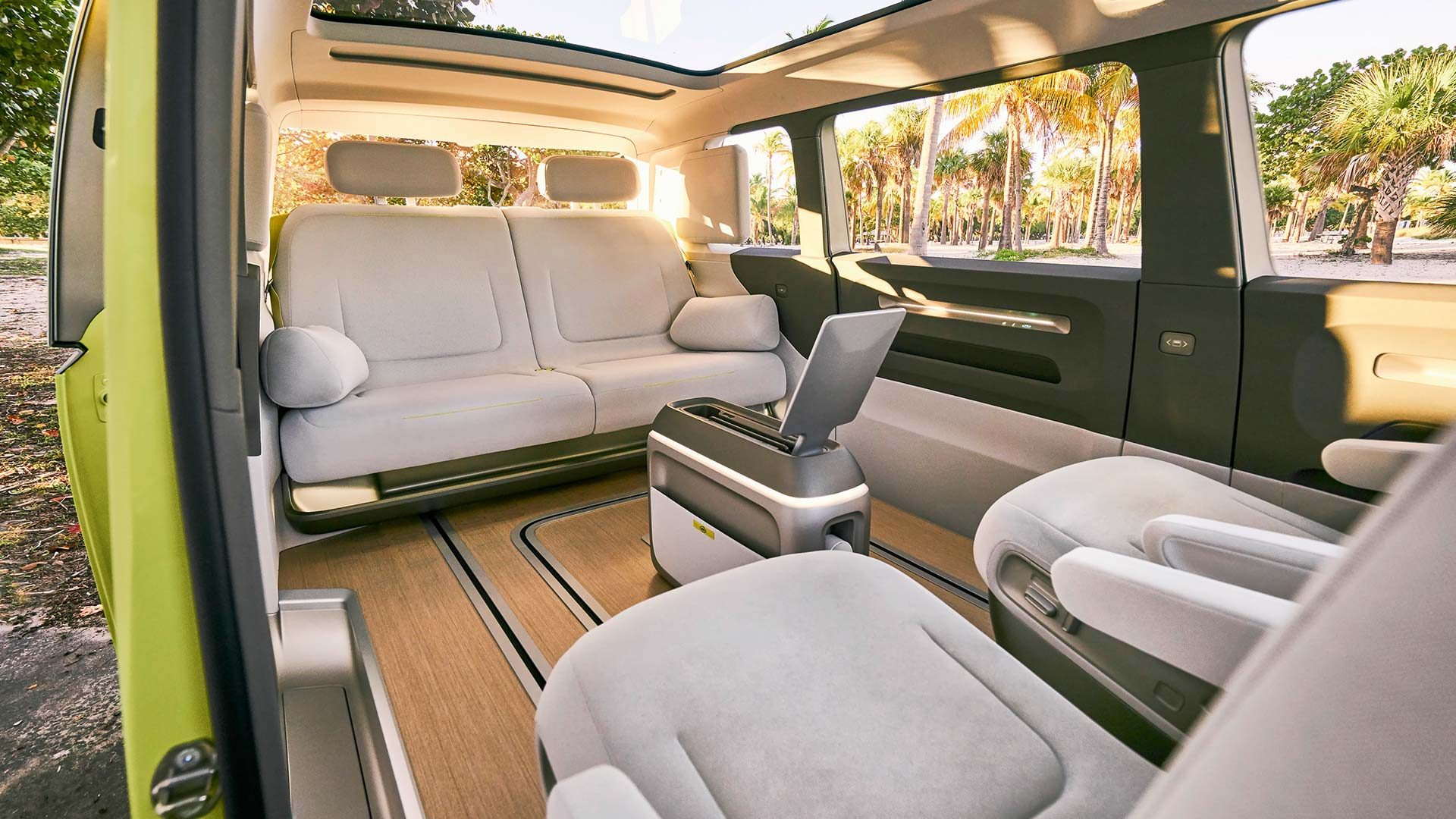 There is also an augmented reality head-up display and a removable tablet interface that allows you to control the van's functions at any time.  
Another great feature of the I.D. Buzz (I know, there are more) is that the batteries and motors sit conveniently underneath the floor.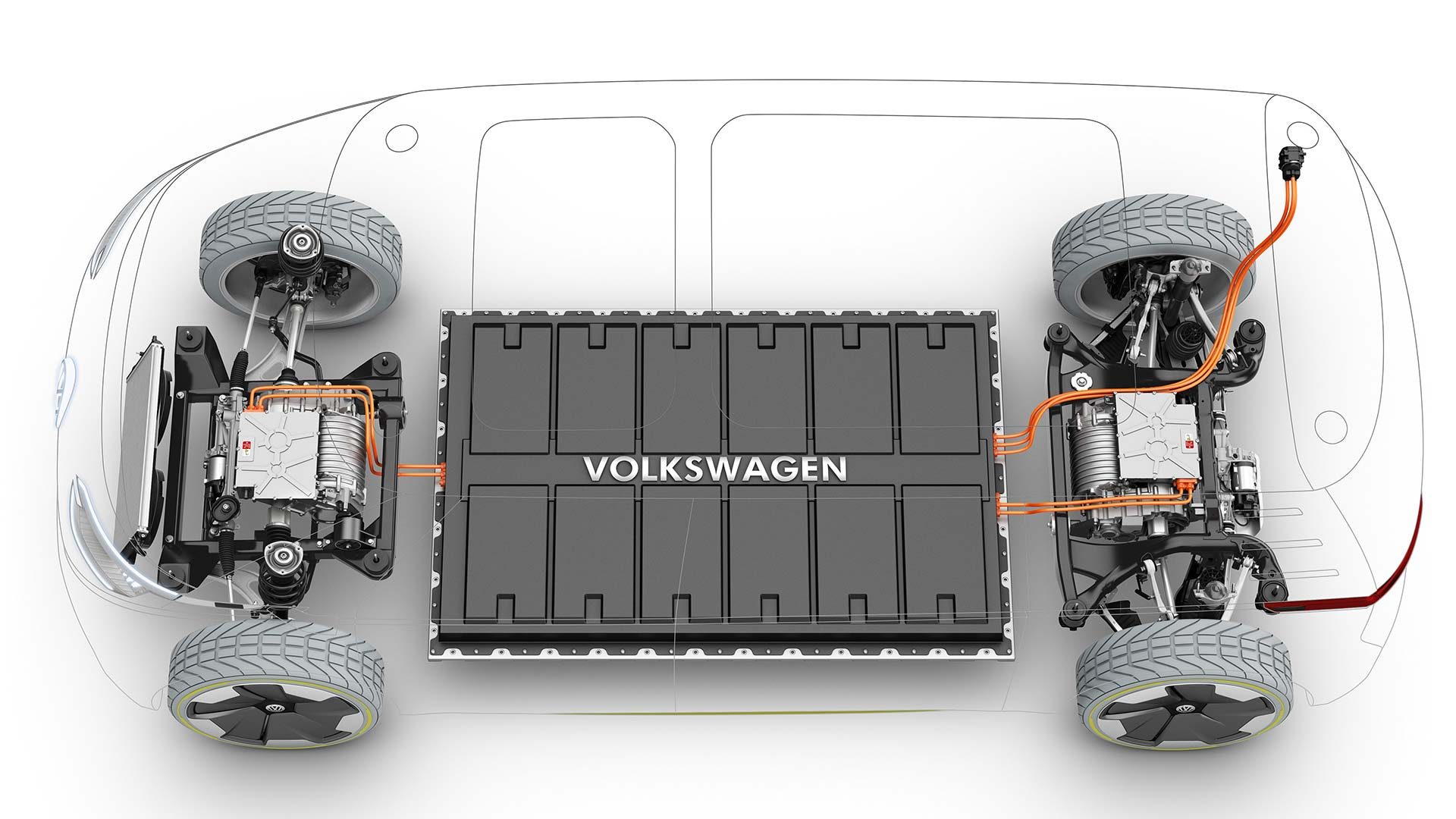 Because of this, you will find two large luggage compartments to add to the comfort of the ride. 
V.W. has really pulled out all the stops to bring you a van with style we know and love, with all the added benefits of modern tech. 
We are sure this combination will make any road trip truly incredible. 
What Are Your Thoughts?
Are you excited for the release of the I.D. Buzz?
Will you be first in line ready to let it drive itself home with you?
We'd love to know your thoughts so leave us a comment below.