Hello, my name is Fi Lindsay, and I travel fulltime in a six-metre, 2002 Hymer B544, with my partner Jay and Marley – our Greek rescue dog.
After an increasingly crazy drive home from Portugal (think breakdown trucks, arguments with French customs, and a pandemic on our heels) we're currently in Lockdown on a driveway in rural Scotland.
We travel overseas half the year and travel around the UK the other half. At the same time, Jay works as an agency nursing assistant. Our next big trip was going to be a six to eight-month tour out through Turkey to Georgia and back. In the meantime, we were making a two-month winter voyage to Portugal.
February was amazing. The weather was incredible; Jay had his first-ever paragliding session.
We were pretty lucky; over three days, we got to see three different Carnaval processions in three different towns in two countries. Oh, how fast life can change.
Just a week later and I was starting to watch the news every day. We were in Portugal now, and the virus had only just reached the country. But figures were growing in Spain and France. Cases in Italy were starting to escalate into the thousands. I did the math and told Jay we needed to turn for home. Slowly still, but a few weeks ahead of schedule.
Six days later Italy announced the Lockdown in Lombardy. I was still doing the maths, and our path home was looking like it could close over pretty quickly. Staying in Portugal wasn't an option – we live on a strict budget, and we couldn't afford to get stuck. It was time to move fast.
We had to get to Calais before France brought in lockdowns. The ferries would probably keep running – but we couldn't afford to risk it.
"It was time to move fast"
We were hurrying, but not panicking, and kept the driving to six or seven hours a day. We decided Jay couldn't go back to work until we did a fourteen-day quarantine. We stopped going out. No dinners or drinks.
No walks round pretty town centres. Just driving, cooking, walking Marley, Netflix… And checking the news, checking the figures. Watching them blow up all around us and trying to warn others to find a safe place to stay while there was still time.
And then, twenty minutes from our midnight crossing at Calais our vehicle battery warning light came on. Disaster!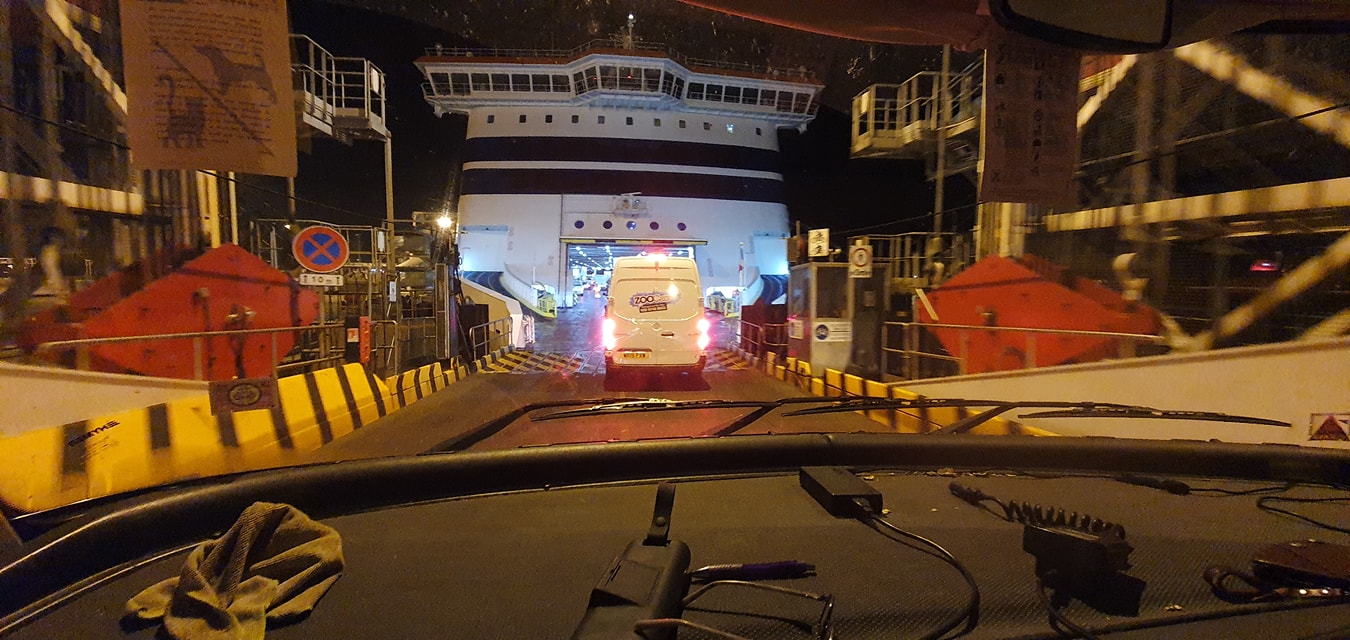 Thankfully we made it across the channel, but our alternator needed replacing, and we lost four days to a garage in Eastbourne that couldn't remove a sheared pin.
With the bill running up, and the news that Jay had to self isolate because he's a diabetic, we cut our losses and got the AA to bring us back to Scotland.
We were planning on finding a campsite for the duration; buying an old car for Jay to use for work. We figured vanlife was going to get pretty tricky once the government brought in a lockdown. But now we couldn't drive the van, and Jay couldn't work.
If the van was working we could have gone "home" to Shetland, but as it was we were out of options, and I rang my daughter to ask if we could stay on their driveway in the Trossachs for three months.
We both got symptoms four days after we arrived. But they were really mild, so we don't know if we've had the virus or not. It was pretty tricky that first week of coughing – waiting to see what would happen. And I still worry a lot about Jay. If it wasn't the virus we had, then he's still at high risk if he catches it.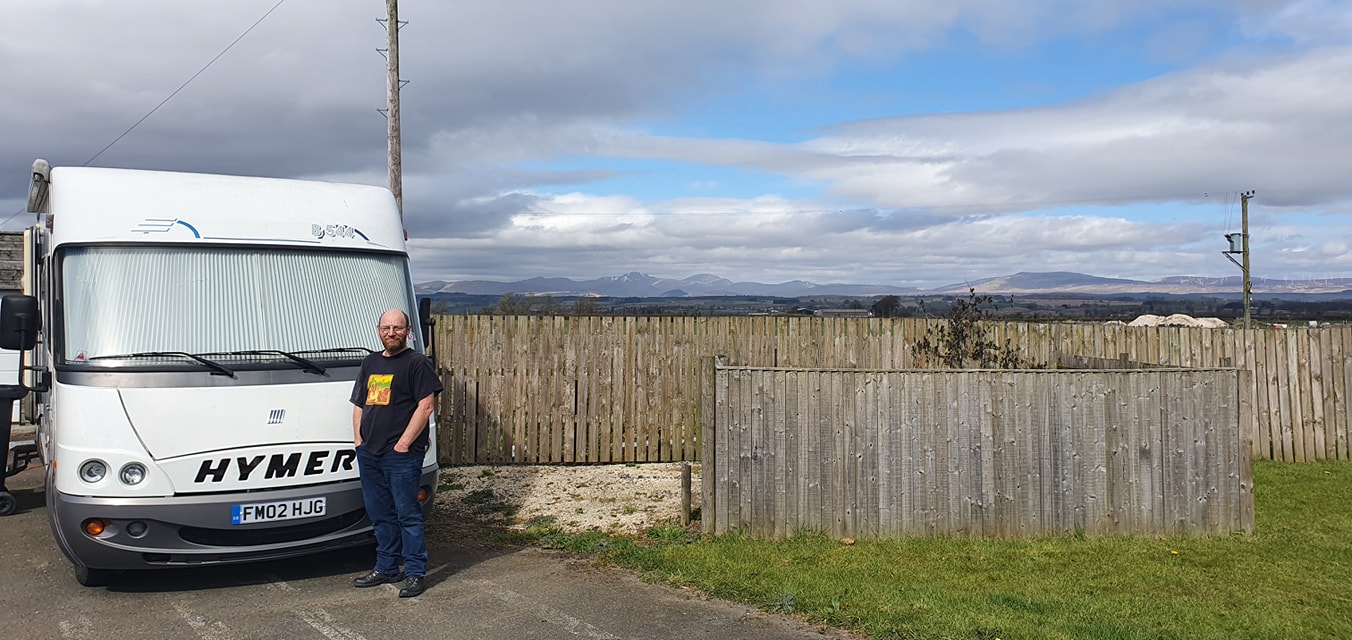 We have water, hook up, we've got a kilometre of private road that we can walk on anytime we want. We've also started a new health and fitness lifestyle to give us a positive way to use the time and finally, I've got our website to work on.
And now as our quarantine period is over we have our four-year-old granddaughter to play with every day.
"I don't know what we'll do when this is over"
I don't know what the world will look like then. We're living off our emergency credit card right now, so we're going to have to work for quite a time before we have any money again.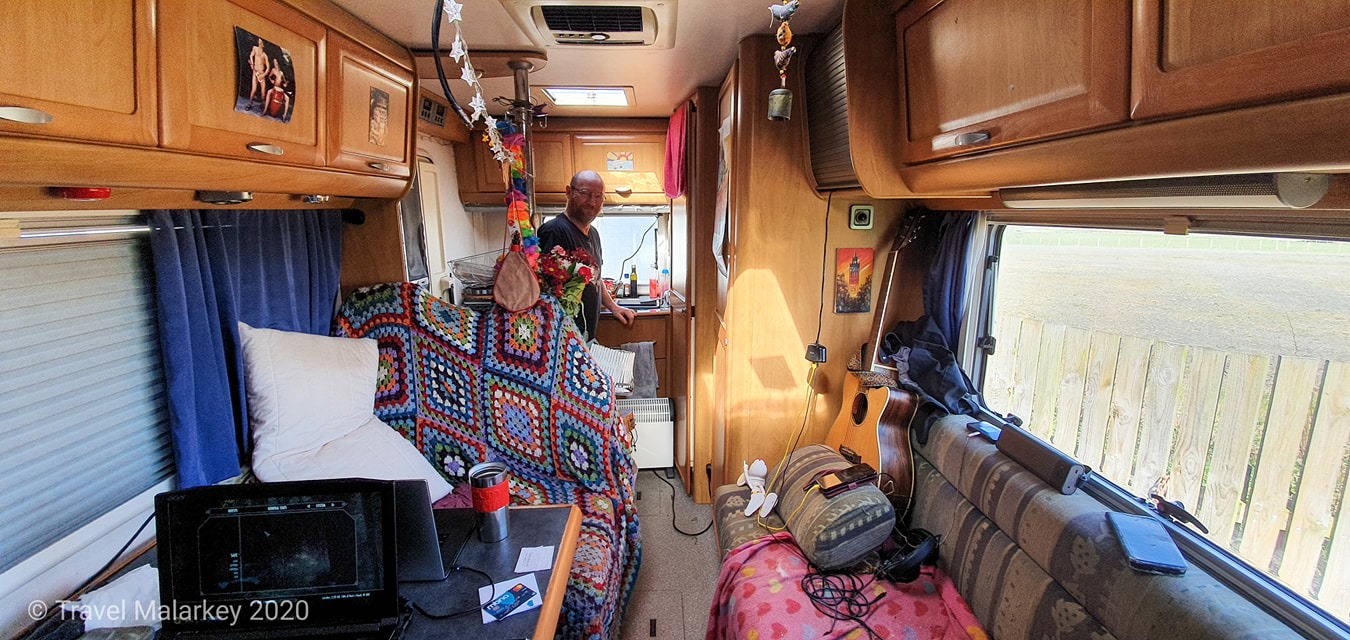 All I've ever wanted to do is travel, write, and help anyone and anything that needed it. And that hasn't changed. As soon as I can, I'll be back on the road. But with even more motivation to live as harmoniously as possible with the planet.
It's great to see how quickly nature can heal, and I hope we can all move forward to a better world.
But I'm not waiting for it. I'm just going to start with myself.
Live my dream.
Fi x
Travel Malarkey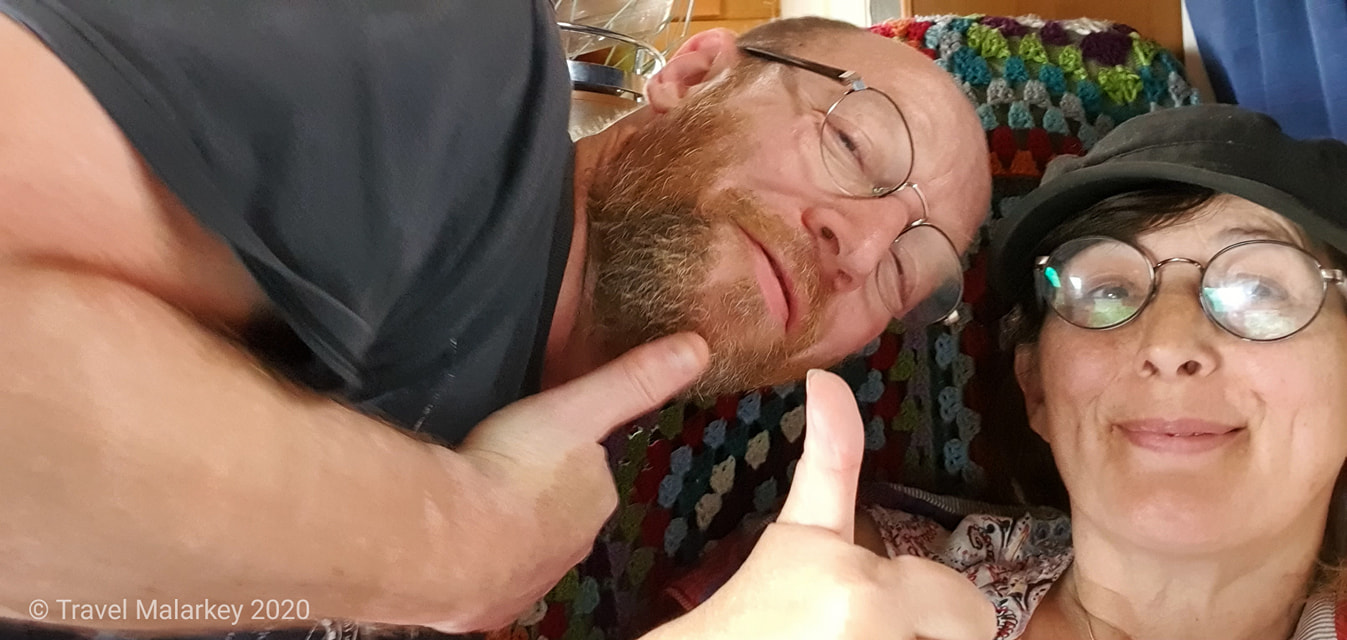 Follow Fi, Jay and Marley
Website: https://www.travelmalarkey.com/
Facebook: https://www.facebook.com/travelmalarkey/