Spend any amount of time cruising a highway around the world, sooner or later, you will have a Mercedes Benz Sprinter van overtake you. There is a reason why this van is all the rage; they offer everything you need in a van + more!
With a considerable choice of load space, the Sprinter van makes it one of the most sought after vehicles to convert. It also has an excellent reputation for its ultra-reliable engine. This gives many owners around the world thousands upon thousands of trouble free miles. And of course, you get that luxurious detail all Mercedes come with. It's no wonder the Mercedes Benz Sprinter is such a hit with the professional and self-builder when it comes to converting a van into a camper van.
But what if you want to go off the beaten track and escape? Like really, really escape? What if you want a vehicle that can happily sit shoulder to shoulder in any campsite throughout the week. But come the weekend, is quite happy to get its tyres dirty and climb some mountains?
Well, you are going to probably need 4-wheel-drive for a start. And then, maybe a little bit of clever electronic trickery to harness every bit of traction to give you maximum grip. Luckily, the guys over at Mercedes Benz have engineered something that looks like it should cope with the toughest of conditions…
The Mercedes Benz Sprinter AWD!

What type of four-wheel drive system does the Sprinter AWD use?
To put it, this is your standard Mercedes Benz Sprinter, but it has some ingenious electronics and the tried and tested AWD system too. It might be overkill for the day-to-day delivery driver, but this van's targeted for countries with harsher climates and demanding geology.
The AWD's based on the regular rear-wheel-drive model, but this one uses the simple 4-ETS four-wheel drive set-up.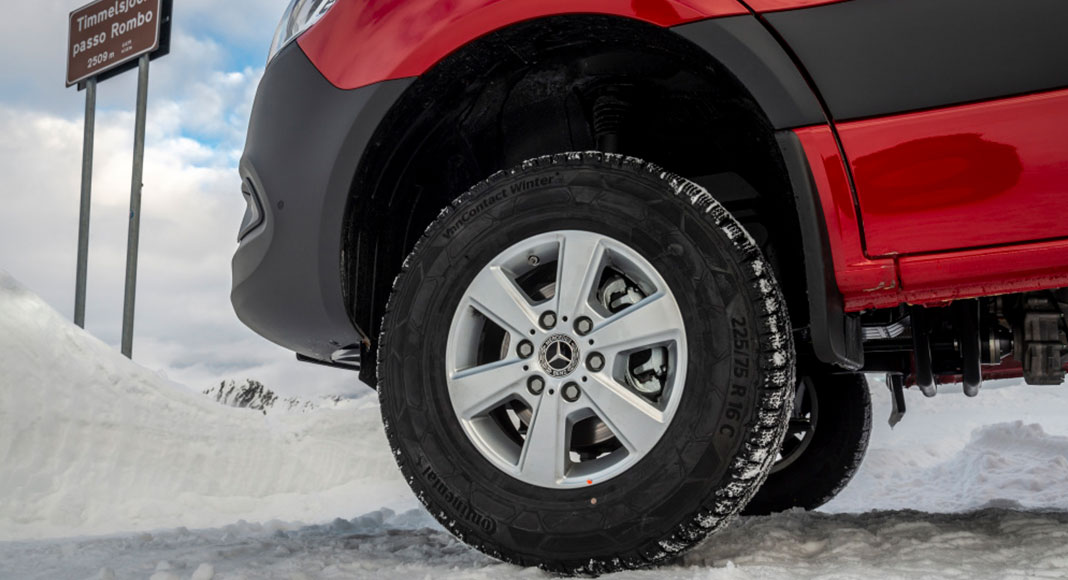 ETS, by the way, stands for Electronic Traction System and working together with the Adaptive ESP electronic stability control. Mercedes say this guarantees to deliver plenty of traction without the need for a traditional manual differential lock.
It still allows you to change between the four-wheel drive (4×4) system and the two-wheel drive (4×2) modes. This means saving you that extra fuel when driving on normal roads. All of this is done using an electro-hydraulic coupling that is controlled by a simple switch on the dashboard.
But you do need to keep it below six mph though!
When you do have the all-wheel-drive engaged, the engine power is split 35% to the front wheels and 65% to the rear. The van also includes some clever low-range gearing for better control and traction when it gets slippery. This is particularly useful when climbing mountains looking for that perfect camp spot. It also comes with a Downhill Speed Regulation system (a fancier way of saying Hill Descent Control) when you're ready to move on.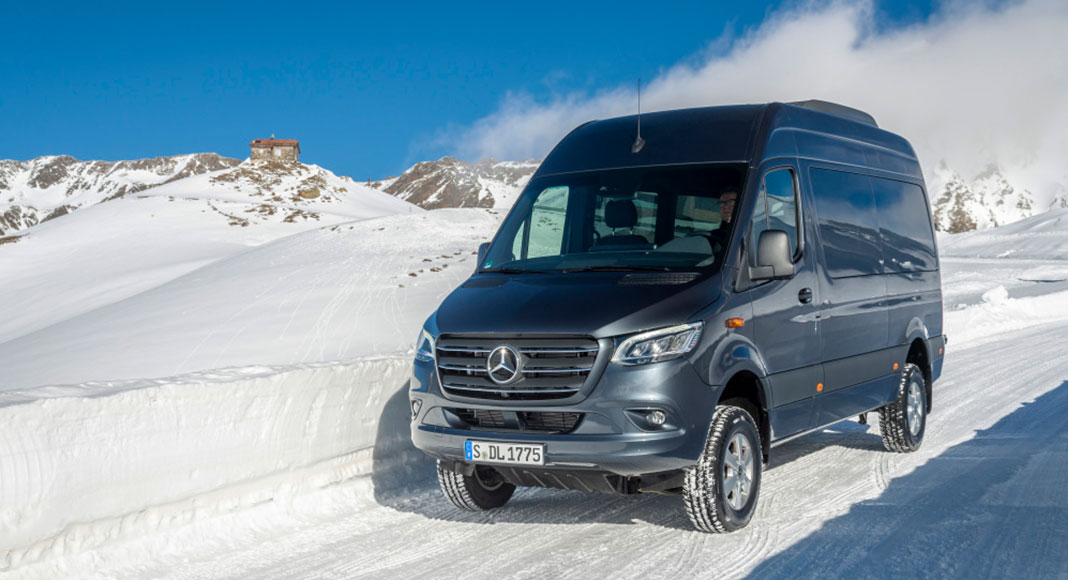 Which versions of the Sprinter are available with AWD?
The Sprinter AWD comes in 3.5-tonne and 5.0-tonne gross vehicle weight (GVW) variants – known as 3 Series and 5 Series models. For the 3.5 tonne models, you get three engines to choose from; the 143hp, 163hp, and 190hp, and for the 5-tonne model, the 163hp and 190hp.
Both the L2 and L3 body lengths are available, plus standard and H2 roof heights.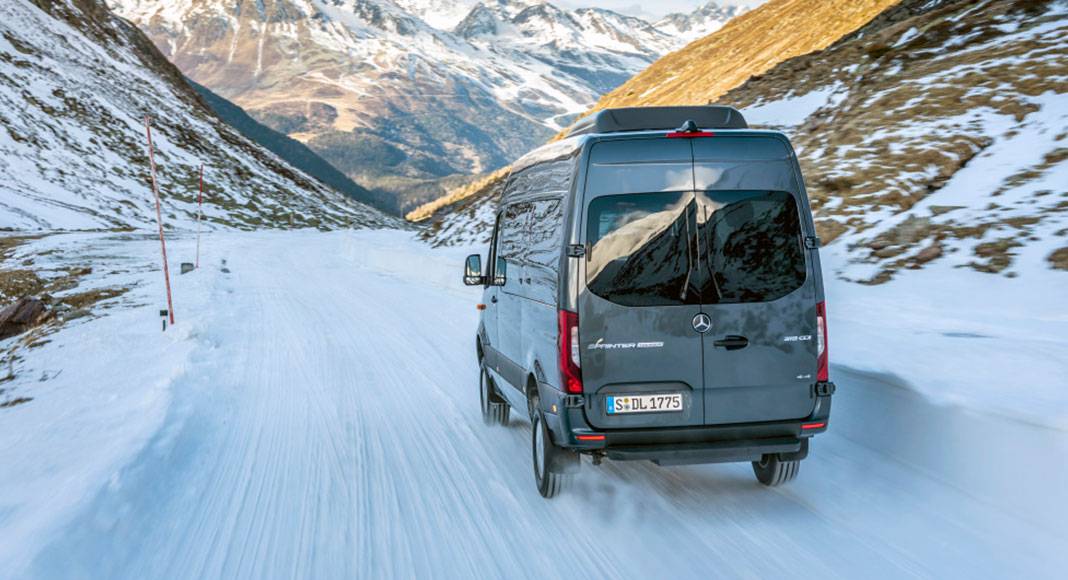 Regarding the extra weight, compared with equivalent 4×2 Sprinters, the AWD models are around 200 kg heavier. This means about the same amount will reduce overall payload.
They stand around 165mm taller giving you extra ground clearance, handy when covering the rougher ground.
All these results in the following off-road capability:
Approach angle:

 27 degrees


Departure angle:

 16-24 degrees (depending on vehicle length)


Ramp angle:

 18-23 degrees (depending on vehicle length)
Conclusion
We think the 2019 Sprinter 4×4 will be an excellent choice for those who like to get off the track. But does having a four-wheel drive system on a camper van really make that extra bit of difference?
Let us know what you think in the comments box below…