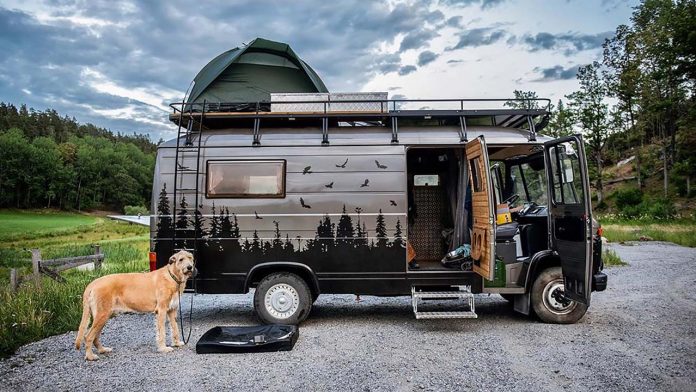 VanLife is a dream for so many people. But what if you've got pets to look after? Can you even make vanlife work with pets in tow?
If you're thinking about travelling with your furry best friend, here are some VanLife couples showing you how it's done.
Beelzebus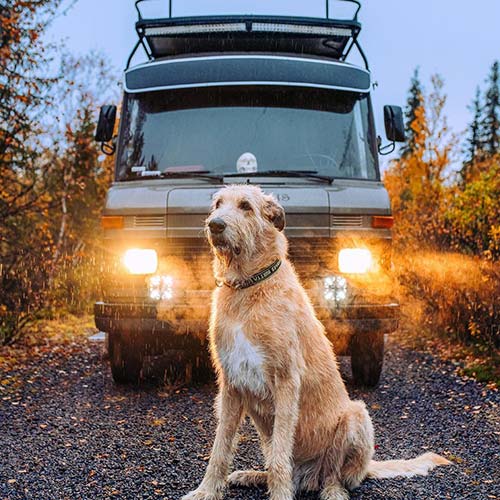 Katja and Björn from Sweden travel with their adorable doggy Balthazar. Back in 2019, the couple decided to leave everything behind and begin an incredible VanLife Adventure.
They travel in their self-converted Mercedes Benz 508D called 'Beelzebus'. And we have to admit, this is one of the most stunning campervans we've seen.
Right now, because of the global pandemic, Beelzebus is currently parked up back in Sweden. However, Katja and Björn are currently building a web-shop, and have just started a YouTube channel.
Make sure to check it out!
Instagram: @beelzebus
Our Home on Wheels
If you thought vanlife with pets in tow would be hard, try it with a baby too! The couple behind Our Home on Wheels make it look like a breeze.
Giddi and Jace have been travelling full-time in their Sprinter van with their baby, Juniper, and their dog, Lotus since 2016.
When they started out on their journey, they quit jobs that they hated and had just $40 to their name. Now, they travel the country – from Alaska to Baja, Mexico – selling their homemade jewellery and collaborating with other vanlife brands.
If you're curious about how they make vanlife with both a baby and dog work for them, check out their full interview here.
Instagram: @ourhomeonwheels
Eamon and Bec
You'll currently find Eamon and Bec travelling the world in their converted Sprinter. They have an amazing YouTube channel that documents their journey and gives some fantastic tips for life on the road.
Eamon and Bec don't have their own pets to travel with, but you'll find them fostering dogs on their journeys to do their part to end puppy mills. Working closely with Bark for Baja, they fostered Rojo until they could transport him to his forever home in Toronto, Canada.
You can see how they got on with the puppy on their YouTube channel here. (prepare to laugh!)
Instagram: @eamonandbec
Happy Homebodies
Francesca and Nicholas live full-time in a converted school bus with not one, not two, but three pups – Sullivan, Magoo, and Murphy.
They've lived in their converted bus for almost two years now and have no plans to go back.
Francesca is a social media manager, and Nicholas is in software sales, giving them the freedom to work from anywhere. You'll find them travelling the country with their three dogs in tow on weekends.
Instagram: @happyhomebodies
Salty Travellers
Monique and Jasper are the Australian couple behind Salty Travellers. You'll find them travelling across Australia in their fitted-out van (Troopy) with their dog, Bowie.
This fun-loving couple are true adventure seekers, and their Instagram feed proves it. They really seem like they've done it all! You can keep up to date with their latest adventures over on Instagram and get their best tips for vanlife with pets on their blog.
Instagram: @saltytravellers
Two Dogs and a Van
The adorable team behind Two Dogs and a Van are Harper and Hagen. And you guessed it – those are the dogs!
Harper and Hagen's parents are Alexa and Bryan, two adventure elopement photographers from the US.
All four have been on the road since converting a 2019 Dodge ProMaster just over a year ago. They now travel the country capturing beautiful photos of fellow adventurers. And it's safe to say, these two pups are living the high life.
Instagram: @twodogsandavan
Always the Road
A couple of years ago, Pete and Taylor skipped class for nine months to go backpacking across Southeast Asia. But once they got a taste of the nomad lifestyle, there was no going back.
Fast forward to just a year and a half ago, they converted a Sprinter van and have been on the road ever since.
They adopted their dog Snoop back in 2013 and he has been on the road with them since the start. Although he's now a senior and weighs 85lbs, he loves his life on the road.
If you're curious how Snoop gets on when travelling, they have an entire post here.
Instagram: @alwaystheroad
Brianna Madia
Brianna is a self-proclaimed desert dweller who lives in her converted van with her dogs, Bucket, Birdie and Dags.
Her Instagram feed is one long adventure with her three companions always involved. If you're looking to binge on epic vanlife pictures, her Instagram is the one to follow.
Instagram: @briannamadia
Chasing the Wild Goose
This pair of millennial nomads live full time in their van with their adorable dogs Remi and Jax.
Back in 2018, Brie and Shawn converted a Sprinter van and hit the road. Now they work remotely from their van and travel the world with their furry companions snoozing in the back.
Their website is loaded with useful content on van conversions, earning money on the road, and, of course, tips for travelling with pets.
I think this line from their blog sums it up nicely: "There is no feeling like snuggling with your pup BFF and enjoying the view from your van at the end of the day."
Instagram: @chasingthewildgoose